Bale Delivers Grity, Horrowing Portrail
While most would assume the title refers to the boxer at this story's center, our writer isn't too sure that's the only person who's fighting.
February 12, 2011 at 8:30 PM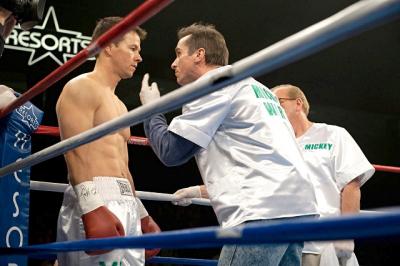 Imagine watching your hometown's hero on HBO showing the world his rotten teeth, talking about a boxing match he won years before and lighting up a crack pipe. Imagine that his family is watching it, having thought the film crew that followed him around for weeks was documenting his big comeback. Imagine his little toe-headed son running into the room because he wants to see his dad on TV.
So goes the most painful moment of "The Fighter." And it has very little to do with Mark Wahlberg.
On the surface, "The Fighter" follows the same basic premise of many well-loved sports movies—"Rocky," "The Natural," heck, even "Little Giants." In them, the underdog overcomes tough circumstances to win big. Wahlberg plays "Irish" Micky Ward, a real boxer from Lowell, Mass., who tried to break into big-time fights in the '80s.
But as he had this awards season, Walhberg's performance as the soft-spoken Ward fades into the background of a gritty story about drug addiction and the complicated family dynamics that come of it. His training and fights simply become the circumstances around which the viewer sees how it all happens.
Perhaps it's to his credit that he convincingly portrays the boxer—Wahlberg actually trained for four years to play the part and almost had his nose broken several times. Still, the storyline isn't really his. Yes, he wins the big fight, and yes, he gets the girl (Amy Adams). But you knew he would from the minute he took his first punch and asked for the cute bartender's phone number.
"The Fighter" belongs to the emaciated face and body of Christian Bale, who plays Dicky Eckland, Micky's brother, trainer, and the family addict. It belongs to Melissa Leo, who won a Golden Globe for her portrayal of the brothers' mother, a hard-talking, chain-smoking woman whose bleach-blonde hair and taunt, tan skin disguise her beyond recognition. They bear the battle scars of a hard fight through life all while they try—and fail—to properly manage Micky's career.
Bale and Leo so convincingly sell their performances that even after their characters try to reconcile with a now-successful Micky, it's hard to feel good about their redemption.
Scenes of Bale in a crack house on the bad side of town, twitching when he's not using and impersonating a cop are hard to forget—especially when he wants to help his brother just as he's gotten out of jail. Leo screeches and swears her family is her number one priority, but too many times do we see her overlook Micky's well-being for Dicky's.
Walhberg's Micky, on the other hand, is incredibly likeable, though drawn in such broad strokes that inserting Matt Damon or Brad Pitt into the role isn't too much of an imaginative stretch.
Replacing Bale or Leo couldn't be done, however. Somewhere in the middle of the movie, Leo goes to the crack house to find Bale. High and sweating, Bale gets into the car with his sobbing mother—and starts to sing the Bee Gee's "I Started a Joke" to her. She joins in and soon, it's easy to see that she has decided to forget what she has just dragged her son away from. In their hardest-to-watch moments, they create real people.
And real people have to fight too much in their lives to make it to a boxing ring.