Be Present for histERIE
Erie County Public Library rolls out new weeklong event
When Marie Benedict researches her historical novels, she resembles Indiana Jones, she says. In her words, she is "excavating the past."
Thanks to Benedict's books, I've dug into the lives of Clara Kelley, a fictional Irish maid in Pittsburgh in the 1860s; Belle da Costa Greene, the remarkable African-American book-and-art acquisitions specialist who worked for J.P. Morgan in New York City in the early 1900s; and the beautiful actress Hedy Lamarr, who was also a World War II scientist and inventor in Vienna and Hollywood.
On April 2, Benedict was the keynote speaker at the Mercyhurst University Literary Festival, in a talk cosponsored by the Erie Friends of the Library and the Erie Branch of the American Association of University Women.
Looking back on that lovely literary interlude, I realized that Benedict's presentation served as an informal yet pertinent preview for a new Erie County Public Library initiative: histERIE Week 2022, taking place May 22-28. This event, which may become annual, showcases how libraries are both repositories of history and vehicles to make that history relevant today.
During histERIE week, more than three dozen programs will be offered at Blasco Library, library branches, and historic venues, attractions, and neighborhoods in the City of Erie and Erie County. There will be walking tours, a bicycle ride, movies, hands-on and take-home activities, museum tours, and virtual events. If you attend at least four events, you will be eligible for a prize.
The local people contributing to histERIE week include creator Courtney Baran and program participant Jan Woods. Both women have a talent for fusing history, storytelling, and sense of place into unique experiences and educational adventures, and they each can trace their love of history to treasured books with Erie connections.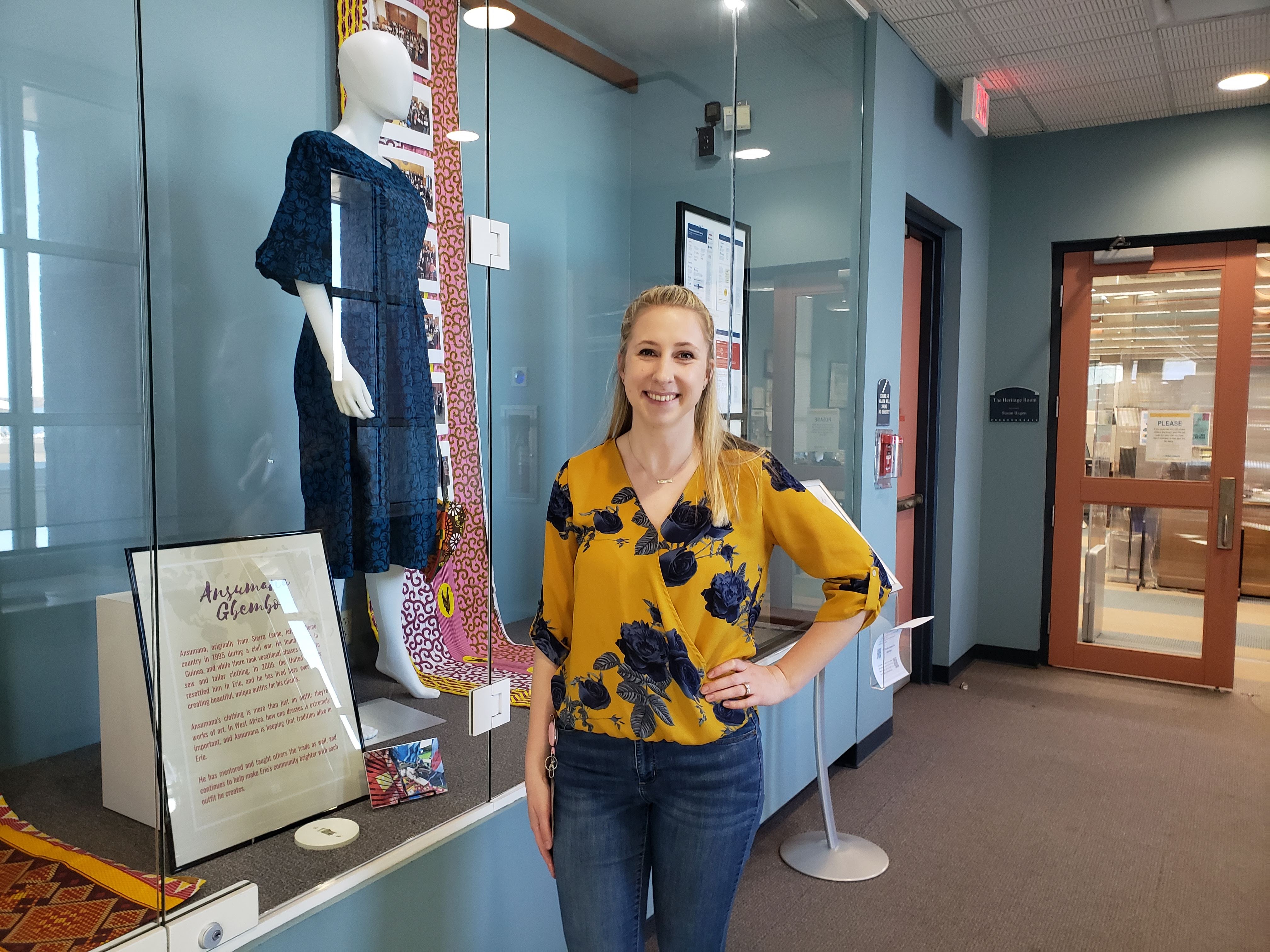 Courtney Baran, digital collections librarian for the Erie County Public Library, curates exhibits that highlight Erie history for the Michele Ridge Galleria, on the second floor of Blasco Library. Ridge was the former director of the library. The current display features Erie's New American community.
For Baran, 28, that book is Stephen E. Ambrose's classic nonfiction work Band of Brothers, which she read when attending Seneca Valley High School in Cranberry, Pa. She didn't know then that she would eventually marry her husband Andy and move to Erie, home to three members of the World War II *Band of Brothers paratroopers in Easy Company: the late Ed Bernat, Edward Joint, and Joe Lesniewski.
Baran originally wanted to become a teacher. After earning a master's degree in public history, writing her thesis comparing Erie's war memorials to those in Pittsburgh, and interning at the Erie Maritime Museum and the Erie Art Museum, she found her niche at the Erie library, starting as an assistant and now serving as the digital collections librarian.
If you visit the Michele Ridge Galleria on Blasco's second floor, in the corridor that leads to the Heritage Room, you can see examples of Baran's nods to Erie history.  Exhibits change three times a year, and recent ones have highlighted the Pontiacs, Erie's Black baseball team, and the 100-year anniversary of Presque Isle State Park. This is where I spotted an old brochure, probably from the 1940s, touting the Erie Coach Company's service to the peninsula. The photo of a bathing beauty in a bikini was certain to bring attention to the bus company's schedule, touting its service from 10th and State streets to the beach on Saturdays, Sundays, Wednesdays and holidays.
The current "Welcoming Erie" exhibit, showcasing Erie's New Americans, demonstrates that local history is fluid and evolving. The display features stunning fashions designed by Erie tailor Ansuma Gbembo, originally from Sierra Leone. Coming soon: a look back at Erie's one-room schoolhouses.
Baran came up with the idea for histERIE, including the play on Erie's name, to celebrate Historic Preservation Month in May. For Baran, historic preservation isn't just for professionals who work in that field. "HistERIE's goal is to promote historic preservation from a community level … what makes us a community, what helps to preserve our story," she said.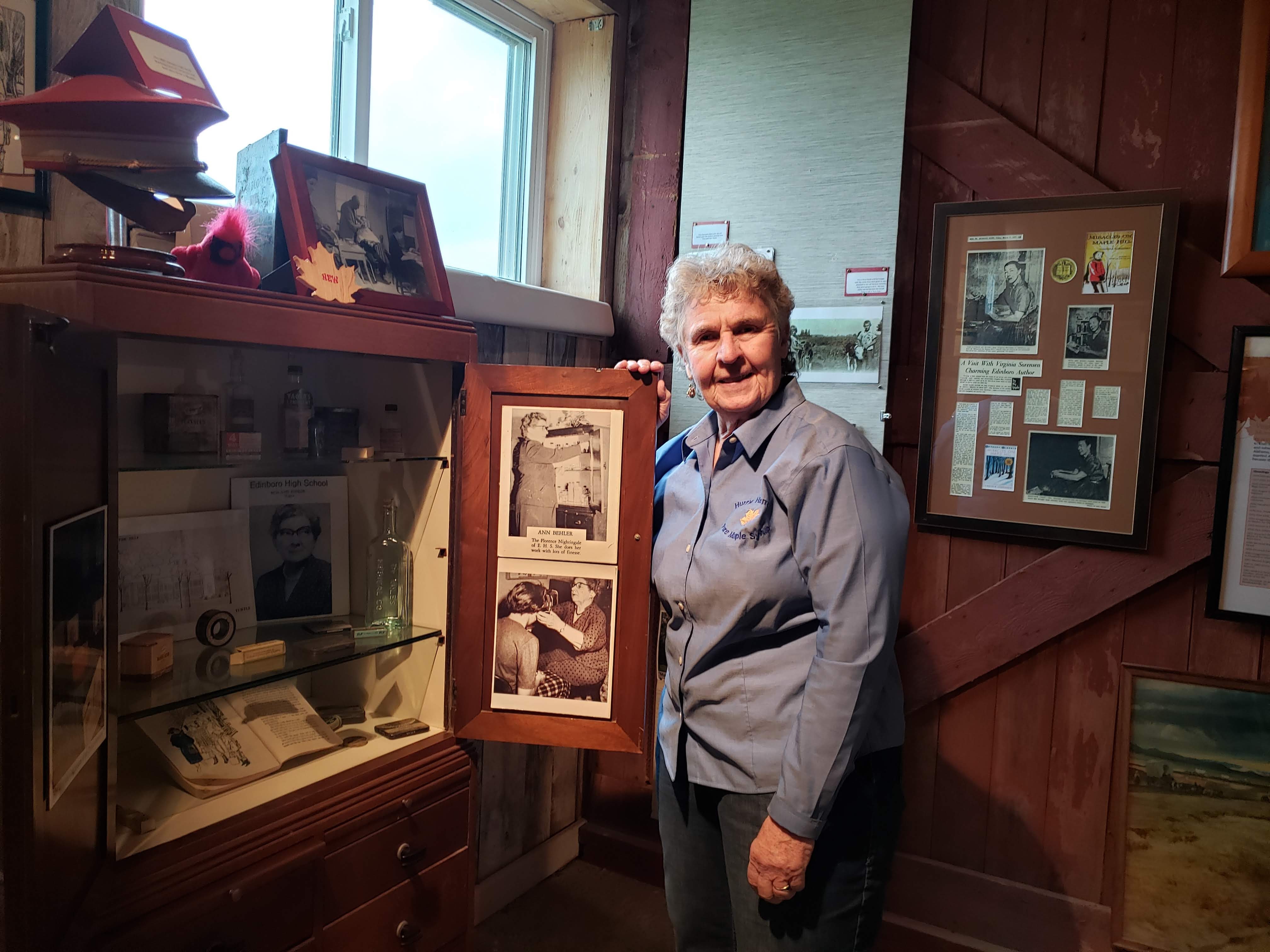 Jan Woods, founder of Hurry Hill Farm and Museum in Edinboro, shows off a cabinet filled with memorabilia associated with Anne Beiler, the Edinboro school nurse and truant officer who made house calls if kids missed school. Beiler was the real-life model for Miss Annie, the stern but goodhearted school nurse in Miracles on Maple Hill, the award-winning children's novel set in Edinboro.

That link between historic preservation and a community's narrative resonates with Jan Woods. A longtime Erie school principal in Northwest Pennsylvania, Woods, 74, retired early to spend more time with her two children (now adults) and to focus on the avocation she learned as a child on her family's Edinboro farm: being a sugarmaker. That's a skill that requires both science and art.
Since 2009, she and partner Lisa Nathanson have run Woods' family homestead, Hurry Hill Maple Farm and Museum at 11424 Fry Road in Edinboro.
I literally got a taste of what the museum offers (for sale or to sample) when Woods treated me to individual paper thimbles filled with clear maple-sugar sap, maple cream, maple crumbs, maple barbecue sauce, and maple mustard. You will never want to eat stiff and stale pastel cotton candy after you've tried the heavenly spun confection that the museum makes and sells ($3 for a quart container, $5 for a bag).
In addition to maple-infused foods, you can buy other gift items, including Miracles on Maple Hill, by Virginia Sorensen. Written in 1954 when Sorensen lived in Edinboro, published in 1956, and winner of the prestigious John Newberry Medal for distinguished children's literature in 1957, *Miracles on Maple Hill should have been on my reading radar when I was a kid.
But the book meant even more to me when I read it a few months ago. Now I understand why Woods has made it her life's work to tell youngsters and adults alike about this tender story, why it touches her heart, and how Erie area readers will delight in recognizing the Edinboro locale, complete with legendary snowfalls.
"The story of *Miracles on Maple Hill was always part of my life because our family made pure maple syrup and the book was written about our corner of Pennsylvania. Each spring, that book came alive in our sugarhouse," Woods said. "I have been told that Mrs. Sorensen came to our classroom and read it to us. I wasn't there! I had chickenpox," she recalled. 
The book's characters were real Edinboro residents. They include Amy Hipple Bjork and her brother, Karl, whose fictional names are Marly and Joe. Mr. Chris and his wife Chrissie are based on sugarmakers Harvey and Amy Kreitz, while Harry the Hermit was inspired by the reclusive Tony Beigel.
At the museum, you will learn that Sorensen, a Utah native, lived in Edinboro in the 1950s when her husband taught English at Edinboro College. You can see the technique that the book's illustrators, Philadelphia artists Beth and Joe Krush, used for the book's black-and-white and colorized art. If you recognize their style, it's because they also illustrated *The Borrowers series and the *Golden Picture Dictionary. 
You can hold Sorensen's hallowed Newberry Medal in your hands as you absorb the museum's lessons about John Newberry's mission a century ago to create juvenile libraries, filled with quality literature for youngsters who previously were limited to reading the Bible and nursery rhymes.
Explore the many artifacts that are part of the tactile history of *Miracles on Maple Hill – the massive RFD mailbox that belonged to Mr. Chris; household furnishings from Mr. Chris and Chrissie; implements used to collect sap to cook and process maple syrup; portraits, photographs and news clippings about Sorensen; the script for a play starring Miss Annie, the formidable but caring school nurse whose real name was Anne Beiler; and examples of the unbroken wooden chains carved by Beagle (the Hermit).
At hurryhillfarm.org, you will find directions for a driving tour of the Edinboro landmarks described in the book, including Mount Pleasant ski resort, which is Maple Hill. There is also a guide to a walking tour of the farmland. 
But you won't truly appreciate your virtual or in-person visit if you haven't read the book, available throughout the Erie County Public Library system, by a free audio version online on the museum's website, and sold at the museum.
I checked out "Miracles on Maple Hill" from the Edinboro library branch, after driving by the Pennsylvania Historic Museum Commission marker installed nearby to honor Sorensen and her prize-winning book.
I didn't expect to become a fangirl of a children's book that is nearly as old as I am. 
But after reading *Miracles on Maple Hill, I've recommended it to family and friends. In today's world, we desperately need reminders about the restorative powers that await if we are kind to others and pay attention to their joys and their hardships, such as the shellshock (now called PTSD) that Marly's father suffered after World War II.
Miracles abound in this story and real-life: spotting wildflowers in the woods, listening to bird calls in the backyard, watching young foxes frolic in a ravine. And, of course, that satisfying sensation of dribbling an intoxicating sample of pure maple syrup down your gullet.
Liz Allen will do a walking tour of Lincoln Avenue for histERIE on May 26 from 7 to 8:30 p.m. For the complete event schedule, visit https://eriecounty-pa.libguides.com/histerie. You can reach her at lizallenerie@gmail.com.
If You Go
Visit eriecounty-pa.libguides.com/histerie for details about histERIE 2022 and to learn whether registration is required or recommended for programs. Most events are free, but some have a charge or ask for a donation.
Hurry Hill Maple Farm and Museum, 11424 Fry Road, Edinboro, will be open from noon to 4 p.m. on three Sundays this month: May 15, May 22 and May 29, before closing until September. On May 22nd, the museum will celebrate the 100th anniversary of the Newberry Medal, awarded to the "most distinguished contribution to American literature for children." The children's book *Miracles on Maple Hill, set in Northwestern Pennsylvania and written by former Edinboro resident Virginia Sorensen, received the Newberry Medal in 1957.
You can see the Pennsylvania Historical and Museum Marker highlighting Sorensen, *Miracles on Maple Hill, and the maple sugar industry in Erie and Crawford counties on Route 6N, near the Edinboro branch of the Erie County Public Library.
Did You Know? 
The Personal Librarian, a historical novel by Marie Benedict and Victoria Christopher Murray, is based on the real-life of Belle da Costa Greene. Due to rampant racism, Greene felt compelled to conceal her Black identity by passing for White and claiming to be part Portuguese when J.P. Morgan hired her to maintain and upgrade his book and art collection.
Readers will easily recognize those same systemically racist attitudes and practices at work in society today.
But local history buffs will also spot a reference in Benedict's book that has an Erie connection. "So do you like our McKim, Mead and White design," Morgan asks Miss Greene as he boasts about his opulent new library. "Lucky that we worked with McKim instead of White, isn't it?"
Morgan was referring to the prestigious architectural firm that included Stanford White, who designed  Washington Square Arch in New York City. Harry Thaw of Pittsburgh, obsessed because his wife had once been White's girlfriend, shot White to death at Madison Square Garden in 1906. Found guilty by reason of insanity, Thaw was sentenced to 10 years in a state hospital for the criminally insane in Pennsylvania. Per the Mercyhurst University archives, several years after Thaw's 1947 death, Mother Borgia Egan, founding dean of Mercyhurst, purchased 20-foot-high bronze gates from Thaw's estate for the bargain price of $600. Today, the gates still stand at the university's entrance on East 38th Street.