Beyond Groceries: Erie's Whole Foods Co-op
A community-owned 'third place' for nearly 40 years. 
April 27, 2016 at 2:00 PM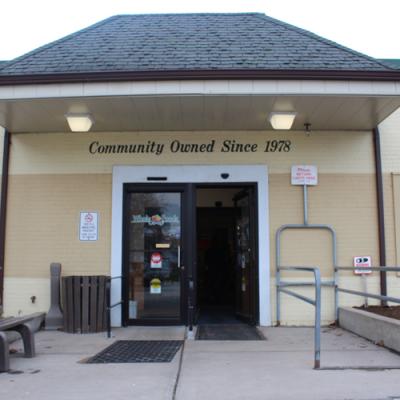 Erie's Whole Foods Co-op is the kind of place where you run into all kinds of people – and there, that's cool.
In fact, the Co-op (which, like the sign outside says, has been "Community Owned Since 1978") is quite a lot more than just a fine spot to shop for natural foods and other holistically-minded products; or to take in some very worthwhile community programming; or to eat some really good grub at the Co-op Cafe & Bakery.
The Co-op is the sort of place that, in the lingo of community-builders and forward-thinkers, has even tended to become that heralded "third place": a home away from home (or work), for many people in and around Erie.
Beyond all that, it's the sort of place that, in the lingo of community-builders and forward-thinkers, has even tended to become that heralded "third place": a home away from home (or work), if you will, for many people in and around Erie.
To illustrate just a bit: In the span of 15 minutes or so during our last visit, I had the pleasure of crossing paths with a longtime former pizza industry colleague and his wife; an old hearty-partying cohort (also former, and sort of longtime); and a local crystal enthusiast/Reiki practitioner whose work I'd recently gotten to know.
In that same time, my three-year-old made at least a couple of new fans/buddies herself by belting out her latest iteration of "Yellow Submarine" in the store's bulk herbs section, and we ended up small-chatting with at least a couple of people we'd never met before. All in all, the air around the entire place was nothing if not friendly.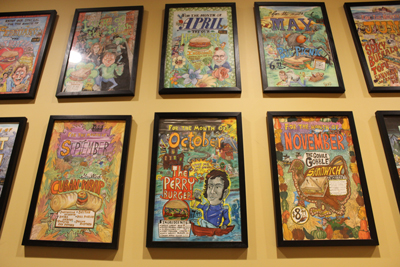 And those few little pleasantry-filled moments met at least a few of celebrated American urban sociologist Ray Oldenburg's published criteria for "third places": a term Oldenburg coined in his influential 1989 work The Great Good Place.
In any true-blue third place, "Conversation is [a] main activity," states Oldenburg: Check.
"The mood is playful": Check.
Regulars. Food and drink. People from lots of walks of life. Check. Check. Check.
"It's somewhat of a community hub for many people," says Co-op General Manager Care Kerlin. "We like to know who our customers are. We care about them. We want to provide not just a pleasant shopping experience, but a pleasant overall experience."
She means that, too. It's actually part of the Co-op's stated mission: "To serve [its] community as the foremost provider of foods and products that enrich health and well-being, while cultivating a spirit of community through excellent service and education."
But meeting that lofty mark means being much more than just a good place to run into friends, acquaintances, and chummy random strangers for a bit of small talk. It even means more than making good use of the Co-op's Community Center, which, since being launched in 2012, has become one of the city's nerve centers for gatherings, workshops, and classes on everything from baking and gardening to meditation and yoga.
When it comes down to it, it also means being a full service natural foods grocery store, and at the Co-op, that designation takes on meaning well beyond the typical mega-store's usually-tiny "organic" and "local" sections.
Along with carrying a bevy of national brand food and health care items, the Co-op aims to be hyper-local in its approach to product sourcing. In-season fresh produce comes from many nearby farms (Sligo-based Clarion River Organics, Hartstown's Weeping Willow Farms, and Tionesta's Edible Earth Farms are just a few). And local eggs, cheese, meats, honey, and handmade body care products additionally occupy space on the Co-op's shelves.
Beyond that, the Co-op further works with local farmers by serving as a designated Community Supported Agriculture (CSA) drop-off spot, providing different farms' shareholders with an easily-accessible, centralized spot to pick up their deliveries of fresh-off-the-farm foods.
And speaking of shareholders, the Co-op is owned not by a corporation, but by the people – local, real, actual people – who are its member-owners, and member-ownership is open to anybody and everybody who's interested in taking part. That said, Kerlin and others at the Co-op are quick to point out that, despite a somewhat common misperception, membership/ownership is not a prerequisite for shopping at the Co-op.
"Everyone is welcome to come here, anytime, to shop," says Kerlin.
If you've never taken the Co-op up on that invitation, give it a try. You'll most likely find some things you'll like – and you may get to feeling third-place-comfortable fast.
To learn more about the Erie Whole Foods Co-op, the products it carries, and all the cool stuff that happens there, stop in to the store at 1341 W. 26th St.; call 456.0282; or visit wfcerie.coop.
Ryan Smith can be reached at rsmith@eriereader.com, and you can follow him on Twitter @ryanmsmithplens.