Big Leg Emma rocks Crooked i, debuts new material
No snow storm could keep our writer from catching the Big Leg Emma show at the Crooked i.
February 27, 2011 at 4:06 PM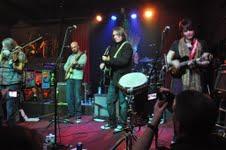 When the first harmonious, acapella notes of Big Leg Emma's"Amny" rang out in four-part harmony at the Crooked i, nobody griped about road conditions or "snow emergencies."
Nope – the enthusiastic crowd just raised their beverages-of-choice and sang along with every word of the band's distinct blend of Americana roots rock.
"You are a rose in my garden of Eden/And I have picked you for my own…"
No wonder guitarist and vocalist Steven Johnson said the band calls Erie its "second home." Big Leg Emma started garnering a following here before it did in their hometown of Jamestown, N.Y., he said, adding that he and the rest of the BLE crew are fond of the Crooked i.
"It's one of the best venues since the old days of Forward Hall," Johnson said.
The dance-happy, jamgrass band – consisting of Johnson on guitar and vocals; Amanda Barton on violin and vocals; Charity Nuse on mandolin, guitar, percussion and vocals; Kev Rowe on electric guitar and vocals; Steve French on bass; and Rad Akers on drums – officially reunited in the spring of 2010 after a two-year hiatus of pursuing side projects.  
The band debuted new material Friday, including Johnson's "Two of Us," which had a more mature, musically complex vibe while still possessing BLE's trademark toe-tapping positivity. The group also breathed new life into old tunes "Birds of Destiny," "Sing to Me" and "Fireflies."
The consistent, high-energy show featured fan favorite "Walls of Jordan"as well as "Hey Maker," which particularly showcases Nuse's range and ability to belt. (Any BLE fan can recall her last, seemingly infinite cry of "Why?") When Nuse and Barton sing together, though, the air resonates in an otherworldly way – if Neko Case and Alison Kraus ever met up for a jam session, it might sound a fraction as good.
Big Leg Emma plays with the confidence and the no-holds-barred joy of a band that's recently reunited. Of course, they've always been a standout folk-rock group, but their post-reunion shows have a distinct vibe of gratefulness among the members, who have reacquainted themselves with the "awe factor" of each other's musical talent. When Rowe wails out a guitar solo or Barton fires off a violin lick, the rest of the band is just as absorbed by it.
"We're like a puzzle," French said. "We complete each other."
Nuse enthusiastically agreed. The first time the whole group got back together to rehearse last year, she explained, they all recognized that the magic they had was still there and they had no choice but to reunite.
"We've all grown so much as musicians and individuals," she said. "We have much more to offer to the whole table of Big Leg Emma. Like, even the old stuff is way better – the songs we wrote before we broke up. The first time we played it together again, it was better than ever."
"It was very emotional, Johnson added. "It was like, 'Wow – this is where we're supposed to be.'"
Riding on the energy of playing in a rechristened band, Johnson said the group decided to record Friday's show as a "big experiment" – possibly for release, but certainly for archival purposes. Studio time is on the band's radar, he said, although it's not as high-priority as playing live shows and fine-tuning the new material.
One thing's for certain: the group will continue to grow and help each other reach new heights.
"That's what it's about, having a band," Johnson said, "having chemistry and pushing each other."