Bowing Out Gracefully
Erie Chamber Orchestra sings, strings their good-byes
April 25, 2018 at 11:30 AM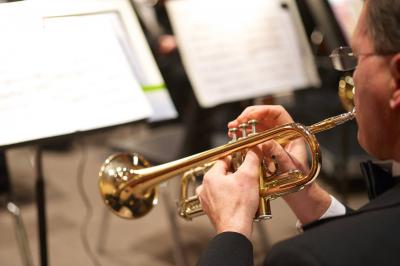 SATURDAY, APR. 28
"Per pietà, non dirmi addio, di te priva che farò?" entreats the anonymous heroine of Beethoven's "Ah! Perfido!" (Ah! Deceiver!), a concert aria for soprano and orchestra first performed in 1796. For pity's sake, do not bid me farewell, what shall I do without you?
Erieites may ask themselves the same thing as the Erie Chamber Orchestra, whom they have long loved, officially takes its leave after 40 years. Bruce Morton Wright, an instructor of fine arts and the musical director of Gannon University until his passing in 2011, established the ensemble with the mission of making classical music accessible to anyone and everyone.
"He was well-loved; many people still talk about Bruce and how special and how important he was, too," says Camille Pierce, current general manager of the ECO.
Performances were free, open to the public, and consistently featured talented musicians, with several on loan from the Erie Philharmonic. The ECO has remained a subsidiary of the school ever since, but budgetary concerns and shifting priorities have forced it out from beneath Gannon's protective wing.
Pierce's predecessor, Erie Philharmonic Executive Director Steve Weiser, still has a soft spot for the ECO, which he managed for three years. He will offer sanctuary to some of the displaced musicians through the newly-established Bruce Morton Wright Chamber Series, which will tour churches and other more intimate venues with smaller ensembles during the 2018-19 season. However, the number of performances will be roughly halved (from 17 to between eight and 10) and the number of participating musicians will be significantly reduced as well.
"The Erie Chamber Orchestra as we know it is no longer going to continue after this," Pierce concedes.
This, of course, means the ECO's last hurrah is on Saturday, April 28. The program befits an evening of farewells, with Jennifer Davison singing the incredibly demanding and impassioned soprano parts of both "Ah! Perfido!" and Franz Joseph Haydn's Scena di Berenice, Hob. XXIVa:10. Both songs are sung from the viewpoint of a lover who has been spurned or abandoned, scaling the peaks and valleys of despair and indignation. In between working through abandonment issues, audiences will ruminate to Wolfgang Amadeus Mozart's Adagio in E for Violin and Orchestra, K. 261 with a dreamy, wistful melody carried by soloist Maureen Conlon.
The show's magnum opus, however, is Beethoven's Symphony No. 3 ("Eroica"), which will end the ECO's legacy on a triumphant note. The sprawling epic, which runs close to an hour, was inspired by Napoleon Bonaparte's military conquests and brilliantly reflects the ups-and-downs of battle: from the rush of engaging the enemy (the first movement) to the grief of death (the second movement is a funeral march) to hope as the tide turns (third movement) to the glory of victory (the final movement). Napoleon was a little man who accomplished big things; likewise the ECO reigned supreme with locals for 40 years, filling small spaces with big sounds and the grand imaginations of some of history's greatest composers.
Disbandment is a bittersweet symphony, to be sure, but the ECO is handling it with verve. — Matt Swanseger
7:30 to 10 p.m. (preceded by reception from 5 to 6:30 and introduction from musical director Bradley Thachuk) // First Presbyterian Church of the Covenant, 250 W. Seventh St. // free