Brenna Thummler's Own Kind of Ghost Stories
How the talented local cartoonist became a nationally recognized author
Truly outstanding comics are a rare and precious thing. It's a beautiful medium capable of telling stories in a uniquely personal way, holding onto the creator's vision succinctly and directly. Great writing married with captivating art is a lofty aspiration, and when those two things are done by the same person, that can make the author's vision more fully realized.
Making graphic novels is a difficult thing to do, and Brenna Thummler is doing it very well.
The author of Sheets and its 2021 sequel Delicates, she released her first major work in 2017 with her illustrated edition of Anne of Green Gables, working with Mariah Marsden's adaptation of the Lucy Maud Montgomery classic.
Canadian Pastoral
Beautifully accessible with a heart that can't be denied, Anne of Green Gables has been met with consistently glowing reviews. Thummler brings the fictional Prince Edward Island town of Avonlea to life, with all of its bucolic idealism bursting with the gifted imagination of its own title character from season to season. Illustrator Brian Selznick (author of The Invention of Hugo Cabret and Wonderstruck) said that "it's a thrill to watch as the beloved orphan rushes headlong through Brenna Thummler's heavenly landscapes. Together Marsden and Thummler conjure all the magic and beauty of Green Gables. Like Anne herself, you won't want to leave."
Just as the original Montgomery novel does, Anne of Green Gables traces the story of a precocious young orphan as she comes of age to be an intelligent young woman with an open, if not stubborn, heart. Marsden leaves plenty of wide open space for Thummler to ruminate, as the illustrator is able to cover years and still linger on the contemplative moments in life like a stroll through nature that's somehow fast-paced.
Produced by Andrews McMeel Publishing, Anne of Green Gables finds itself in the same realm as Gary Larson's The Far Side, Dana Simpson's Phoebe and Her Unicorn (Simpson said of Anne, "the illustrations are incredible"), and what is arguably the greatest comic strip of all-time aside from Peanuts, Bill Watterson's Calvin and Hobbes. There's both a literal and spiritual connection to Calvin and Hobbes that Thummler owns. A delight in the beauty of childlike imagination resides at the heart of her works.
Serving as an intern and later as their in-house illustrator, Thummler worked at Andrews McMeel right out of college.
Right away on her first major graphic novel outing, Thummler's color palette was something that stood out. Her gift of storytelling and pacing from panel to panel seems virtuosically innate.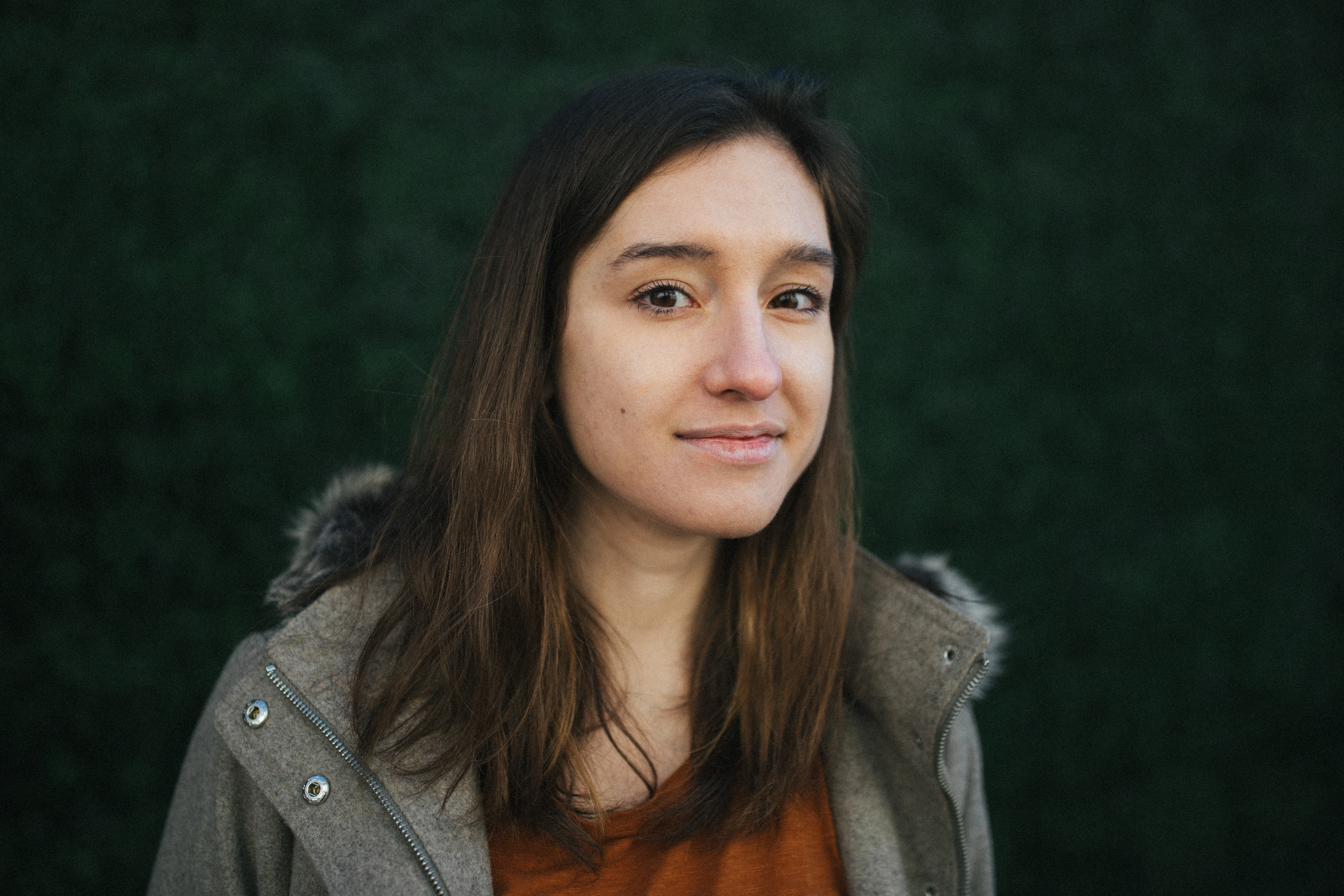 While spending most of her life in Meadville, Thummler is now living and working in Erie. She recently saw her original play Single Book Store come to life on stage at Dramashop for their One Act Festival and is also co-producing a podcast focusing on local theater, Spotlight 814. Photo: Contributed
Perchance One Summer
Like me, you may have assumed that making comics was a lifelong dream for Thummler.
Well, it wasn't.
Though born in New Hampshire, Thummler has spent the majority of 30 years in Meadville, having moved there when she was nine months old. After graduating from Meadville Area High School, she pursued her talents at Ringling College of Art and Design in Sarasota, Florida as an illustration major.
Though she always loved to draw, Thummler never saw comics as something she wanted to do. "Even in my college experience, I was never really 100 percent sure what I wanted to do," she reasoned, noting that "I thought maybe I would end up doing freelance work, like editorial work for newspapers and magazines, and maybe book covers and stuff like that. But the one thing I always said I would never do was graphic novels."
Who helped turn that around? Mariko and Jillian Tamaki. On a whim at a thrift store, Thummler picked up a copy of their 2014 graphic novel This One Summer. While she liked the cover art, Thummler was initially disappointed that it was, in fact, a comic. She bought it anyway. After reading it, Thummler was blown away by the book, which happens to be the first graphic novel to receive the prestigious Caldecott Medal, as well as Eisner and Ignatz Awards. [Author note: I have an autographed copy of This One Summer thanks to Small Press Expo (SPX) 2017, and coincidentally intended to reference it as a similar work, but Thummler happily beat me to it].
Comics for Everyone
It's more than understandable why Thummler had all but written off comics as a medium. For over a century, they'd been geared exclusively and intentionally to white male adolescents. While there have been outliers like Los Bros. Hernandez' Love and Rockets, Marjane Satrapi's Persepolis, and the catalogs of Alison Bechdel and Lynda Barry, the superheroes of Marvel, DC, and Image Comics held the public's perception of the Western industry at large. "Honestly, I think that's kind of part of the reason why I had no interest in pursuing graphic novels, because I thought it was a man's world," Thummler explained.
In the last 10 to 15 years, however, there has been a remarkable amount of progress. One watershed moment was the unparalleled success of Raina Telgemeier's graphic novel Smile (which came out when Thummler was a junior in high school — i.e. well past its target demographic) and its sequels Sisters and Drama. "I had no idea just how versatile the field had gotten," she admitted.
Comics made for all ages and especially those geared toward young women have not only proven financially viable, but have opened the doors to an amazing generation of female cartoonists and creators. Now, Thummler cites cartoonists like Tilly Walden and Vera Brosgol as some of her favorites, along with the aforementioned Tamakis.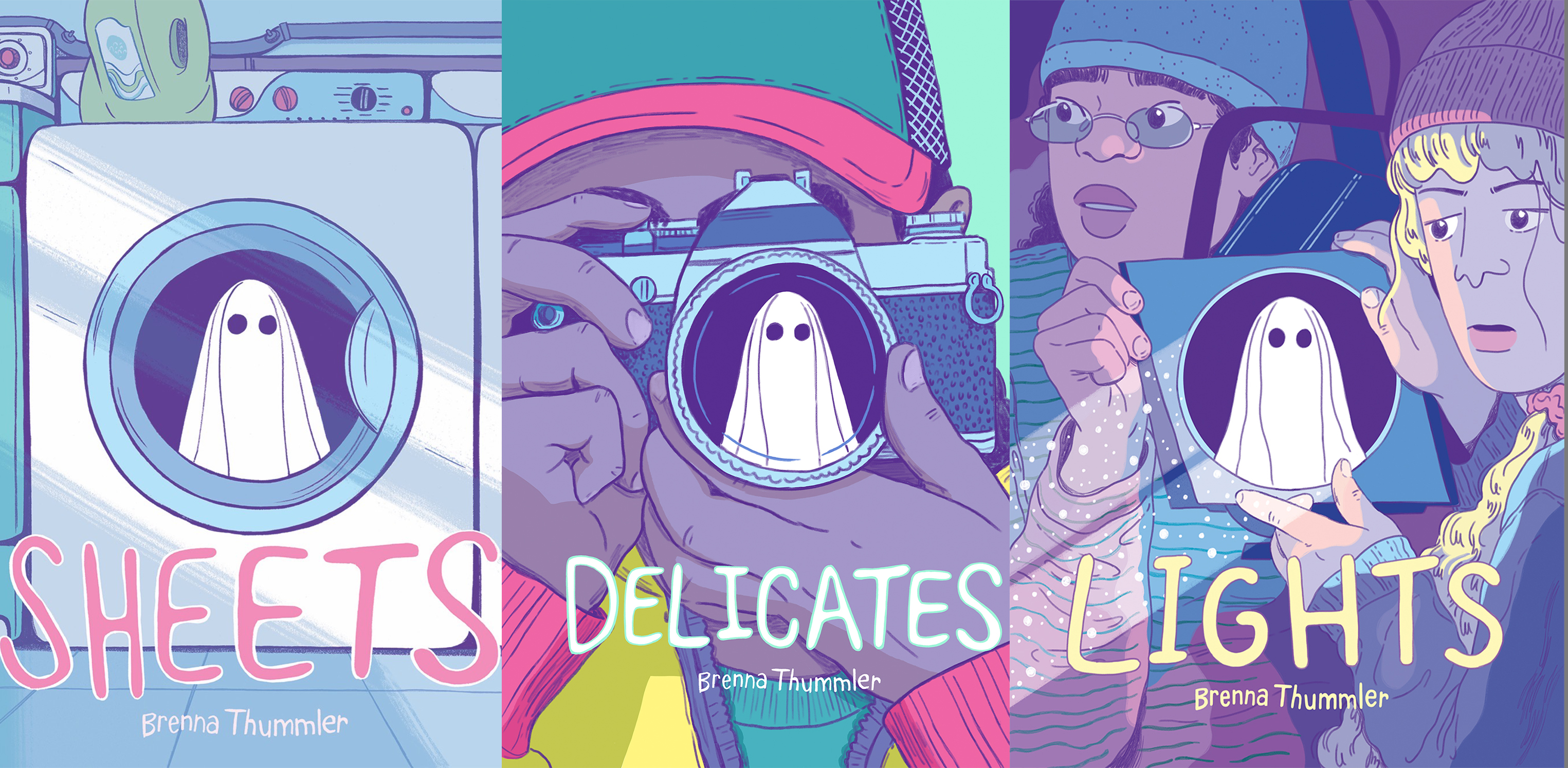 Brenna Thummler's debut original graphic novel Sheets, which she wrote and illustrated, was named a Best Book of 2018 by Barnes and Noble. Her subsequent book in the series Delicates, was released in March of 2021, and there is a third book forthcoming entitled Lights.
Cleaning Up
In August of 2018, Thummler's debut graphic novel Sheets was released. It is the story of Marjorie Glatt, a young woman who helps in her father's laundry business following the death of her mother. Marjorie soon meets Wendell, a ghost clad in the traditional white sheet with eye holes, and befriends him. As the plot unfurls, Marjorie and Wendell become close friends and the gentle world of the afterlife becomes commonplace for Marjorie.
With finer linework and an even more developed sense of pacing following Anne of Green Gables, Sheets is truly something special. With a pastel palette primarily of pink, blue, and teal, the 239-page book is something to behold.
In fact, author Lemony Snicket (aka Daniel Handler) said this of Sheets: "For days after reading Brenna Thummler's Sheets I have been wandering my neighborhood, haunted, enchanted, and in need of freshly pressed clothing."
The motif of laundry serves as an extended metaphor in the book, a trend that's continued in its sequel Delicates, though the process of developing film is at the heart of that story.
Delicates comes in arguably even stronger than its predecessor. At 317 pages, it centers around the newly introduced character, Eliza. With Marjorie and Wendell settling into their friendship, and Marjorie's adolescent life taking center stage for her, Eliza comes in as "sort of the very opposite of Marjorie, and she was obsessed with ghosts and believed so deeply in them. And she wanted to catch a ghost on camera."
Both of these books were published by Oni Press, who are known for works by Kevin Smith, Mike Allred (Madman), Jhonen Vasquez (Invader Zim), and Brian Lee O'Malley (Scott Pilgrim).
On the Line
"These books are just everything to me. I pour my whole life into these," Thummler emoted.
A self-confessed workaholic, she has not one, but two books coming out soon. The most recently announced is Gumshoe, which is set to be published by Harper Alley, a division of HarperCollins. Though it's still in the writing stages now, Thummler stated that "I'm calling it a post office western." The story centers around her character Willa, and her struggles with social anxiety, paired with a case of mistaken identity involving a mysterious outlaw.
Coming soon, too, is the final chapter in the Sheets trilogy, entitled Lights. Just looking at the current cover image, it's easy to picture the book's key motif being something on a stage. "It's performance, dance performance — ballet specifically," Thummler explained. "So for Lights, it's Wendell's story, wrapping up the trilogy. The first one was Marjorie's, and second one was Eliza's. Now it's Wendell's turn." She elaborated that she "started researching a lot about stage lighting and everything and that sort of plays a role as a motif in the book."
It's no surprise that Thummler is interested in the stage, as she herself is actively involved in local theater. In February, she appeared as Frenchie (and the Gorilla) in the Academy Theatre's production of Cabaret. She also very recently saw her one-act play Single Book Store produced by Dramashop. A high-spirited, meta-textual look at gaslighting and relationships, co-directors Anna McJunkin and Alycia Olivar brought it to life with larger-than-life props and set accouterments that even looked like Thummler's work. She has also recently started a podcast in partnership with (local podcasting savant) Ryan Louis (Idiotville Productions) called Spotlight 814, which focuses on local theater.
Mental Health at the Forefront
Thummler's books are about being an outsider, being a weirdo who gets bullied, but still managing to find the necessary, important people. The books are emotionally moving and meaningful whether you're a young adult or a middle-aged editor. In the characters of Marjorie and Eliza, you see characters living with PTSD and being on the autism spectrum as well as dealing with depression and thoughts of suicide. When asked, Thummler immediately said that "mental health is the number one reason I write, honestly. I make that at the forefront of all of my stories."
She detailed that "when I went to write Delicates, I think maybe a month or two before that, I found an article online about a very young child, maybe eight years old, who had died by suicide. And I was thinking that this is not just something that older teens or adults deal with. This is definitely happening with young people and it's not okay," Thummler reasoned. "And it's going to be difficult to talk about, but I feel like it has to be talked about and so that was sort of the driving force behind writing Delicates," she said. "I myself have struggled in the past with a lot of mental health issues, so it's something that I can speak to and I feel is necessary to speak to. So probably for most of the books that I write from here on out, there will be some element of mental health struggle in them because I find it's really important."
Not only is she doing great work, but it's meaningful. "The thing that's been the most incredible part of this whole experience is that I get messages from kids reaching out to me saying that I've saved their lives, which is unbelievable," she shared.
If you or someone you know is struggling with thoughts of suicide, contact the National Suicide Prevention Lifeline by texting "988" now or go to 988lifeline.org.
Brenna Thummler can be found at brennathummler.com
Lights is available for pre-order on Amazon, Barnes & Noble, Books-A-Million, and Bookshop
Nick Warren is a lifelong alternative comics fan and has gone to the Small Press Expo (SPX) alone three times. He can be reached at nick@eriereader.com