Calling All Strong Vincent High School Alumni!
Show your support for your alma mater at the Red and Black Alumni Mixer!
January 31, 2012 at 3:11 PM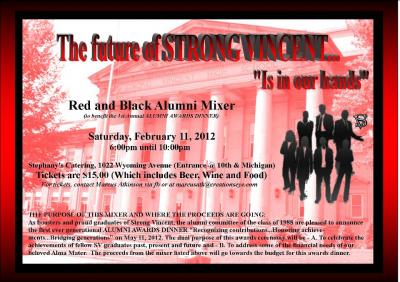 From our old friend Marcus Atkinson:
The Strong Vincent Alumni Committee of the class of 1988, with special assistance from '96 alum Carla Fillak, are pleased to announce the first-ever Strong Vincent High School Alumni Awards Dinner, to be held in May. The purpose of the event is to recognize not only the achievements of Stong Vincent graduates, but also to address some of the school's unmet financial needs.
"McDowell and Prep do a wonderful job of supporting their schools and the needs of the facility are met regularly by their philanthropy. We can't leave the school's needs up to the school district or the state. It's time we take the bulk of this responsibility upon ourselves as SV alums," says Atkinson.
As a precursor to the May event, the Alumni committee is holding a "Red and Black Alumni Mixer" on Saturday, February 11, at Stephany's Catering, 1022 Wyoming Avenue, starting at 6:00 P.M. Tickets are $15 and include beer, wine and food. All proceeds go towards the May event.
To purchase tickets, contact Marcus via facebook or email him at marcusatk@creationseye.com.