Cast Your Lot with Podcasting
Why it's still worth taking a chance and finding your niche, despite crowded scene
February 24, 2023 at 8:00 AM
In February 2020, when my first story on the local podcasting scene was published in the Erie Reader, there were an estimated 850,000 podcasts available for one's listening pleasure. If that number seems staggering, these numbers were from before COVID-19 lockdowns. The subsequent isolation, boredom, and increased desire to connect with others led to an unprecedented amount of new podcasts flooding the market. There are now a dizzying three million podcasts to choose from and hundreds of millions of listeners worldwide.
Podcasting has been around for over two decades, but over the past three years, the scene has evolved and grown pretty significantly. While podcasting was once considered the disruptive Wild West of audio production, the charts are now dominated by established celebrities, political commentators cashing in on the outrage machine, and shows owned by massive podcasting networks like Spotify, iHeartRadio, and Barstool Sports. News organizations such as the New York Times and Fox News have even embraced it while advertisers have flocked to the medium, spending nearly $2 billion in 2022 alone (over double the spending in 2020).
For some old school podcast purists, this signals the end of the Golden Age of Podcasting, a time when podcasts were free from gatekeeping corporate overlords, excessive advertising, and marketing buzzwords like "SEO" and "brand identity" permeating the industry. Naturally, others have argued that the Golden Age is just beginning — but regardless of one's perspective, the sheer number of podcasts in existence means that these independent podcasts are still out there. It's simply a much more crowded market and a show finding its audience (or vice versa) can increasingly be a challenge.
"We haven't really seen listener numbers increase in significant amounts and it's becoming increasingly more difficult to reach new listeners," says Britty Lea, an Erie filmmaker, artist, and founder of the Pocket Podcast Network. "Marketing a podcast is a tricky venture and it definitely provides a unique challenge — how do you share a format that's only audio on social media platforms that are video forward? And how do you reach new people?"
The pandemic presented unique challenges too, cutting listenership nearly in half for some of her network's podcasts due to many listeners no longer having daily commutes. John Duckworth, better known to listeners of Idiotville — Erie PA's Favorite Podcast as his podcasting pseudonym Brent N. Liberty, agrees that the pandemic was rough for their show.
"After the last [Erie Reader] article, things were really starting to happen for us," he says. "More people were finding our content and everyday seemed to bring new opportunities. Then, it was gone." He adds that while they continued recording over Zoom — which was good for their sanity as the world "crash[ed] down around" them — those episodes weren't quite the same. "Returning to the studio helped restore the quality of the show."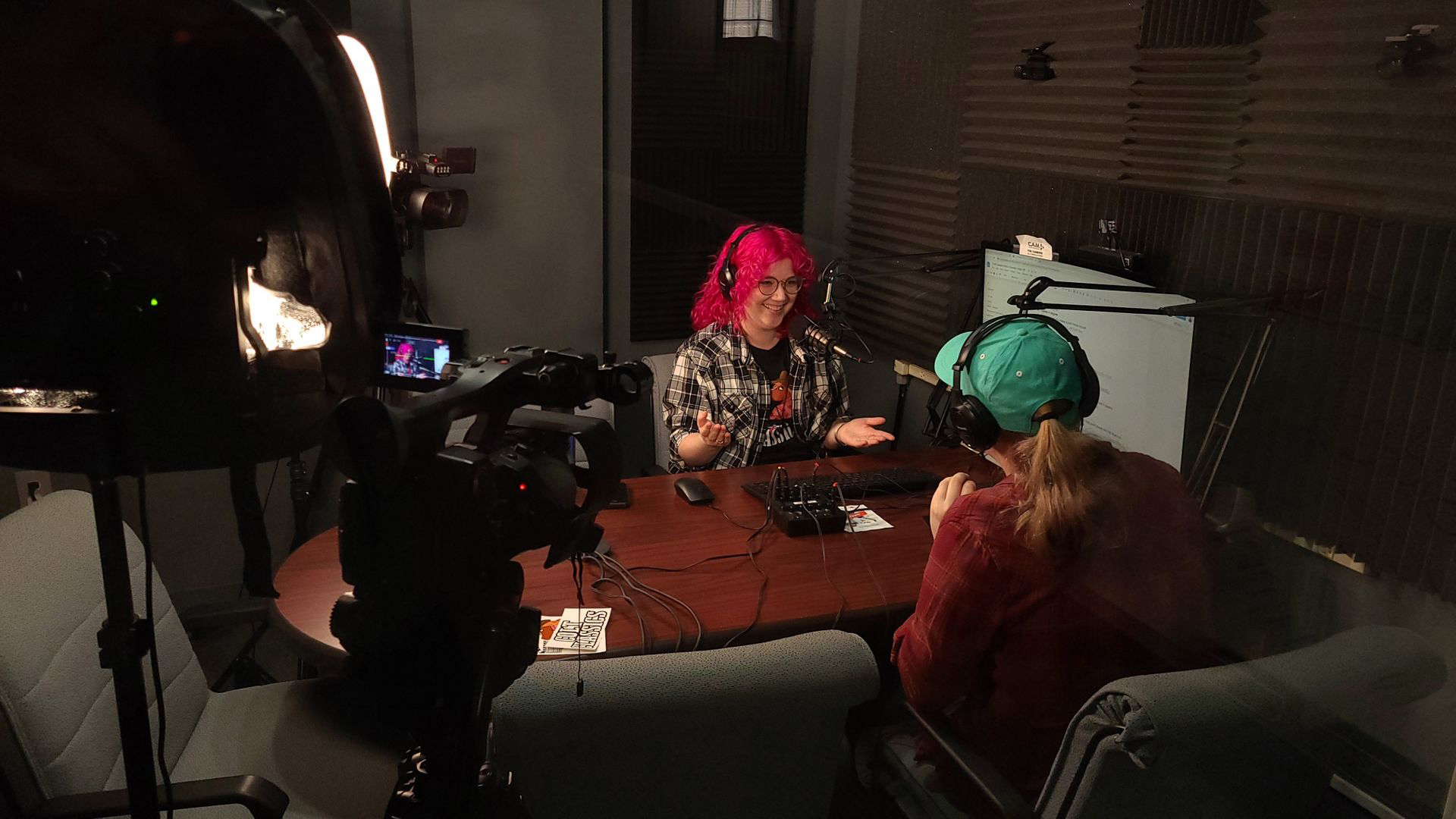 Local podcaster Britty Lea, founder of the Pocket Podcast Network, utilizes the podcasting equipment available at CAM Erie to record a collaborative podcast with her sister called Colt Classics. Photo credit: CAM Erie
While there have been some changes in the crew due to relocation (with occasional return guest appearances), Duckworth, co-founder Dill Spears, and regulars Jake News and Ted Brogan remain, along with two additional members: Anna Hartvigson and Ryan Louis, whose attitudes and friendship behind-the-scenes have added significantly to the show's dynamic.
Whoever is in the conversation though, their mission remains the same: serving the Erie community. "We can have Erie-centric conversations that are accessible to those who live here," Duckworth describes. "Larger cities often carry their idiosyncrasies as a badge of honor. Think of how Pittsburghers celebrate their accent, products, and steelworker past. They act as if they're part of a privileged, select group that's lucky enough to be from Pittsburgh. Much of the point of Idiotville is: why can't we do the same?"
Of the other 24 local podcasts mentioned in the 2020 article, less than 10 remain active. This includes No Hugging No Learning, Tartan Talks, Dig: A History Podcast, Our Erie, Buddycast, and NEXT with Marcus Atkinson. Of course, dozens of others have also been created since then, too, such as the Best of Erie 2022 winner The Girls Night In, the Erie Music History Podcast, the sports-themed The Michael Balko Show, WQLN's The American Tapestry Project, Radius Co-Work's Radius Coffee Talk, a local school psychologist's Ask JenPysch, historian Courtney Baran's food history show Food Wine and Good Ol' Times, the comedic and adult-themed The Roster, and Idiotville Sports, to name just a few.
Simply put, it takes a lot of organization, dedication, and self-promotion to keep a podcast going. It also requires a lot of unpaid time during the finite hours outside of one's paid job. Advertisers, after all, generally don't fork over cash without an established audience.
"I'd credit our longevity to our friendship," Duckworth says of Idiotville, adding that he and his co-hosts talk nearly every day and the podcast is a great excuse to hang out, even if working with everybody's unique schedules can be difficult. "It makes the labor-intensive parts of the process significantly more rewarding when you're doing it with your good friends. … Dill and I started this show as a constructive way to give back to Erie while also having an excuse to have a beer and catch up every week."
Despite all of the challenges, Lea's Pocket Podcast Network has kept busy too.
"We have some incredible shows on the network created by folks from all across the country and we're constantly adding new podcasts to the network," Lea says. This includes their first scripted podcast, Tia and Rio Attempt to Save Themselves (and the World), PokéMakers about a duo creating their own original Pokémon game, and one for tabletop role-playing fans called Green Mountain Mysteries. "[It's] a spooky and irreverent urban fantasy game of monster hunters, butts, sandwiches — and tons of great guests," explains Lea.
Another of the network's more recent shows is called Colt Classics, which she co-hosts with her sister Jessica. "Every episode we conceptualize a new 'bad' horse movie," says Lea. "I have a bachelor's degree in film and television and [my sister] has a bachelor's degree in equine studies. We grew up making up stories together, so this is just the polished version of all those years and years of collaboration."
There truly is a podcast out there for everybody, even in the local market.
Take A VGM Journey, for instance. Hosted by Alex Messenger, each of the over 120 episodes contains music tracks from the 8-bit era of video gaming to modern day with added commentary. A quick glance at episodes reveal music from video games as diverse as Mario Kart, Pac-Man, Sonic the Hedgehog, Grand Theft Auto, Elder Scrolls, and even retro sports games. The show demonstrates the diversity and complexity of music within the video game industry and instills a deeper appreciation for it.
"[I started it] because I have had a lifelong love of video game music and wanted to share my love of it with everyone," Messenger says. "It's a guarantee that no matter who listens to the show, there will be a song that they will really enjoy."
He notes how supportive and collaborative the local podcasting community has been, especially the Idiotville crew. Mostly though, he enjoys picking the new tracks for each episode, playing fan requests, and keeping it fresh for his listeners. He also enjoys the fan engagement. They recently did a Secret Santa Special, for instance, where fans "gifted" each other music tracks.
When asked about the future of Erie's podcasting scene, he points out the Erie Podcast Network page on Facebook. "But I would like to see some kind of podcasting hub that could really show off the various podcasts in Erie and introduce listeners to some new shows," he adds.
Messenger acknowledges that his podcast is pretty niche, but Duckworth actually argues that being niche is positive in the independent podcasting world.
"Any independent podcaster knows that a random celebrity can grab a microphone and outperform them on downloads with no effort," he states. "The rest of us have to serve a smaller audience as well as we can. Much of that involves proving that there is a market to reach. We have the ability to reach people in a way that traditional media can't."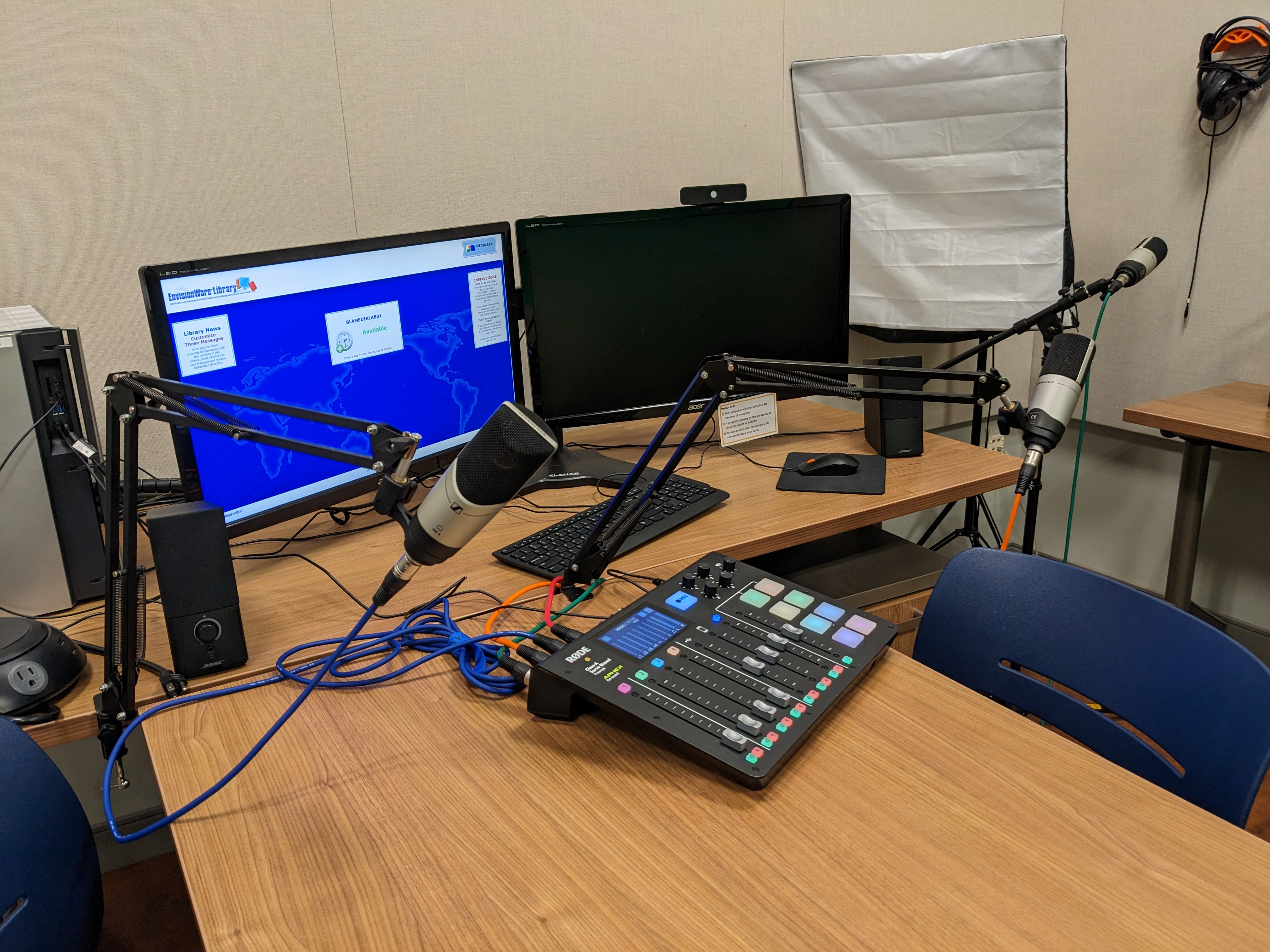 With a valid library card, anyone can reserve the Media Room at the Blasco Memorial Library, which contains all of the equipment necessary to record and produce a podcast. The library also has podcast learning resources available on their website and in the Idea Lab.
So, reader, what if you want to start a podcast?
"The best advice I can give someone who is interested in starting their own show is to go for it," Messenger advises. "There are many unique stories out there in Erie and there is always someone who wants to listen."
"Do it. I'm so serious, just do it," agrees Lea, highlighting local resources available such as CAM Erie, Radius CoWork, and the Erie County Library's Media Lab as well as the podcasting community which, in her experience, is always willing to help and collaborate. "Come up with your concept, plan your execution, record a couple episodes … and then just release it! You can make a podcast about literally anything and if you find the right people to be on your show with you, you're making magic."
"There's a supportive community of podcasters that are willing to help," says Duckworth, who also champions CAM Erie, and stresses that Erie should be a place where creators feel supported and can celebrate each other's successes. "Doing a show like this takes a ton of work. I don't know if many who begin their podcasting journey know how much goes into it when they start. I know we didn't. … Don't hesitate to reach out to the Idiotville team with any questions that you may have. Even if you hate our show, we are willing to help you."
"It's easy to forget when you're in the studio recording that there are people listening to and enjoying the work that you do," concludes Lea. "You're creating for that one person sitting in their car in the middle of traffic. Working out at the gym. Doing their laundry. Laughing at the jokes you've made. Crying at the story you wrote. Disagreeing with the points you brought up. That's what is exciting!"
You can read an ever-changing list of Erie-area podcasts at eriereader.com/podcasts and read about previous contributor podcast picks at eriereader.com/category/podcasts
Jonathan Burdick runs the public history project Rust & Dirt. He can be reached at jburdick@eriereader.com