Celebrating Erie from the Chalkwalk to the Mainstage
There's bound to be something for everyone — lifelong Erieites, visiting guests, and returning students — as long as they don't mind a little celebrating.
August 14, 2019 at 2:45 PM
Friday, Aug. 16 - 18
Celebrate Erie is back, the second of its kind to be helmed by the Schember administration. This year, once more, the city is doing its best to pull together dozens of unique elements that make our city distinct, exciting, and worthy of celebrating.
Taking over State Street from Ninth all the way down to Fourth Street, along with both sides of Perry Square, the event will close off downtown traffic, encouraging guests to stroll through the many specially designated sections.
Moving northward from Ninth Street, guests can take a look at the block-long Chalkwalk, a much-loved aspect of the festival comprised of 40 individual murals, this year sponsored by Marquette Savings Bank. From there, one can check out five different districts, each with their own brand of interests.
Alongside the Boston Store will be the Celebrate Erie Arts District, with original pieces for sale, interactive exhibits, and live demonstrations. An expanded edition of Artlore Studio's "Erie Lore" art show will be displayed, celebrating the city's history through the work of local artists. The first of five stages will be in the Art District as well. The "Living Room Stage" will be an eclectic assortment in a comfortable setting, with musicians like Tommy Link, Gem City Revival, and Zack Orr performing, along with a "uke jam" hosted by World of Music.
The Great Lakes Building & Construction Business District is next. Gain insight into a wide array of local professions and trades, all coupled with a farmer's market and an outdoor video game lounge.
Between City Hall and the Federal Court House will be the Erie Insurance Culture District. There, guests will find the Port of Erie Culture Stage, with music from acts as distinct as Jordy the Traveler and Paper Matches, and performances by Rebecca Mae, Little Dance Studio, and many more. The Jefferson Educational Society will host a lecture series outside City Hall, with talks from Patrick Cuneo, Jerry Skrypzak, Corine Egan, Johnny Johnson, and a screening of Rust Belt New Americans (a film by MenajErie Studios based on the photo exhibition by Maitham Basha-Agha).
On the western side of Perry Square will be the Giant Eagle Food District. Local food trucks will be flanking the park, intermingling with regional breweries in the beer garden. Brick-and-mortar restaurants, not to be left out, will be part of the new Food Passport program in conjunction with Erie Food Tours. Get your passport stamped at Alkeme, Andora's Bubble Tea Shop, El Amigo Mexican Grill, Ember + Forge, Molly Brannigan's, and Voodoo Brewery to be entered to win a $150 prize pack of gift cards. Gourmands are encouraged to use the hashtag #erietasteslike throughout the weekend. The Perry Square Stage is sponsored by the PA Lottery and will have bands like TK Blues Company, Diesel Houdini, and Eric Brewer & Friends playing from Friday to Sunday.
The PNC Bank Family District will be on the eastern (fountain) side of Perry Square, its own stage featuring dance, exercise, yoga, martial arts activities, with youth performances from the Footlights Theatre Program and the Erie Playhouse.
"Really this year is about the in-betweens," explained Aaron Loncki, marketing strategist for the City of Erie and one of the principal organizers behind Celebrate Erie. "It's about engaging people while they're here and making them want to stay. For example, we have a number of vendors and folks that are going to have a set up. We've charged everybody with doing something interactive, whether that's [giving] a demonstration, whether they're selling something, or [hosting] an activity." Putting last year's comments to work, Loncki and his team welcome the event's evolution and improvement. "We found from the survey last year that we want to keep people engaged and they want to be engaged when they're down here. Our goal is to keep people on their toes, throw some surprises in along the way, and make sure that they're excited to be there and they want to stay."
After all the districts, at the foot of Fourth Street will be the Mainstage. Opening up will be YouTube sensations First to Eleven, followed by Matty B & The Dirty Pickles with their 15th-anniversary show. Headlining Friday will be Erie All Stars Present Queen, in one of the most ambitious local performances in recent memory. "The great thing about this is it's not only local musicians like the Erie All Stars as the base-band, we have the Erie Philharmonic, we have the Erie Thunderline [the drumline project of the Erie Thunderbirds], and we have the Erie All Stars Choir as well," Loncki said excitedly as the groups rehearsed, their music reverberating in hallways of the Bayfront Convention Center. "This year to me is more about collaborations; it's about showcasing our local talent."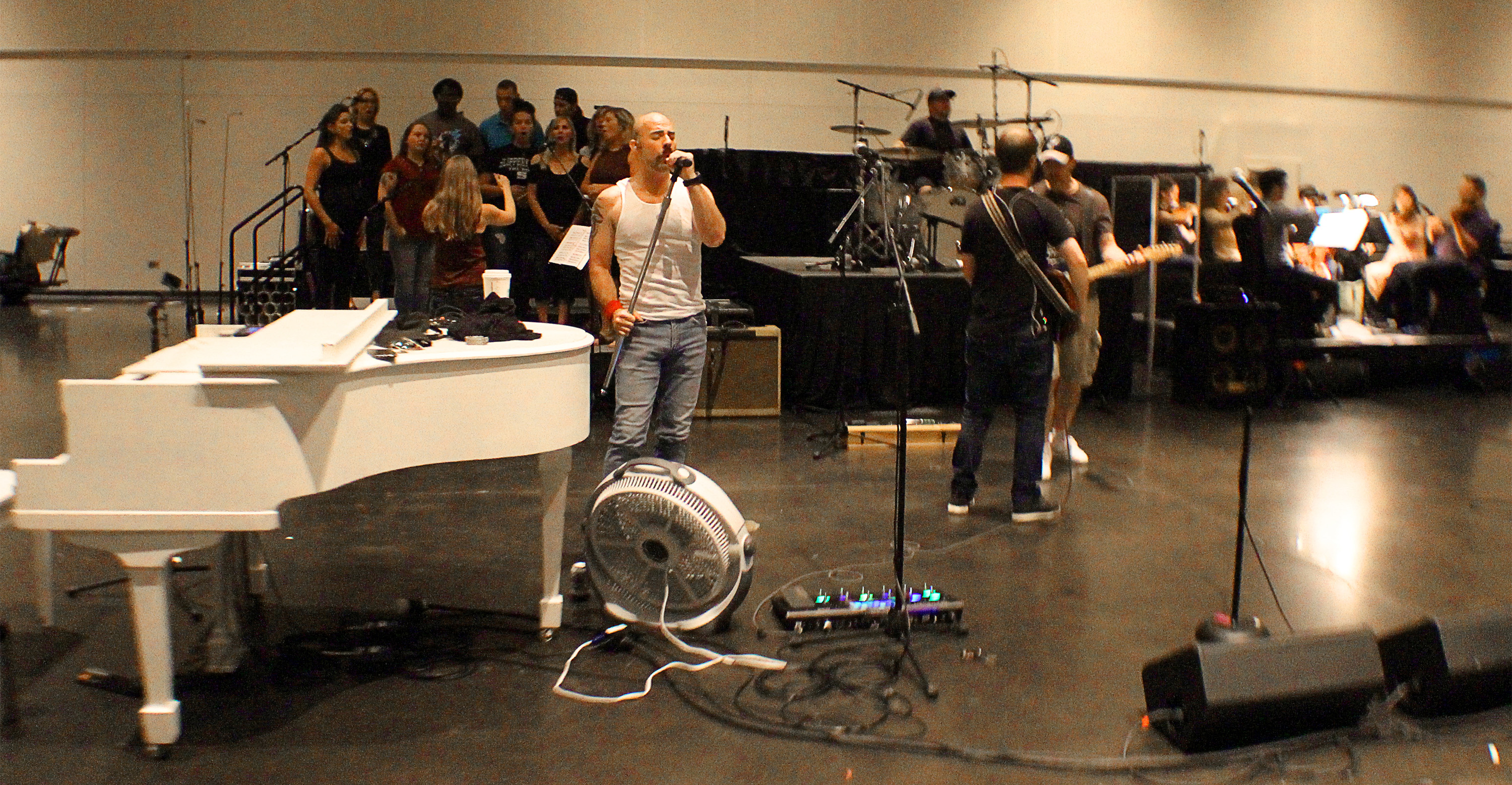 The Erie All Stars rehearse for their Celebrate Erie Queen tribute (with Trevor Huster as Freddie Mercury) with members of the Erie Philharmonic at the Bayfront Convention Center.
Saturday will see a double headlining bill, with Keri Hilson and Sister Sledge set to perform after Erie's take on Motown, the Familiar Spirit Band, opens up the evening. Hilson is a well-loved figure in the R&B landscape, predominantly known for her successful debut album In a Perfect World… Released in 2009, the album is certified Gold and spawned eight different singles. Prior to her own career, Hilson had also penned songs for artists like Britney Spears and Mary J. Blige. Closing out the night will be Sister Sledge, the disco-era family group now consisting of real-life sisters Kim, Debbie, and Joni Sledge. The group is most well-known for their smash hit "We Are Family," the eponymous track off their 1979 Platinum-selling album.
Sunday has traditionally been the "country" day of the festival, and this year is no exception. 100 Proof, a "Next of Kin production" which features members of the band will kick off the last day. Refuge will warm up the crowds, with their high-energy country set featuring male and female vocals. The last performance of the evening will be the silvery baritone of Scotty McCreery. Rising to national prominence after winning American Idol at the age of 17, McCreery's 2011 debut album was certified Platinum, with his latest, Seasons Change released in 2018.
In addition to this already packed schedule, the Erie Seawolves will face off against the Akron RubberDucks at UPMC Park all three days of the event, with fireworks on Saturday. All in all, there's bound to be something for everyone — lifelong Erieites, visiting guests, and returning students — as long as they don't mind a little celebrating. — Nick Warren
Friday to Sunday // Downtown Erie // Free // For a full schedule of events, go to celebrateerie.com