Chew Mail Pouch
No, this isn't about gnawing on a postal carrier's bag.
July 16, 2013 at 11:18 AM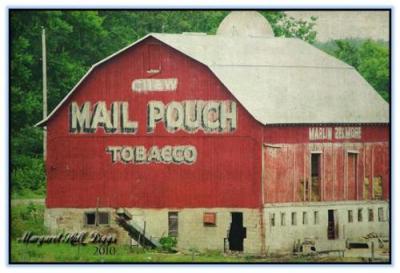 Chew Mail Pouch.
Only particularly astute cultural observers or readers of a certain age will know exactly what these words mean; no, it's not a dog's favorite hobby.
Mail Pouch chewing tobacco was manufactured and sold by the Bloch Brothers Tobacco Company, based in Wheeling, W.Va. starting in 1879 – when Samuel Bloch began hand-rolling cigars to sell at his grocery store. It is still sold today, albeit by Swisher international.
Bloch Brothers' simple, straightforward advertising slogan "Chew Mail Pouch Tobacco – Treat Yourself to the Best" became well-known across America thanks to both a novel advertising strategy, and a few itinerant sign painters.
Here's how it worked – before the dawn of the interstate age, crews of sign painters working in pairs would travel the country's rural highways, scouting for good locations – often at the crossroads of two such rural lanes. Upon finding a suitable barn, the painters would offer farmers $1 or $2 (as of 1913, which is $25-$45 today) per year to "rent" the space, upon which they painted their slogan. Everybody won – farmers received a free coat of paint and a couple bucks, while Bloch Brothers gained brand recognition.
This strategy was practiced beginning in 1880; many of the sign painters made a career of it – painting by day, sleeping under the stars by night, far from home, for months at a time. One such artist – a man named Harley Warrick from Belmont, Ohio – painted the first of his estimated 20,000 signs upon returning from World War II, when a Mail Pouch crew who was painting his family's dairy barn enticed him to join them.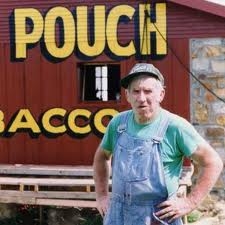 Figuring it beat jerking udders all day, Warrick began working at the only profession he would ever practice; when Bloch Brothers was sold to the General Cigar and Tobacco Company in 1969, they decided to discontinue the barn advertising campaign, but they just couldn't fire Harley, because, well, look at the guy (right). So they decided to let him work until he decided to retire, which ended up being in 1992.
Harley Warrick was the last of the Mail Pouch Painters. His work can be seen today in the Smithsonian Institution, as well as in California, Illinois, Indiana, Iowa, Kentucky, Maryland, Michigan, Ohio, New Jersey, New York, South Carolina, Tennessee, Wisconsin, West Virginia, and, yes, Pennsylvania. In fact, there are even some Mail Pouch barns right here in Erie County. According to OhioBarns.com, they are:
- Rt. 6 east of Union City by 1.5 miles (Photo)
- Rt. 77 south of Corry about 3.5 miles (Photo)
- At South First Street & West South Street, one block S. of Rt. 77 (Photo)
- In Union City on Rt. 6 at intersection with First Street (Photo)
- On Old Rt. 99 near Branchville (Photo)
- North of Waterford on Himrod Road, east of Rt. 97 (Photo)
- Rt. 6N one half mile west of I-79 (Photo)
- Between State Route 20 West & W. 22nd St. near State Route 20 & Asbury Rd. (Photo)
It's unclear whether or not Warrick painted any of these barns, but often the artists would hide their initials somewhere on the piece, so it may be possible to find out. Just remember, these barns are private property – most likely owned by someone who, in turn, owns a shotgun – so get landowner's permission before suspiciously trespassing on farmland.
Do you know of any other Mail Pouch barns in Erie County? Did you find a Harley Warrick? Do you have a favorite elsewhere? Leave it in the comments section below.