Circle Back to Fitness with YMCA 360
On-Demand Online Programming for All Ages
April 23, 2020 at 10:00 AM
Pre-quarantine, perhaps you hadn't been to the gym all that often, but you'd been around — a sort of ethereal presence lending your spiritual support. What goes around comes around, and luckily for us, the YMCA of Greater Erie has been privy to this karmic interchange all along. Both locally and globally, the Y's presence can now be summoned like a genie out of thin air around the clock, via Facebook, the YMCA 360 Online Exercise Center, and a host of other virtual health and wellness resources.
"During this time of uncertainty, the Y is here for you. The Y continues to be your support for health and well-being, wherever you are," said Gerry Vandemerwe, YMCA of Greater Erie CEO. "Regular exercise and connection to community are two important components of a healthy lifestyle that can help reduce stress and prevent illness. While we would love to see you at the Y, we've assembled a variety of at-home virtual resources to inspire and connect."
Just as the Y-shaped antibodies in your bloodstream provide defense against infection, getting in shape with the Y can boost your immunity against the doldrums and depression during this difficult stretch.
How to access
Very simply, type ymca360.org into your browser bar and immediately start perusing a broad variety of free classes. 
What you'll need
It depends on who you are and what you're into. Each YMCA 360 video is tagged with a recommended fitness level and the equipment required, so you're not caught by surprise and not forced to grab a prized vase, household pet, or child as resistance halfway through. The cycling (exercise bike), boxing (punching bag and gloves), and weightlifting (bar and plates) modules demand a greater financial and spatial investment than something like yoga, which will only involve a mat or a chair. Youth sports drills would be better executed with a backyard (soccer) or a driveway (basketball), unless you're fortunate enough to possess your own indoor gymnasium.
What you'll do
I'm not disproportionately blessed with space or money, although there is a lawn behind my apartment complex to recreate my favorite youth sports drills. The grass pluck selective focus drill, however, is not included in the Y360 lineup — so like a fly ball or line drive hit my way at Brabender Park in '95, I let it go and move on.
Bootcamp
These circuit-based calisthenic classes are all about going through the motions — not listlessly, but vigorously. The videos vary in length and intensity, with some incorporating dumbbells or kettlebells to spice things up. While a nice blend of cardiovascular and strength training principles, my one qualm is that a single workout is often broken into several videos, disrupting the flow a bit.
Barre
Originally part of ballet training regimens, barre workouts gained standalone popularity worldwide through the latter half of the 20th century into the present day. My previous encounter with it came four years ago during a visit to Erie's Liege Bar and Pole, when studio owner Jen Esper cranked up the Wham and cranked up the pain during a brief sample session. The Y360 barre offerings I tried did not offer quite the same burn — given titles like "Booty Fusion" (as opposed to "booty fission," or the splitting of booty nuclei), I was expecting to generate more heat.
Granted, I did substitute a Swiffer handle for the weighted bar recommended for these exercises — I guess I never exactly "cleaned up" in the preparedness department.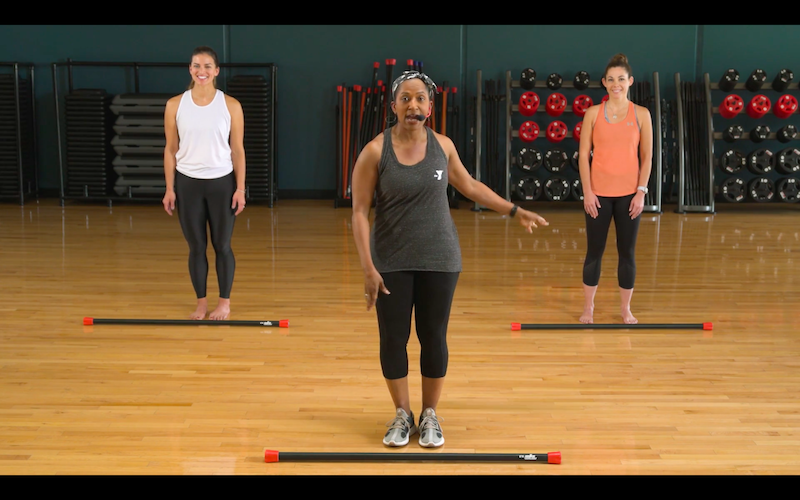 Here's hoping that my virtual gym crush, Sam (at left with gorgeous smile), would be swept off her feet by my Swiffer resourcefulness.
Tai Chi
I arrived at these out of curiosity; I stayed for the dad jokes. Did you know knee rotations were named after the Roman emperor Nero? Get it? Nero-tations. Anyway … Tai Chi is a gentle way of rediscovering balance, epitomized the Crane Walk, which will help you avoid stepping on Legos in the dark after late nights playing Yahtzee (did I mention online instructor David Larsen is a hoot?)
And so much more
Between the Y's Virtual Health and Wellness portal and its Facebook page, there's a whole lot more than I can (or you'd want me to) get into. Those serious about setting goals for themselves can track their progress for free using the YTRAAK software at ytraak.org (and stay tuned for the next fitness challenge). Stick around.
The best Matt Swanseger can say about himself is he tries. He can be reached at mswanseger@eriereader.com