City Dismantles Occupy Erie Tents, Arrests One
City dismantles Occupy Erie tents, arresting one in the process. Why?
December 11, 2011 at 1:03 PM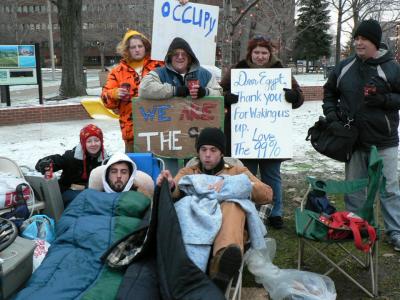 Yesterday at about 3 pm, city officials took down Occupy Erie's tents and arrested a woman, Alexandra Spanos. Erie Times-News:
City officials dismantled two canopy tents that were providing shelter for Occupy Erie protesters Saturday afternoon. One person was arrested.

A Public Works Department crew disassembled the tents, which were walled with tarps and plastic sheeting, just after 3 p.m. They filled three pickup beds with items they found inside the makeshift camp: blankets, bedrolls, sleeping bags, shoes, umbrellas, and a small table made from a cable spool.
What provoked the dismantling of the tents? It's hard to say. In the ETN report, Mayor Sinnot said city officials who were at Perry Square on Friday "determined [protesters'] structures were no longer simple temporary shelters."
According to Liss Vickery at the Occupy Erie website, the conflict had to do with a concernt that took place on Friday.
We believe this action to be the result of a conflict between Occupy Erie and the Bureau of Parks and Recreation. Dave Rocco called several occupiers hours before the scheduled OccupyConcert on Dec. 9 requesting we cancel the event. He was not forthwith about the consequences of what could happen should we refuse to cancel. He cited varied reasons as to why he wished to have the event cancelled, including weather and security.

Arts and Culture spoke with Rocco about obtaining a permit before the event. According to Arts and Culture, Rocco did not deny the permit, but said the event could take place without one. Occupiers and musicians alike decided to go ahead with the OccupyConcert. Spirits were high, chanting and celebrating ensued. The OccupyConcert ended with smiles and eating donated pizza.

We believe the action of police and Public Works are a result of our refusal to cancel the OccupyConcert, which Arts and Culture had a verbal agreement with Rocco allow us to have, which he rescinded the day of the event.
The Erie Times-News report claims there was no concert, but "Jesse L" posted clips of the concert on the group's website along with voicemails from Dave Rocco, in charge of permitting for the city's Parks and Recreation, who said on the recording that setting up an extra tent "kind of riled a few people."
Whatever the reason for the action and arrest, it's obvious that the city of Erie is ambivalent about Occupy Erie's presence in Perry Square. Unwilling to take a hard stance against the group and remove the encampment altogether, the city also has made it difficult for protesters to settle in. It seems the city would prefer Occupy Erie to leave, but doesn't want direct conflict with the protesters.
For now, protesters remain in the park.