ComiCon Erie's Second Senses-Shattering Issue
Three days of celebrity guests, artists, cosplayers highlight this year's convention
September 12, 2018 at 10:00 AM
Friday, Sept. 14 – 16
The second installment of ComiCon Erie is here, and it shows no signs of slowing down. This year showcases a wide breadth of talented creators and personalities ranging from the paper panel to the big screen. That's good news to comic fans all across the region, and looking at this year's box office receipts, that number is at a record high. Over the past several years, geek culture has gained a ubiquitous presence in mainstream society. Geek culture is, arguably, now pop culture. Out of the top ten domestic box office earners of all-time, seven of them are either superhero movies or Star Wars films. It's a watershed time to be a geek these days, and ComiCon Erie lets fans indulge their love of media to superhuman degrees.
At the heart of it all are comic books (or as legendary creator Stan Lee would prefer, "comicbooks"). Decades ago, comic book conventions looked wildly different. They were simple events with few frills, often lumped together with sports cards and other barely-adjacent collectibles (though this writer recalls walking out of the Avalon having exhausted several months of allowances, making off with a copy of The Adventures of Superman #500 signed by guest artist Doug Hazlewood and a pretty slick Spider-Man Vs. Venom hologram card that's somehow increased in value). These days, thanks in no small part to the world-famous convention in San Diego, they're a media spectacle, packed with celebrities, eye-popping displays, and throngs of guests cosplaying (i.e., impersonating/dressing up) as their favorite characters.
Things kick off at the Bayfront Convention center on Friday afternoon at 2 p.m. and go all weekend until 4 p.m. on Sunday. There will be plenty of guests, artists, cosplayers, and displays to check out.
One of the guests who is, in fact "supposed to be here today" is Brian O'Halloran, known primarily for his role as Dante Hicks (and various other members of the Hicks family) in Kevin Smith's "View Askewniverse." Diligent local convention-goers will recall that O'Halloran appeared at the 2013 Eerie Horror Film Festival as well.
Fresh off the heels from a visit by Chief Jim Hopper, another pillar of the Hawkins community will be in Erie: Randy Havens, best known as Mr. Clarke from Stranger Things. Fans will know the AV club leader well from his integral explanation of "the upside down."
Falk Hentschel, better known as Hawkman on the CW's Legends of Tomorrow will also swoop in. Portraying Carter Hall, Hentschel has appeared as the character in The Flash and Arrow as well (not to mention starting his television career as one of the "Hot Cops" in Arrested Development).
Fans of Power Rangers: Time Force will be eager to meet Jason Faunt, who plays Wesley Collins, the Red Ranger. Faunt starred in the series and has appeared in various other Power Rangers titles.
Michael Koske and Greg French will be in attendance as well. Both actors have had numerous appearances as "walkers" in the tremendously popular AMC series The Walking Dead. On Sunday morning, they'll host a special class, "Zombie School." For an extra $40 (usually $100, but available at a discount to con attendees), you'll be learn to walk the walker's walk mirroring the same instruction they received from the show.
Artist Graham Nolan (appearing Saturday and Sunday only) has done a back-breaking amount of work for the mythos of Batman comics. Working with writer Chuck Dixon during the monumental "Knightfall" storyline, he co-created and designed the villain Bane. He also had a long stint as the artist for The Phantom, a strip that is syndicated in newspapers nationwide.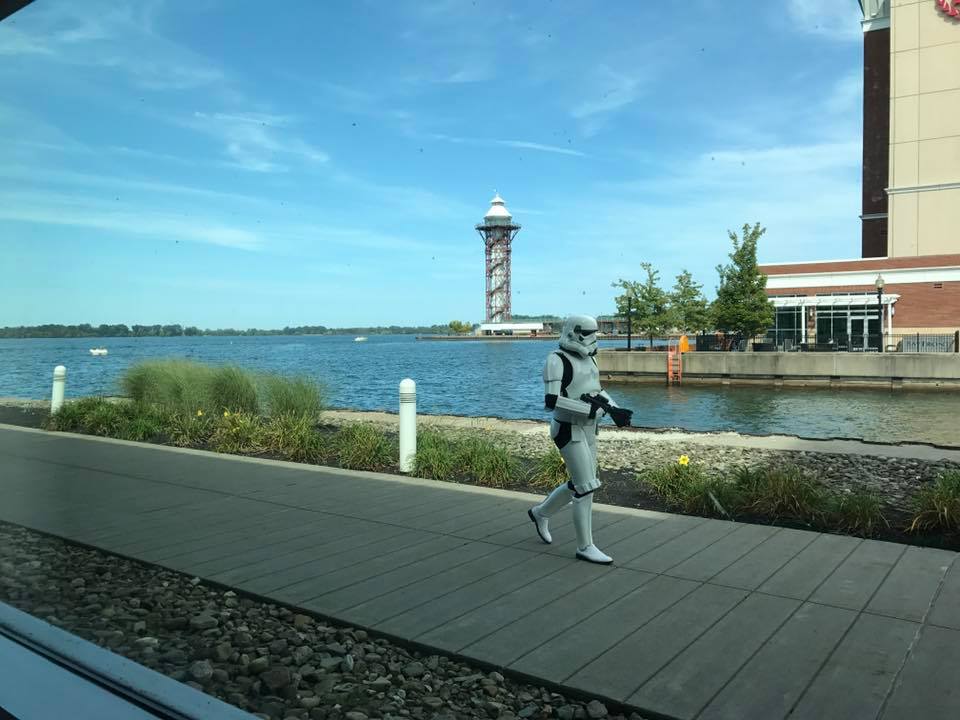 This isn't Starwars but character like this stormtrooper (and a multitude of other fan favorites from across genres) can be seen at Erie's ComiCon.
In brightest day and in blackest night, writer Ron Marz has helped shape multiple comic universes since the mid-1990s. With long runs in titles like Green Lantern, Silver Surfer, and Witchblade, he's been an important name in the landscape of comics storytelling, having helmed many notable company crossover events.
Pop culture artist David O'Keefe will also be one of the celebrity artists. With a distinct style of caricature-influenced illustration, he re-envisions moments from movies like The Big Lebowski and Caddyshack, as well as having a penchant for the world of sports, politics, and rock 'n' roll icons.
Finding a firm foothold in the world of animation and cartooning, Stephen Silver was the lead character designer for Kim Possible and brought fellow guest Brian O'Halloran to life on the animated version of Clerks. Silver will be returning to ComiCon Erie with artist Kurt Lehner and Tom Fluharty. Lehner has worked in both the animation and comics worlds with work on the Gargoyles franchise, Space Jam, and more. Fluharty has a rich method of painting, and specializes in stylized celebrity and pop culture portraits.
For another unique flavor of artistry, pancake artist Dan Drake will be appearing on Saturday and Sunday. With more than a quarter million YouTube subscribers, Drake is the titular "Dan" of "Dancakes." Making incredible, edible art, Drake has racked up millions of views with his entrancing method of layering colored pancake batter to make beautiful art, often depicting superheroes, cartoon characters, and colorful pop culture figures.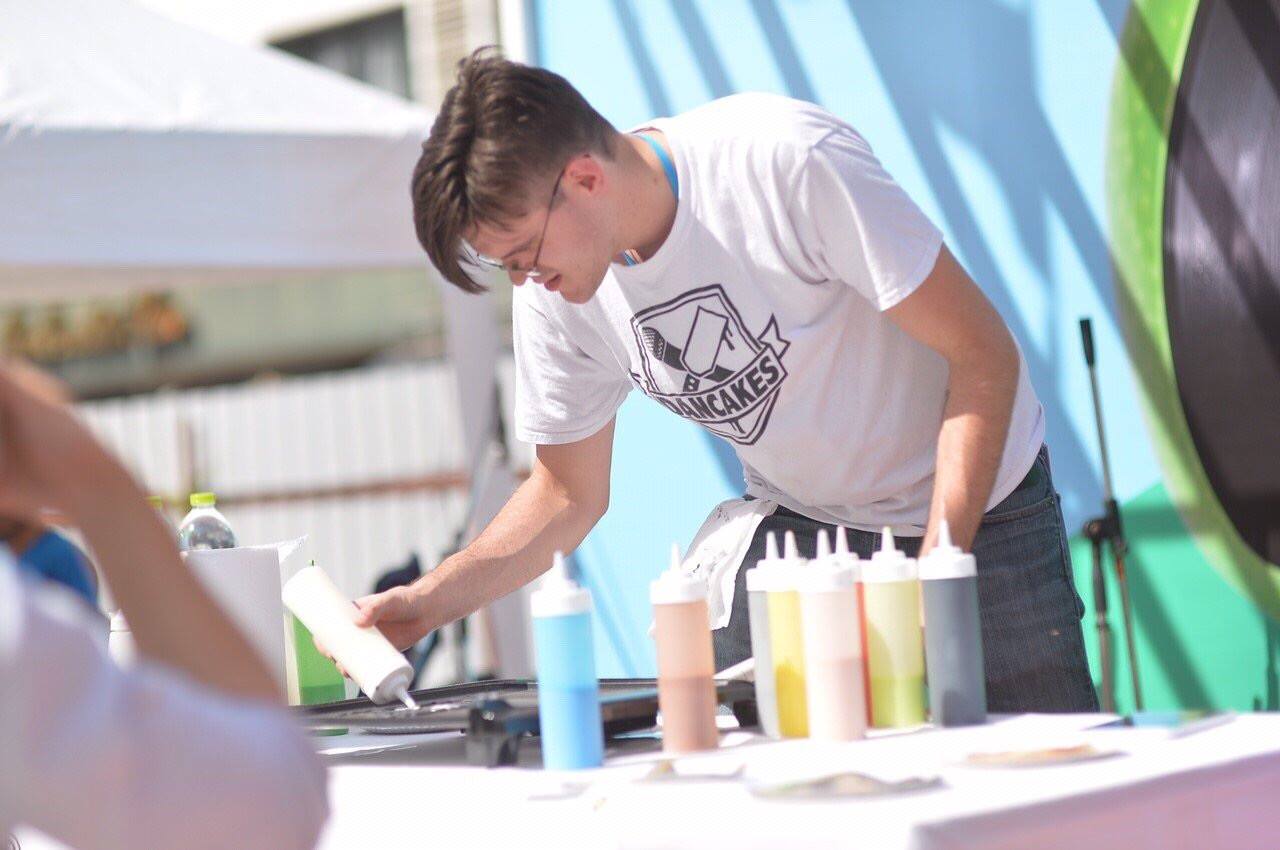 Pancake artist Dan Drake (pictured above) creates edible masterpieces using colored batter.
Additional featured artists include The Art of Shane & Devon, Kristian Lehner, Kelci Crawford, Beckham a.k.a. "The Squid Kid," McSoss, Nate Jeffers, Dave Nestler, Fringe Night Comics, facepaint artist Taradoodles, Stacie and Nathan from 819 Comics, Sean Usyk, Dan Ekis, Benny Miller, Franklin Barkley, Kevin Fellows, Tom Waterhouse, James Broadhurst, and more.
There will be several vehicles and displays to check out, like the Mach 5 from Speed Racer, the '67 Impala from Supernatural, a TARDIS from Dr. Who, and more. Special guest cosplayers for the weekend will include Ruby Rinesko, Jennifer Rose, OBX Megatron and Jazz from BNB Cosplay, Amanda Robinson, Maiacat Cosplay, and Erie's own Brooke Surgener. Groups Fleet 31 and the 501st Legion will be there too, in large-scale Star Trek and Star Wars cosplay, respectively. Friday night will also have special "Cosplay Ball" held at the Bourbon Barrel starting at 8 p.m. for an additional $10 for guests over 21.
With such a packed schedule, catching everything sounds like a superhuman feat. — Nick Warren
Friday 2:00 p.m. to 7:00 p.m., Saturday 10:00 a.m. to 7:00 p.m., Sunday 10:00 p.m. to 4:00 p.m.// The Bayfront Convention Center, 160 E Front Street // $15 Friday or Sunday, $18 Saturday, $30 "Geekender" pass // eriepromotions.com/comicon-erie