Corbett: Gay Marriage is Like Incest
Bad at governing, good at putting foot in mouth.
October 4, 2013 at 9:39 AM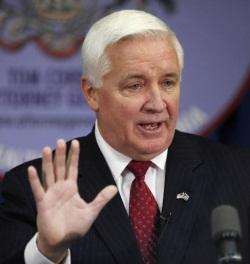 Oh no, he didn't!
Mr. Corbett make the remark on a Friday morning news broadcast by WHP-TV in Harrisburg, when asked about a statement his lawyers made in a court filing in August.
The state attorneys at that time compared gay and lesbian couples to children, as neither may legally marry in Pennsylvania.
Mr. Corbett, who previously called that statement inappropriate, now says he thinks "a much better analogy would have been brother and sister, don't you?"
Yes. Yes, he did. He went the gays = incest route.
If you squint hard and imagine Governor Corbett to be savvy and competent, you might think it's a ploy to energize his base, split the electorate over a divisive issue, and ride it all the way to re-election…if it weren't for this:
A poll conducted earlier this year by Susquehanna Polling and Research shows that more than 70 percent of Pennsylvanians support banning discrimination against individuals on the basis of sexual orientation.

The most recent Franklin & Marshall College poll reinforces those results, showing support for gay marriage among Pennsylvanians to be growing with 54 percent in favor, up from 33 percent in 2006, and 41 percent opposed, down from 60 percent in 2006.
It's almost like he doesn't want to be governor.