Curtis Jones is Someone You Ought to Know
Councilman Curtis Jones sees great potential in his community. He's relentless in his efforts. And he has faith. A lot of faith. As Julie Hedglin discovers, he's someone we all ought to know.
April 27, 2011 at 12:00 AM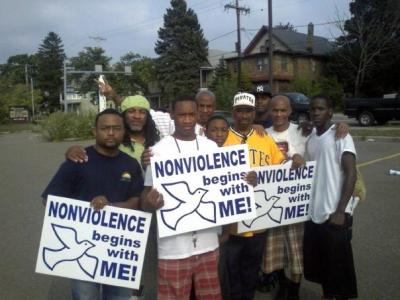 The Parade Street Community Center is located on the Eighth block of lower Parade Street. It's close to Denny's Ice Cream Stand and is complimented nicely by several blocks of houses, eliciting a neighborhood feel. P.S.C.C., as its website states, was conceived for, "the sole purpose of meeting the needs of the people," and it shares its address with Abundant Life Ministries International.
Upon entering the doors of the P.S.C.C., a mural that stretches the length of the wall welcomes visitors to the great room. The mural—actually a plywood cut out— portrays a brightly colored city complete with automobiles, stoplights, and a body of water.
The Bible verse Matthew 5:14 extends over top of the mural like a banner. "A town built on a hill cannot be hidden."
Curtis Jones, Jr. wouldn't have it any other way.
Curtis serves as an associate minister at Abundant Life Ministries under Senior Pastor Robert L. Gaines, Jr. The Abundant Life Ministry and Community Center is the nerve center for the myriad of community-based programs that Curtis is involved in, all of which cater to the needs of both the immediate and larger-scale community.
Curtis walks into the Community Center, carrying a treat. He stopped at Denny's before the meeting to grab something for his wife. He shuffles across the hall to the freezer in the kitchen. It'll wait there until she's ready.
The large room serves as a cafeteria during Community Lunch service where people come to enjoy a home-style meal served by volunteers; one of the many efforts of the P.S.C.C to facilitate community-service and involvement. Curtis told me about the Lunch at one of our earlier meetings, and soon after I found myself volunteering there.
The hall echoes with the sounds of his children who remain just out of sight. They're working on the center's computer, a valuable asset that allows for free Internet access.
My eyes were constantly drawn to the work of art that was undoubtedly the product of gracious volunteers donating their time and effort to create such a beautiful display. The mural, like Curtis and the P.S.C.C., is the product of a unified purpose to improve the quality of the surrounding environment.
Curtis Jones, Jr. is the eldest of 14 children born to Curtis, Sr. and Vickie Jones. He grew up at 1826 Holland St. and attended Mercyhurst Prep High School. He went on to attend Thiel College where he graduated in 1998 with a bachelor's degree in political science and a minor in theological studies. His wife, Mannon Jones—aside from being the lucky recipient of the tasty treat Curtis brought her— is the mother of his four children: Curtis III, Hannah, Elijah, and Micah.
He maintains that he never thought he would serve as an elected official, but he always knew he wanted to contribute to the improvement of his hometown. A decorated athlete, Curtis participated in athletics through his entire academic career. His first job even involved athletics—he worked at the Erie Sports Store.
But Curtis had bigger plans for himself and his city. So after working at the Sports Store, he took a position at Sarah Reed Children's Center—a place he worked at for 10 years and cultivated his passion for the younger generation.
Curtis participates in two organizations nationally. He is a member of the Young Elected Officials Network, which is made up of elected officials ages 35 and under from around the country. This group, as stated on its website, "aims to help propel young electeds successfully along their path to become effective public servants." Curtis also serves as an executive member of The Gathering for Justice, a juvenile justice organization, started by Harry Belafonte, which is "a movement for coordination to engage organizations in a common covenant for justice and ending child incarceration," as indicated on the organization's website.
But Curtis spends time focusing his endeavors locally too and the list of his involvement reads like the scrolling credits of movie.
He serves on a slew of boards and authorities. He is chairman of the Erie County General Authority and the Erie County Community Services Financing Authority. He is a member of the Economic Development Corporation of Erie and the Erie Metro YMCA board, the Erie Festival of the Arts board, the Community Country Day School board, a 2009 graduate of the Leadership of Erie Executive Skills Training Course, member of Blue Coats community group fighting youth violence, and a member of the Steward Team of the Erie Together poverty initiative.
When one hears of Curtis by word of mouth, the impression might seem like the preface to his every-growing book of ideas. Every query about him was answered by mentions of city stability, condition of city members, and envisioned improvement.
Mannon speaks of his commitment to his community.
"Ever since he was a teenager, he wanted to do anything he could to improve his community," she said. "It's his passion and his calling."
Mannon participates in some of the community-involvement activities at the Community Center and has had plenty of opportunities to observe her husband in action.
Even though the numerous capacities he serves in makes for an impressive biography, it is his actions and words that are the true measure of his involvement. Talking about his genuineness, Mrs. Jones says, "Curtis' constant thought process is 'Who can I help?' or 'How can I make it better?'" He upholds a self-evident standard of decency that permeates through all the titles.
His visions and dreams for the city stem from a genuine desire to improve the lives of every individual. In the face of a generally low morale, as a result of miserable weather patterns and unfortunate circumstances, Curtis offers hopefulness and genuine intentions to broaden the experiences of those without the means to do so themselves. He invites members of the community to partake in experiences they would otherwise not take part in. And the foundation of his involvement is the attention he pays to the people.
Curtis believes in a multi-prong approach when it comes to the manifestation of positive influence on those he reaches.
Regarding teenagers or younger people, Curtis says, "We're teaching them life-skills and teaching them manners, courtesy, chivalry, respect, positive attributes." Values and behaviors that are conducive to a responsible lifestyle.
Adults who may have already begun participating in negative, harmful behaviors require more of an intervening type effort, "so where the first process serves as prevention, the second is an intervention."
A culmination of these processes is the cooperative effort he participated in, including the nonviolence coalition of P.S.C.C. and Sarah Reed's Alternative Education Program. Curtis worked with the school district in a 13-week series of groups every Tuesday from 8:45 to 10:45 a.m., five or six groups per day spent time, "talking about responsibility, talking about greatness, reminding the kids how great they are." The project sought to prevent unhealthy self-concepts and intervene against damaging behaviors and revealed successful changes in dispositions among the children that were involved.
Curtis uses his position on City Council to extend his reach further regarding the projects he's involved in. "The work I'm doing is from my City Council seat." The position as council liaison gives him access to information so that [he] can put these, "community ideas and initiatives into action and bring them to fruition."
Curtis accounts for the role of government as creator of a space in which people can succeed. He is disgruntled by the untapped potential of the base individual and advocates that every single person, "has something inside of them that the world needs… and most people die before they give that gift to the world," he says, "That's something I try to do, inspire you to tap into you… People forget how great they really are."
His trademark is, without question, his faith—faith in religion, faith in people, faith in community. His objective is to inspire those he interacts with to be motivated to fix our own problems. He does not hold the concept of 'handouts' favorably.
Instead, he has faith we must look within to improve our circumstance. While delivering the invocation at a recent United Way luncheon where he served as ambassador, he asked God, "to allow us to see challenges as opportunities, to allow us to see blessings and prosperity as responsibility to others." Every challenge is a goal in disguise, challenges are meant to inspire. This belief has really become his mantra, echoing a virtuous principle, "the past has to be the past, the future is where you're trying to get, but what you're focusing on is the right now because this is the most valuable time."
Curtis' life has been spent here in the City of Erie. He may very well be the adopted son of Lake Erie herself because he cares about the plight of the city as if it were his own. His wife, speaking of his origins, said "Curtis is a native of Erie. He has a vested interest in his community because his children and his family are here." He is the proclaimed product of a lot of peoples' prayers and hard work and looks forward to facing the necessary challenge to better our community and hopefully, the world, "I believe in it. This is where I was born and raised, where I'm raising my children and if I don't believe in it then why am I here?"
The colors on the wall are reminiscent of an artistic classroom. And Curtis? Well, he emulates distinct qualities of an art teacher. He encourages creativity. He praises your work, even if it is not the best. He cheers you on and always focuses on the positive. No wonder art is a favored subject. You can't help but appreciate the large, colorful mural just like you can't help but appreciate the goodness within Curtis. He has achieved so much and been elected to so many organizations, yet he only mentions it when he is asked. Instead of expecting respect, he sees the world on an even keel—he believes that everyone, including himself, could stand to be a little bit better.