Deeper donation pool set for Erie Gives participants
GE, Erie Insurance, Presque Isle Downs and Casino join The Erie Community Foundation for annual event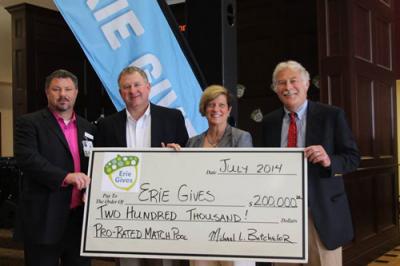 More than 300 area nonprofit groups collected in excess of $1.7 million during last year's third annual Erie Gives online donation event, and project organizers are hoping for even bigger numbers this time around.
They won't have to wait long to see just how big the numbers will be, as the fourth annual event is set for Aug. 12. That's when community members will be able to pull out their credit cards and give to their charities of choice.
Last year, all nonprofits that received a donation also shared in a $150,000 pro-rated match pool that was funded by The Erie Community Foundation and GE Transportation.
This year, that pool has swelled to $200,000, as Erie Insurance and Presque Isle Downs & Casino joined GE Transportation and The Erie Community Foundation in contributing. The Community Foundation provided $100,000, GE contributed $50,000 and the two new donors each chipped in with $25,000.
Representatives from all of those entities were on hand at a media gathering Tuesday at Presque Isle Downs & Casino to talk about this year's Give Day.
Mike Batchelor, president of The Erie Community Foundation, said although the local Give Day is relatively new, it's already building a reputation among those in the charitable fundraising business.
"We know this is a recognized, well thought of Give Day that people try to emulate," he said. "To raise $1.7 million in 12 hours in Erie, Pennsylvania, is a big accomplishment."
Tim Waldee, executive leader for programs at GE Transportation, called the local event "a creative, experimental approach to giving that's really paid off."
Waldee said some 260 GE employees donated more than $73,000 last year, which was matched by a corporate foundation.
Ann Scott, a community outreach manager for Erie Insurance, noted that Give Day is a great way for local residents "to give back to all of the nonprofits that are important to them and that make such a difference to all of our friends and neighbors in the community."
Jeff Favre, vice president and general manager of Presque Isle Downs & Casino, said his company is committed to being a true community partner "and I can't think of a better way to do this than through Erie Gives."
A year ago, 301 nonprofits received $1,738,236 in the form of nearly 4,900 donations. Some 4,613 unique donors participated, with donations coming from 37 states. The largest single gift was $38,000 and the average gross gift was $334.
Batchelor said Erie Gives is amazingly efficient, as nonprofits spend on the average of just 10 hours marketing the event. "It's not like they're working all year to get new donors," he said.
Batchelor said the idea was hatched in 2011 in part to help The Erie Community Foundation celebrate its 75th anniversary, but also to help local nonprofits reach new, younger donors.
The first Erie Gives event generated $775,000 in donations, and that number grew to $1.2 million in 2012.
Last year, Batchelor said, 89 percent of the participating nonprofits reported acquiring new donors, "which is hard to do." And two-thirds of the participants said they reached younger donors.
The pro-rated match pool means that the more donations each individual nonprofit receives, the bigger slice of the match pool pie it will receive. Last year's return was about 9 percent.
"We don't know what it will be this year," Batchelor said, "but we know the pool will be bigger."
Those interested in donating can do so between 8 a.m. and 8 p.m. on Aug. 12 by going online to www.eriegives.org. The minimum gift is $25 and there is no limit to the amount of money that can be donated. Donors can give up to 10 nonprofits for each transaction and only Visa, MasterCard and Discover will be accepted.
For more information on this year's event, visit www.eriegives.org
Frank Garland can be contacted at fGarland@ErieReader.com.