Diagnosing Erie County's Most Endangered Properties
Preservation Erie releases 2021 list
July 28, 2021 at 10:40 AM
A place's personality is best known from the inside, but perhaps better and more readily recognized from the outside. As you walk, bike, or drive through a neighborhood, how do the surroundings make you feel? Does the built environment convey a sense of history, of cultural significance, of identity? 
As older properties are cleared away or refaced, that identity is to some degree effaced. Historic rehabilitation and restoration seeks to bring aging structures up to code while maintaining their character, which keeps places looking and feeling like themselves — or at least how they've been traditionally understood. Change is inevitable, but the question must be asked whether that change is equitable. 
Established in 2007, the historical property advocacy group Preservation Erie has been asking those questions, in an attempt to draw awareness to our distinctive Erie County architecture most worth saving. Their annual Most Endangered Properties List compiles those structures under the most immediate existential threat — whether by demolition, deterioration, alteration, or their presence in a "compromised setting" (pervasive neglect or surrounding pressures detrimental to their continued survival).
After accepting input from the public through late March, Preservation Erie carefully evaluated and assessed nominated historic properties based on whether:

They were located in Erie County

They were historically or architecturally significant

They would stand to benefit from preservation efforts
The goal for these properties is to secure protection and funding, particularly that afforded by being on the National Register of Historic Places. 
The full list of Erie County's Most Endangered Properties in 2021 is as follows:

1. Former Greyhound Bus Terminal
Location: 28 N. Park Row, Erie
History: Designed by renowned transportation architect W.A. Arrasmith, the Erie Greyhound Bus Terminal was erected in 1939 and operated as a bus station until 1986. It is the purest example of Art Moderne architecture that remains in Erie, noted for its sleek curvature evocative of America's newfound infatuation with the high-speed.
Most recent use: Resolution Nightclub and the adjoining Coconut Joe's (currently in its final season).
Threat: The terminal is a planned casualty of the Erie Downtown Development Corporation's redevelopment plan for the west side of North Park Row facing Perry Square.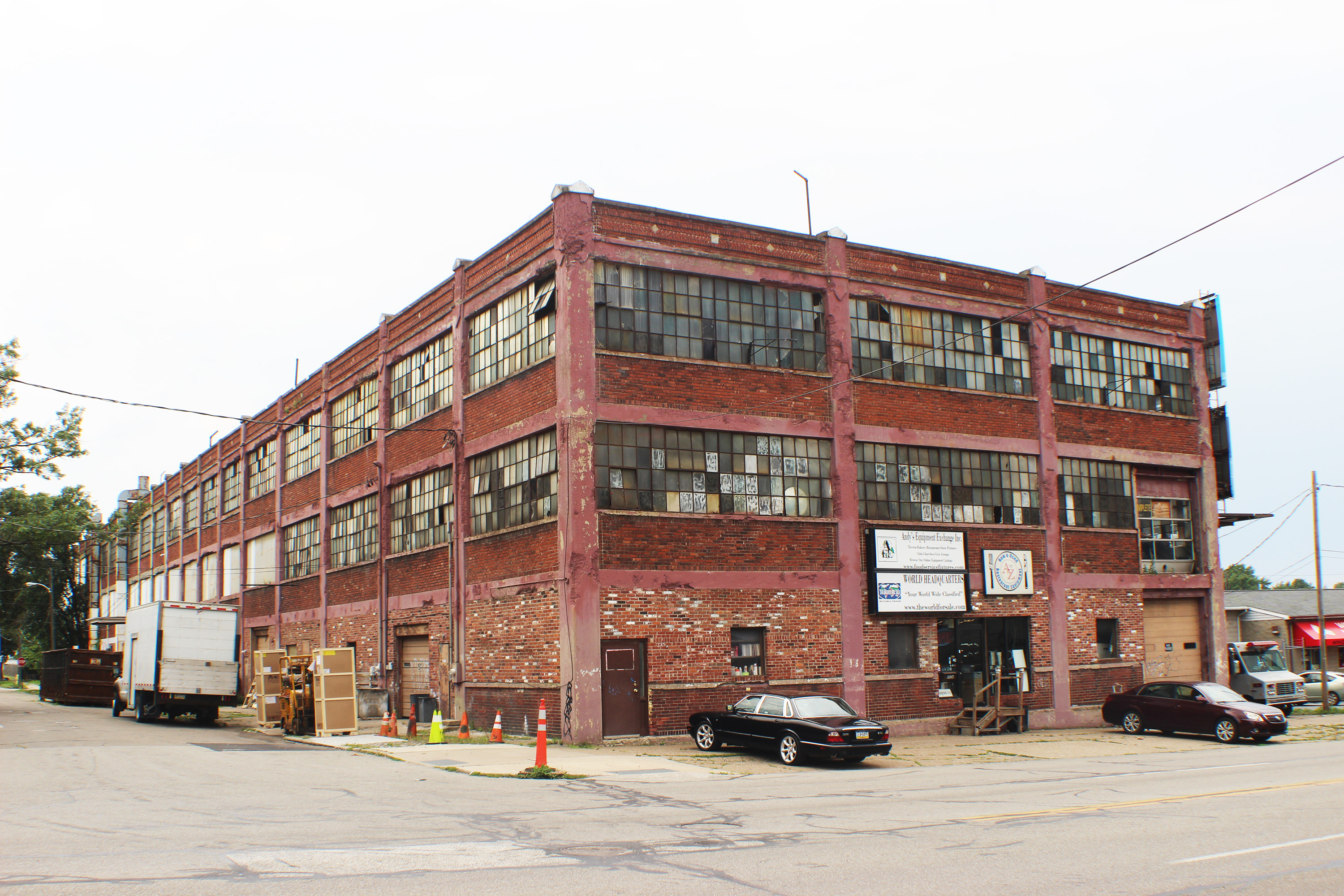 2. Continental Rubber Works
Location: West 20th and Liberty streets, Erie
History: The building that spent the greater portion of the 20th century as Continental Rubber Works traces its history back to the late 1800s, and is a visible fixture of Erie's manufacturing past. Continental Rubber Works largely focused on the production of bicycle tires and tubes, along with hoses and molded rubber items. Erie Forge and Steel bought the plant in the 1960s, but it wasn't much longer before it was shut down. 
Most recent use: A concert venue called The Continental Ballroom operated on the site in the 1980s and 1990s before code and safety violations drew the curtains. The massive structure, which occupies the entire city block between Liberty and Plum, still accommodates some commercial tenants where it's still viable, but needs a lot of attention.
Threat: The building's current level of dilapidation has not done much to convince new property owners Leon Commercial Leasing, LLC to save it — they've asked the zoning board for permission to put up a new warehouse with a dimensional variance. 

3. Historic North East Home
Location: 59 W. Main St., North East
History: This small, single-family home was included in a 2014 countrywide inventory of historic resources, and was designated Class 2 at the time, which entails "properties containing historic resources at least 75 years old and of high architectural significance and architectural integrity" with "the potential to be determined eligible for the National Register."
Most recent use: The 528 square foot home has been unoccupied for years and has fallen into severe disrepair following a 2016 fire.
Threat: The property's fate has yet to be sealed since its acquisition by the Erie County Land Bank in May 2021. The boarded up windows and doors and orange construction fencing do not inspire confidence, however.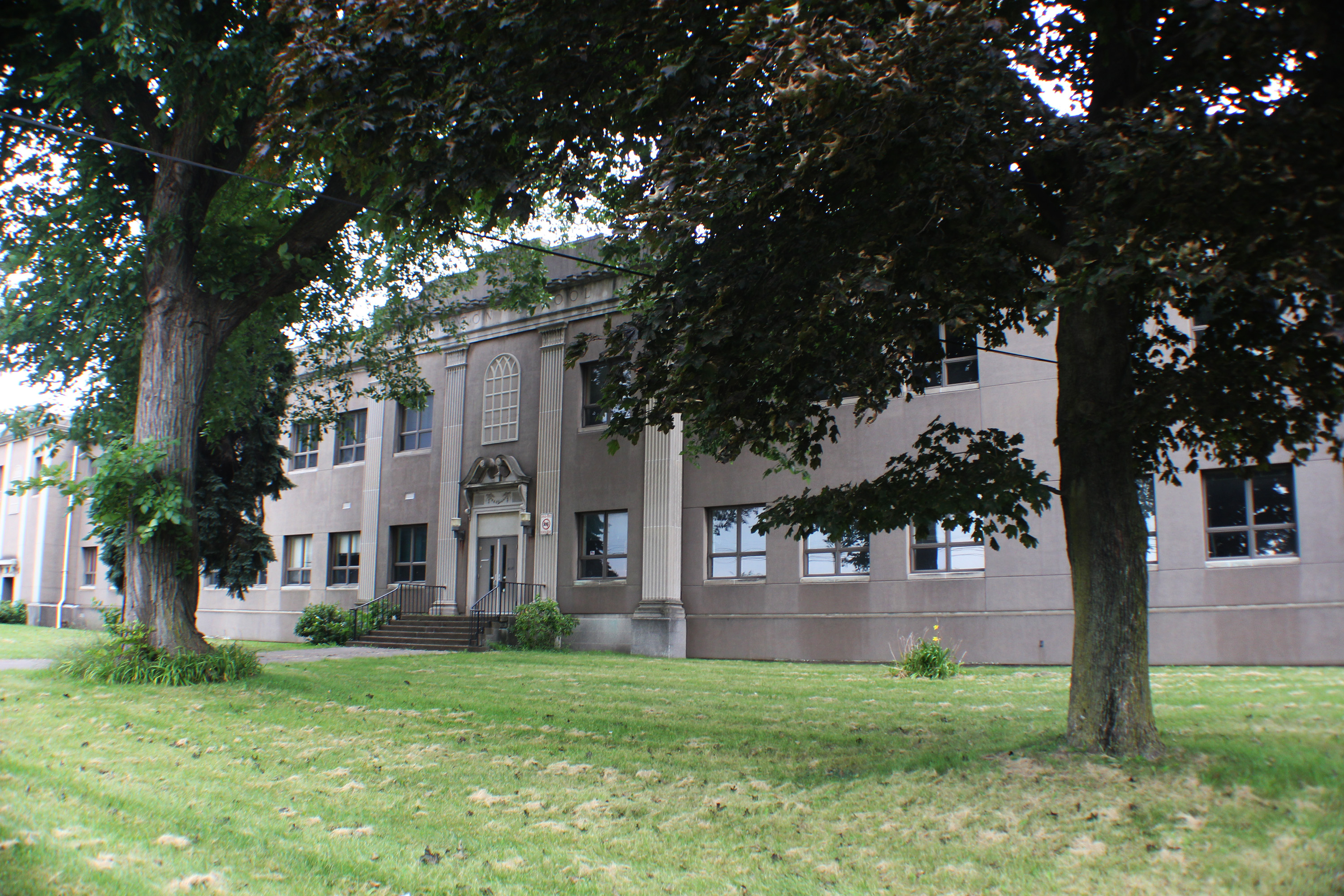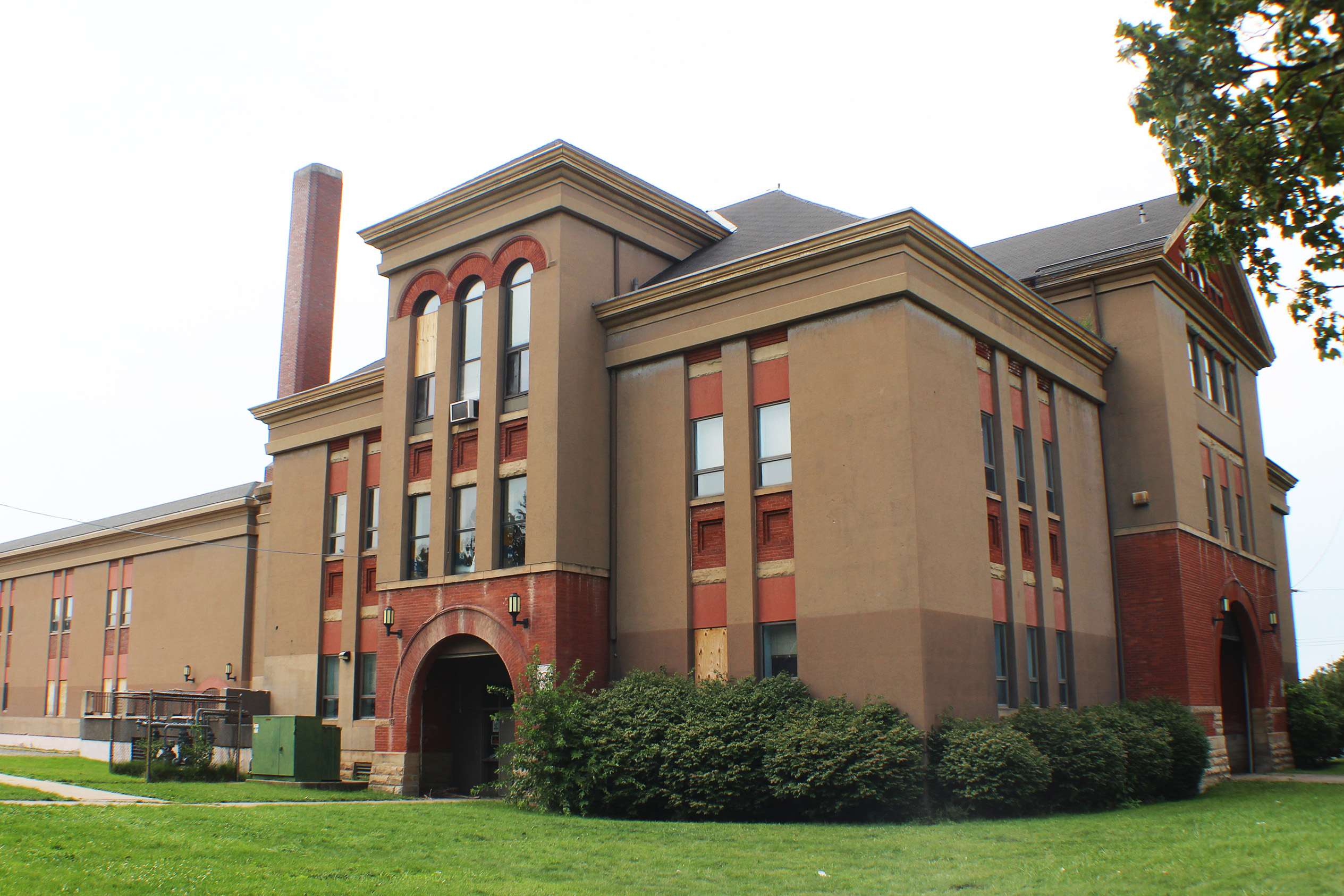 4 & 5. Decommissioned Public School Buildings
Locations: 1660 Buffalo Road (Burton School), 2310 Plum St. (Irving School)
History: Burton (named after a family of settlers) and Irving (named after author Washington Irving), both originally constructed in the 1890s, still stand as stately but fading reminders of Erie's younger days, when families tended to be larger and population was on the constant upswing. However, by the 21st century, those trends had reversed, and the structures had become too obsolete to serve the needs of the modern student — HVAC and plumbing systems were outmoded, and they were built in an era when the internet and wi-fi reception were figments. 
Most recent use: Both schools were permanently shut down in 2012, as Erie's Public Schools consolidated resources multiple times throughout the decade amidst massive budget shortfalls and declining enrollment. They remain vacant and on the market.
Threat: Preservation Erie cites "functional obsolescence" as the primary threat facing these buildings — since their respective communities do not need the schools as schools anymore, figuring out what to do with them can be a challenge, especially as their condition deteriorates. However, there are several great examples out there — including in Erie — of old schools being adaptively reused as artistic, event, business, and even residential spaces. That may be the best hope of sparing these historic structures from the wrecking ball. 

6. Swanville Schoolhouse
Location: Route 20 and Manchester Road, Fairview Township
History: Constructed in 1900, Swanville School was one of four brick schoolhouses erected throughout Fairview Township in the early 20th century. It is the only one of the four that has not been restored — the former Manchester School, Avonia School, and South High have all been successfully repurposed. 
Most recent use: After one-room schoolhouses were phased out in the 1950s, Swanville was variously reincarnated as an auction house, restaurant, and audio store. But most recently, it has been nothing but neglected and forgotten.
Threat: Deterioration — the current property owner has failed to maintain it, and without new investment it will continue to crumble.

7. Joshua C. Thornton House
Location: West Lake Road near Melhorn Rd., Fairview Township
History: Built by the wealthy agriculturist Joshua C. Thornton in 1870, this house epitomizes Italianate architecture in Erie County — square footprint, hipped/pyramidal roof, pretty eaves with a cupola on top (cupola = small dome or turret). Because of this distinction, it has been deemed eligible for the National Register of Historic Places. It has been owned by the Pennsylvania Fish and Boat Commission since 1972. 
Most recent use: The property has sat vacant for decades. 
Threat: The PA Fish and Boat Commission recently appealed to the Pennsylvania State Historic Preservation Office for permission to demolish the structure, but was urged to consider alternatives. Preservation Erie also joined in that plea, and is encouraging others to do the same by writing to the Fish and Boat Commission.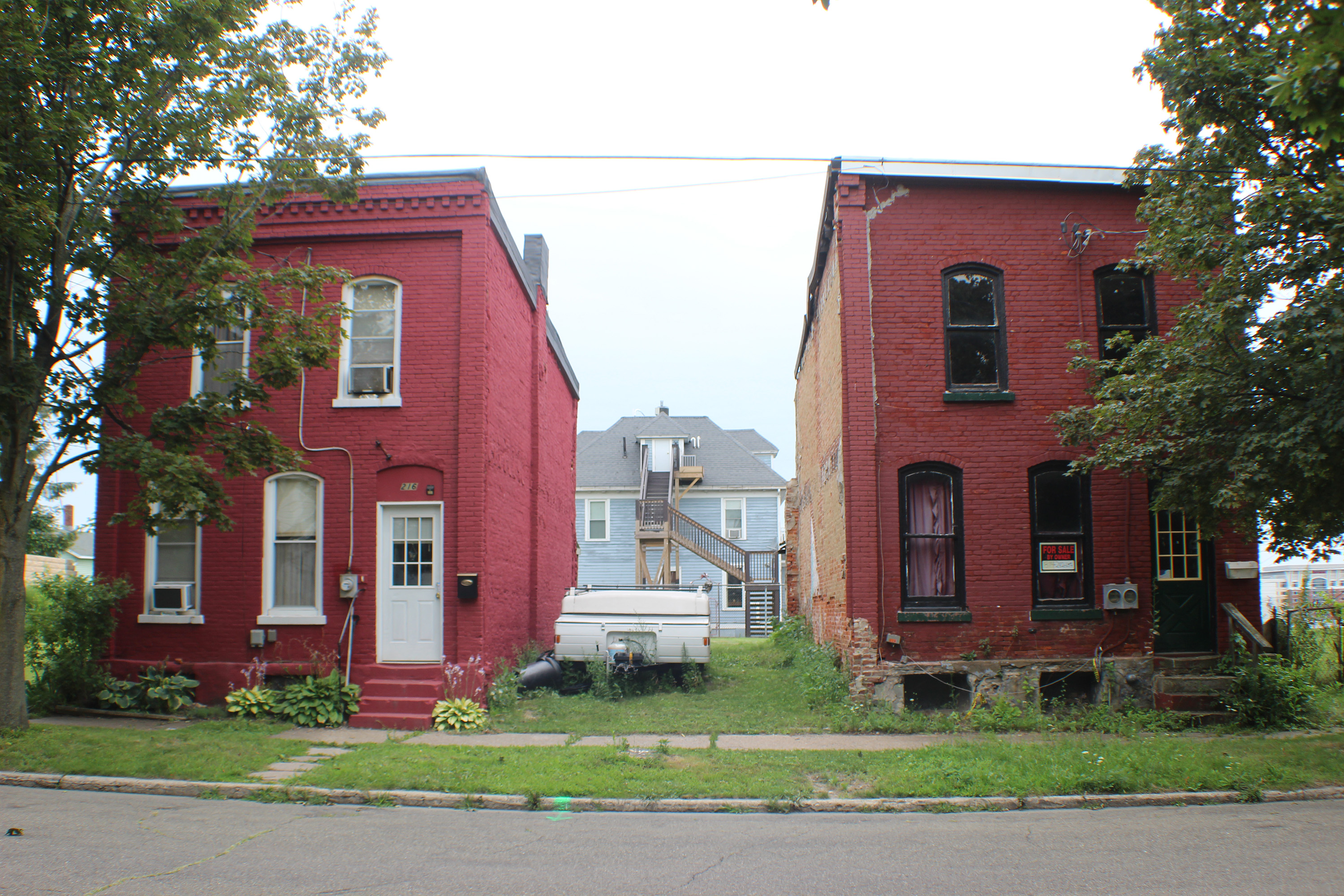 8. Short Street Rowhouses
Location: 214 - 216 ½ Short St., Erie
History: County tax records indicate that these three rowhouses were likely included within abolitionist William Himrod's "New Jerusalem" community, which offered asylum to escaping slaves or place for free Black men and women to establish themselves. New Jerusalem stretched between Sassafras and Cherry streets north of West Sixth in the 1830s, with prime views of Erie's bayfront.
Most recent use: Residential
Threat: The middle rowhouse (216 Short St. ) has already been demolished; the others are owned by a development group who may have designs on bulldozing them in favor of modern income properties, given their attractive vantage point.

9. Former East Erie Turners
Location: 829 Parade St., Erie
History: Older generations will still remember the East Erie Turners as one of the most bustling social clubs of the 20th century, one of the places to hang out after an honest day's work. The building that was its home was erected in 1890, with its German founders looking to bring together Erie's most athletically excellent (if you consider beer drinking a sport, then mission accomplished). Throughout the 1970s and 1980s, the Turners hosted regular Gem City Bands concerts, which often drew audiences of 400 or more. 
Most recent use: The East Erie Turners closed down after a 2014 shooting outside its doors struck fear into its patrons, many of whom never returned. 
Threat: Once a fixture of Erie's working class, the East Erie Turners building appears to be permanently laid off. There have been no plans to reopen and to date no viable replacements.
Whether these properties ultimately survive is in serious jeopardy. There's little debate, however, they have at one point or another been a vital part of what makes Erie — well, Erie.
Matt Swanseger is part of an older generation that remembers going to the Turners. He sometimes also remembers to check his email at mswanseger@eriereader.com