Don't Be 'TEN'tative — Come See the TEN Tenors
This vocal group features 10-part harmonies, effortless choreography, and more to kick off the holiday season at Mercyhurst
November 20, 2019 at 1:15 PM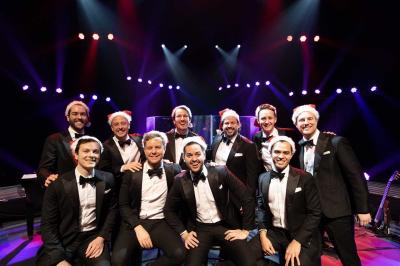 Monday, Dec. 2
The traditional song goes, "On the 10th day of Christmas, my true love gave to me: 10 lords a-leaping…"
So maybe these gentlemen aren't proper lords of the nobility, and perhaps they are not exactly leaping all over the stage, but the TEN Tenors are bringing their own magical blend of Christmas/holiday cheer to Erie — and all the way from Australia, at that.
This vocal group, which formed in 1995, is now comprised of Cameron Barclay, Daniel Belle, Michael Edwards, Keane Fletcher, Nigel Huckle, Nathan Lay, Boyd Owen, JD Smith, Sam Ward, and James Watkinson. Their signature performance features mind-blowing 10-part harmonies, coupled with effortless choreography that complements each song, whether it's a classical aria or Bohemian Rhapsody.
As part of their Home for the Holidays tour, TEN is coming to the Mary D'Angelo Performing Arts Center at Mercyhurst University, and it's the perfect family-friendly event to kick off the 2019 holiday season.
TEN might not be leaping, but you surely will be. — Cara Suppa
7:30 p.m. // 501 E. 38th St // Adults: $31, Seniors: $26, Students/Youth: $21 // miac.mercyhurst.edu/events/ten-tenors-home-holidays