Dozens gather in Downtown Franklin in response to Roe v. Wade reversal
August 16, 2022 at 4:26 PM
While abortion remains legal in the state of Pennsylvania, pro-choice activists are fighting to keep it that way. With crucial state elections approaching quickly and reproductive rights on the line, Pennsylvanians supporting the right to choose are showing up in ways that matter. 
Shouts of "my body my choice" and "we won't go back" could be heard throughout the streets of downtown Franklin on Wednesday, July 13 from the crowd of demonstrators that participated in Decision Day Action in Franklin: We Won't Go Back. The rally, hosted by Planned Parenthood and the Women's March, drew in over 100 activists and supporters to the Franklin Courthouse in response to the Supreme Court's decision to overturn Roe v. Wade on June 24.  
"Being visible in our communities is the best way to grow support and create relationships with other progressive thinkers in the area. Due to the confusion about who was hosting the event and the call for rain, I told a friend that I'd be happy if 20 people showed up," said Ashley Zaccari Smith, Vice-Chairperson of the Venango County Democratic Committee. "I was blown away when the crowd swelled to about 150 protestors." 
While the event was originally scheduled to begin at 5 p.m. and last an hour, demonstrators lined the intersection of 12th and Liberty as early as 3 p.m. to make signs with supplies provided by the local Democratic party and stayed well past 6 p.m. despite rain showers.  
Many passersby showed their support as they drove past with car horns blaring and handmade signs flowing from their windows. Smith and other speakers at the rally encouraged attendees to keep showing up – at the rallies and at the polls.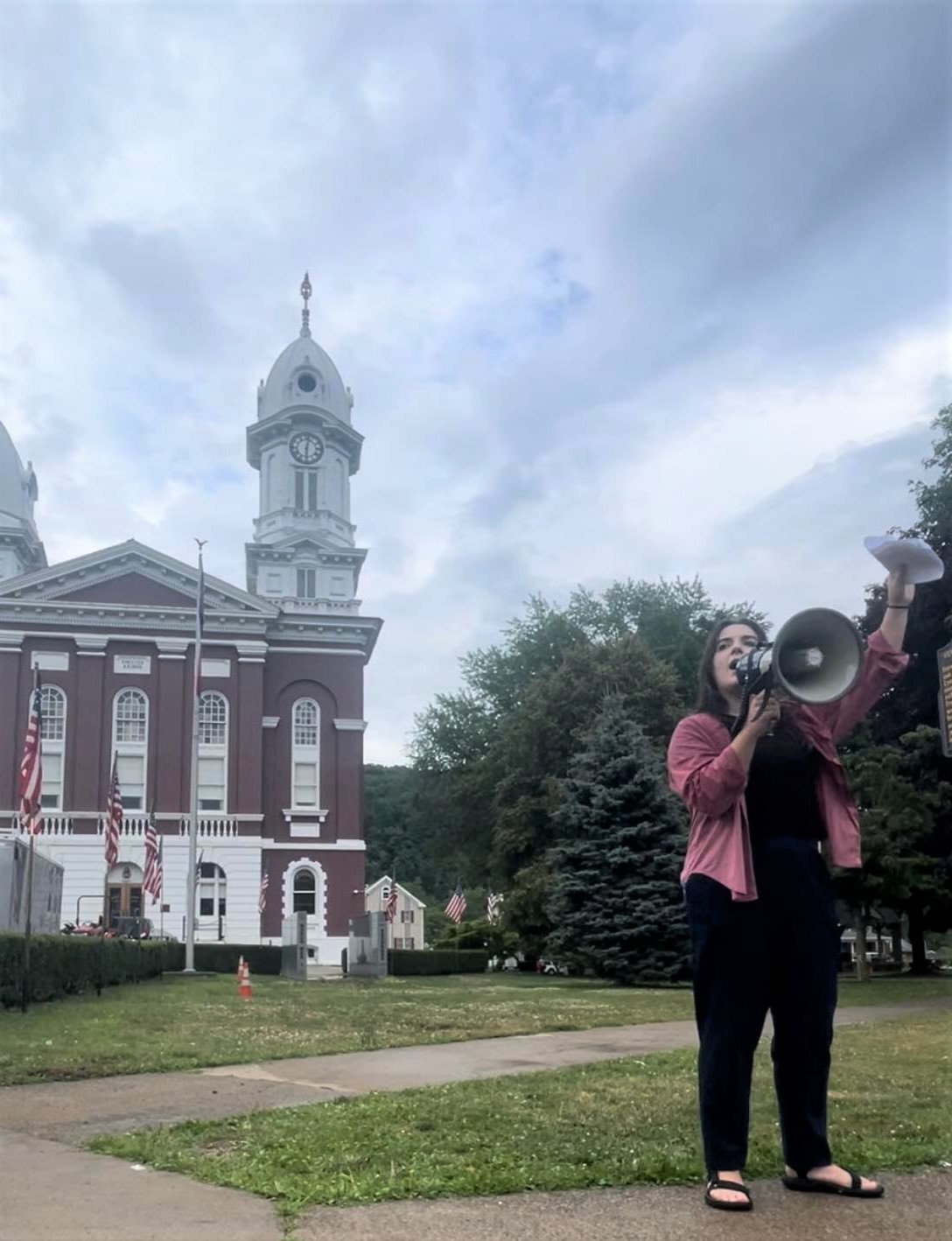 Franklin resident Nicole Burton explained that she saw the event posted online and felt a responsibility to spread the word after unsuccessful attempts to contact the original host, listed under the name Jennifer on the event page.  
Burton said that showing up and providing support was something she felt she "needed to do." Similarly, Smith also took the initiative to spread information online via the official Facebook page of the Venango County Democrats and the organization's email list after receiving no response from the host.  
"I actually saw the listing for Franklin's rally right away. I shared it as many times as possible to as many groups as possible, hoping that somebody else would also want to take action," Burton said.  
Burton has resided in Franklin for about a decade and noted that she was not sure what to expect given the rural climate of the town and surrounding areas: "Right off the bat, I thought there wasn't going to be a large turnout. The area is not only conservative in nature but rather oppressive and honestly condemning to people who have different opinions, beliefs, looks and identities." 
"We were going to be there to represent all the others who were either unable to make it, scared or fearful to go, or maybe didn't think their voice mattered. We at least would be there," Burton said.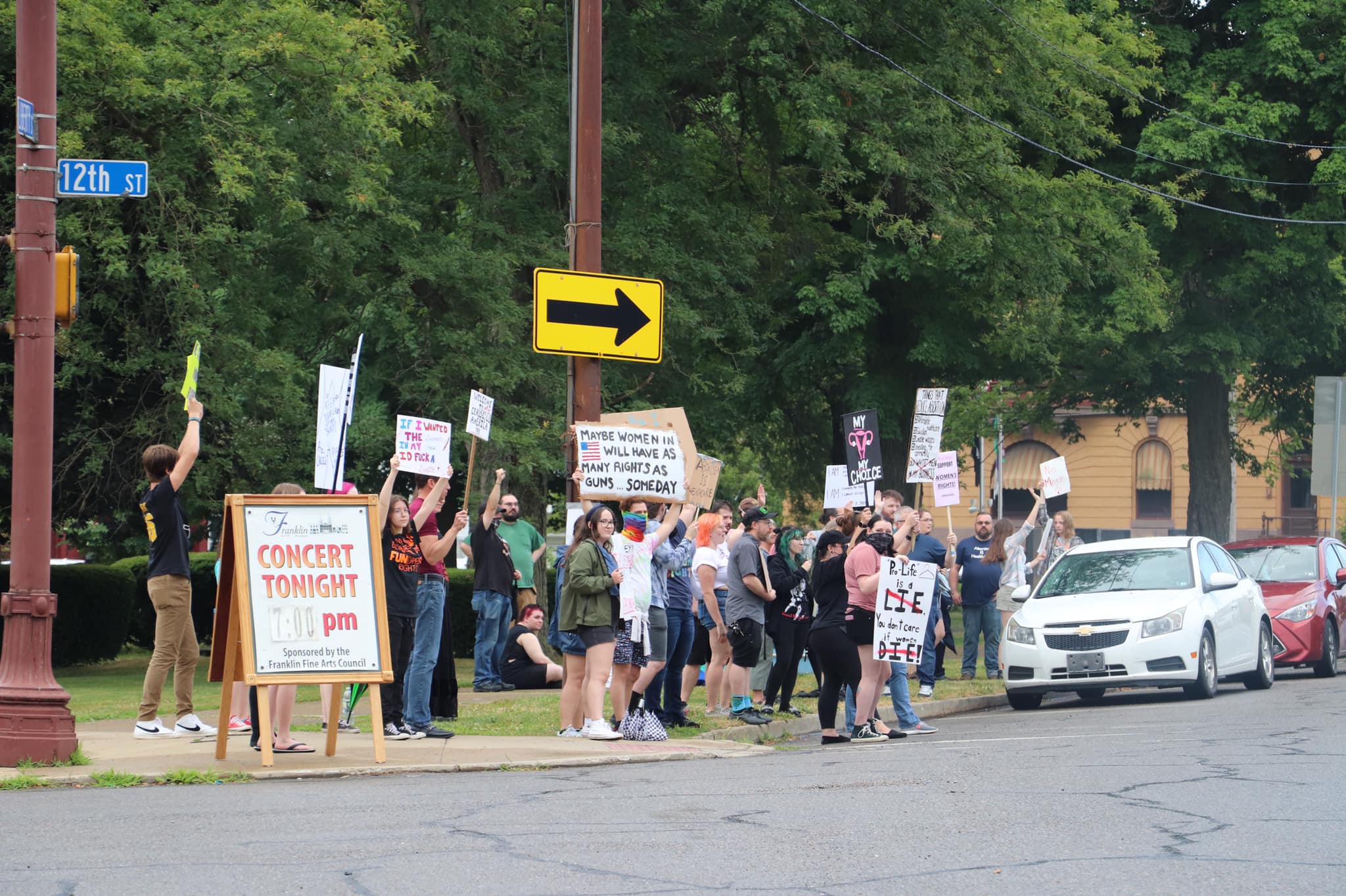 Like many of the protestors who showed up on Wednesday night, Burton described her feelings of anger and hurt towards the recent Roe v. Wade ruling, but more importantly, she felt empowered to participate in a pro-choice rally alongside locals and members of her own community. 
"I was just completely filled with emotion – hope, gratitude, and so many other feelings. The amount of empowerment just by seeing how many people there were was incredibly uplifting. I don't think there are words to explain the level of passion that could be seen and felt," she said. 
"Yes, we're angry. Yes, we're hurt. But most of all, we're not backing down. We refuse to go back, and we're going to continue to be very vocal and very visible." 
According to Smith, there are only two health care clinics east of Harrisburg in Pennsylvania currently providing abortion services. Both of those clinics have been experiencing triple the normal amount of patients as people flock from states such as Ohio and West Virginia in need of medical care. Smith stressed that abortion rights are on the ballot this November. 
To find a Women's March near you, visit act.com/wewontgoback. Residents of Pennsylvania can register to vote at vote.org.