Dramashop: Theater in Process
Local theater troupe brings an edge to the Erie stage.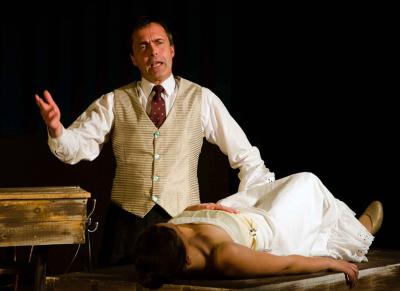 It's a chilly Tuesday night, one of those unsurprising Erie evenings when the weather doesn't seem to want to cooperate with the average person's wishes. Luckily, I'm indoors, where the room is warm and the walls are bright. Bright green, in fact, with the edges of the room seemingly pushed back with shelves full of books, photos, and trophies, all surrounding seven souls solely focused on the task at hand: rehearsal for "[title of show]," Dramashop's final show of its current season.
Now, if you've ever read a Reader before, you may already be familiar with the not-for-profit contemporary theater company called Dramashop, as we at the Reader have covered a fair number of the troupe's productions since the minds behind the Drama founded the shop back in May 2011. The scene was in trouble, no one was running the show, and the public was losing out on some great alternative theater.
Fast forward to now – a room full of 85.7 percent acting-types and 14.3 percent me is engaged in rehearsing the theater company's very first musical. The four actors take their positions while the director and his assistant focus on the quartet. And then it begins.
"I'm sorry, are we in this scene now?"
The words part from Rebecca Coleman's lips and I quickly glance up from my notepad. It's kind of an anticlimactic beginning for my inside look into the process of getting "[title of show]" ready for when its Schuster Theatre run starts May 23. While I wait for the scene to start over, the other actors continue running through lines like nothing out of the ordinary happened. Suddenly, I realize that Rebecca wasn't the one that got lost – I was.
You see, "[title of show]" isn't your prototypical song-and-dance kind of musical – it's a musical about two guys writing a musical about two guys writing a musical. Where I had thought Rebecca had simply forgotten her place in the script, she was merely acting as her character Heidi, and I was being treated to an inside look at how the inside of a show's humble beginnings – almost a sort of rehearsal "Inception."
"It's very much a musical about the process of doing theater, and we're a company that's all about focusing on the process," Dramashop Artistic Director Zach Flock explains to me after the rehearsal. "There are lines in the show that when I hear them or say them, I just think that it's true to how we as a company function. It almost kind of feels like 'Dramashop the musical' at times."
It doesn't take long to figure out that Flock and the rest of the Dramashop crew are big fans of the process behind theater. Hell, you don't even have to talk to them to figure that one out, given that the phrase "theater in process" is emblazoned next to the logo on their website and is the main focus of their "About" section on the official Dramashop Facebook page.
"Collectively, we're all a group of actors," says Bryan Rall, sharp-dressed and bespectacled president of the theater company. "One of the things that we collectively enjoy the most is the discovery in a character and the process of actually working through a script, and that's in large part why we came up with Dramashop – because we really like the nitty-gritty process of it. It's not just the product, the process of it is really fulfilling."
Of course, just because people like something doesn't always mean that they end up acting on their passion, which is why my bacon-scented fragrances for him and her haven't graced this plane of existence quite yet. For a nonprofit performing company that dabbles in thought-provoking modern theater to get off the ground in our fair city of Erie, well that would take some dedicated individuals and a lot of hard work.
Enter Zach, Bryan, Jess Ciccone, and Dom Del Greco, the quartet at the core of Erie's contemporary-theater scene. As much as some naysayers may decry The Gem City as a victim of brain drain, these four creative cats consciously came to Northwest Pa. from the homes of Harmony, Pa., Poland, Ohio, and other locales not named Erie to attend Gannon, Mercyhurst, and Edinboro universities.
After meeting through various shows at Gannon and the Erie Playhouse, the quartet became friends outside the theater, although the stage was never far from their minds. Eventually, the group saw that the prospect of creating a contemporary theater company wasn't all that unrealistic after they successfully ran "The Book of Liz," an Amy and David Sedaris-written play, for Gannon's Fringe Festival back in 2010.
"I think that was the first manifestation of what Dramashop was going to be, because I know [Zack] and I had discussions even before of starting a theater company," Rall says.
"Honestly, there were lots of conversations over drinks or just hanging out," Zach agrees. "This is something we all love."
With that passion pushing them along, Dramashop was born, filling a hole in the local theater community that had
We're not here to offend people. To challenge? To maybe make you think a little differently or think a little outside the box or step out of a comfort zone and see something you wouldn't normally see? I think that's much more of where we want people to go.
                                - Bryan Rall
been missing since groups like Director's Circle and The Roadhouse theaters had shuttered their doors. And as audiences have found out, there aren't many topics that the folks at Dramashop will shy away from. In its first two seasons, Dramashop has been able to produce shows that tackle the importance of sexual intimacy ("In the Next Room or the vibrator play"), the realities of those returning from war ("Time Stands Still), highlight race relations ("Race"), the trials of growing up with some beloved childhood characters ("Dog Sees God: Confessions of a Teenage Blockhead), obsession with physical appearance ("reasons to be pretty), and… well, you probably get the point.
"Up until this point, there really hasn't been anybody around to do them," Carl Larese, owner of Larese Floral Design and season sponsor for Dramashop's first two seasons, said. In fact, he's already committed to the company's upcoming third season, which isn't surprising, given Carl's track record for supporting the arts in Erie. In addition to sponsoring Dramshop, Carl also serves as the executive vice president of the board at the Erie Playhouse and immediately shuts down the idea that the contemporary theater company could steal the spotlight from the other theater venues in town and end up sapping away their crowds.
"The types of shows that they put on are totally different than what the Erie Playhouse audiences go for. I was very glad, very happy to see somebody pick it up and go with these more off-the-wall kind of shows," Larese said over the phone. "You're never going to see 'The Sound of Music' or 'Hello, Dolly!' at Dramashop. They just pick shows that they know no one else will do. They're cutting edge, I should say. A little bit more avant-garde. Some things might be a little more racy."
Racy might be a gentle way to put it. As you might have guessed by the titles of some of their productions, Dramashop isn't afraid to mix things up with its chosen content. Take "In the Next Room or the vibrator play" for example. It shouldn't come as a surprise that, well, vibrators play a prominent part in the Sarah Ruhl play, a device that may cause a buzz among more traditional audience members. First-season closer, "The Pillowman," shocked some with its gruesome tales of how children were murdered in a police state. "Dog Sees God" reimagined the beloved characters from "Peanuts" dealing with death, drugs, and a whole mess of situations in their teenage years that you wouldn't have seen in the Sunday comics.
While some of Dramashop's shows may take some people by surprise, shock value isn't the only reason as to why it the local contemporary theater crew chooses them for their season.
"It's calculated risk," Zach says matter-of-factly says of the alternative material. "There's some potential for some people to have an adverse reaction to that type of material, but there's also the possibility that it's going to be really well received and that it's something that the community really embraces, and we saw that with 'vibrator play.'"
Of course, not everybody will end up agreeing with the foursome's choices for the stage, but that's how it works for pretty much everything in life. There will always be those that aren't happy with a decision, but that doesn't mean that a certain play shouldn't be approached.
"We're not here to offend people," Bryan explains. "To challenge? To maybe make you think a little differently or think a little outside the box or step out of a comfort zone and see something you wouldn't normally see? I think that's much more of where we want people to go."
"If we choose something provocative, it's for a reason," Dom, Dramashop's vice president, quickly adds, leaning in closely.
In addition, it's not as if these edgier offerings were written by some scribe looking to shock the world for fun. Some selections have been written by Pulitzer Prize nominees like the aforementioned Ruhl, Academy Award winners like Dustin Lance Black, and Pulitzer Prize winning and Academy Award nominated playwrights like David Mamet.
"I think Dramashop realized for themselves that there were things that they wanted to see that they weren't going to see unless they produced them themselves and shows that they wanted to be a part of or they wanted to give other people a chance to be a part of," says The Rev. Shawn Clerkin, sitting behind his cluttered desk in Gannon' Schuster Theater. The quick-talking director of theater at Gannon serves as Dramashop's director emeritus, or as Zach puts it, the "Yoda" of the group.
"It really was an invitation on the part of the board to join the board to help offer wise advice from having made lots of mistakes in theater and had some successes as well, to be able to share with them, from my perspectives, the things that they need to do and the things they need to target," Shawn explains while leaning forward in his chair, hovering above the sheets of paper and various thesis projects from miscellaneous Gannon students. "Just a better-than-average, educated-and-experienced audience member, really, is probably my best description [of my role]. I'm there to be kind of a reality tester for the above-40 crowd."
While the eternally youthful Shawn certainly has no qualms about the edgy shows Dramashop puts on, he knows that not everyone in his age bracket and on up will go crazy for the two-year-old theater group's production choices. Of course, that's all according to plan.
"Their primary niche is trying to provide opportunities for performance and programming that is especially interesting to that twenty-something crowd," Shawn says. "They're building an audience. They're offering free opportunities in the staged readings, which is smart so that people know that they're serious but also know that they're interested in reaching out to the community. Things like the recent reading of '8' [the Pulitzer-nominated play dealing with Proposition 8 in California] was an important statement because it's part of our national dialogue and part of our national awareness, but it's also important to Dramashop to establish a sense of inclusivity and openness as part of their programming."
According to Shawn, there's a definite youthful vibe attached to Dramashop, which isn't too hard to notice. In addition to the content the group tends to aim for, there's a definite bohemian feel to the crew, running on a small budget and powered by volunteered time. Even the four core members have jobs outside of the work they do for Dramashop. Zach is an assistant director in Gannon's Office of Admissions. Jess works as an administrative assistant/bookkeeper for ArtsErie. Dom is a scenic assistant and education assistant at the Erie Playhouse. Bryan dubbed himself as "kind of the oddball of the group" for working in the department of emergency medicine at UPMC Hamot as a physician assistant.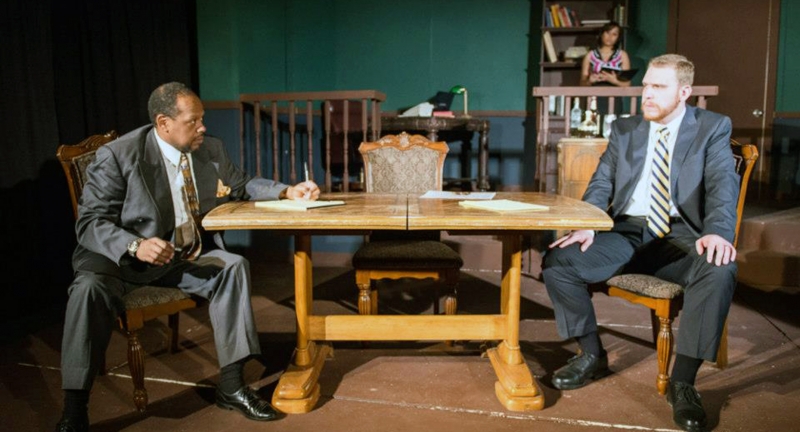 The group lives on the edge, both in terms of content and in pocketbook. It wasn't too long ago when the Director's Circles and Roadhouses of the scene closed, a trend that was all too common across the nation.
"There was a slide in spending in the arts 2001 that was kind of compounded by economic downturn in 2008, so a lot of arts organizations were just hit by a tough economy," Zach says. "One of the things that we set out to do early on was to budget modestly, to not take on the financial burden of a facility, of a staff. We're a volunteer-driven organization, so we're definitely trying to keep our expenses in check. For a lot of organizations, it's the overhead expenses, it's not producing shows." Of course, simply having been able to witness how the art community was affected certainly helped the Dramashop crew understand the need to be careful with expenses.
"We now have the luxury of being aware of the state of the economy right now whereas they were blindsided by it," Dom admits.
Still, even though Dramashop isn't putting any meals on the quartet's tables, they continue to float to different venues in the area in order to fulfill their personal mission, something that's being noticed by people in the community.
"From what I've seen of their productions, the work they do is quite remarkable, especially knowing how young they are as a group," Jax Kubiak says, sitting down after rehearsal for Gannon's production of "The World Goes 'Round" in the Schuster Theatre, the black box-styled venue where "[title of show]" will be shown.
"Zach called me and explained what they were doing as far as developing Dramashop and what the group was about," Jax, Gannon's technical director and design faculty and director of "The World Goes 'Round" explains. "I like to see new art groups come about and I like the idea that if you have an idea and get somewhere with it you can do something cool, so it just started out of  'I know you, you know me, you already know the space.' It seemed natural for them to come and be a part of this."
The Schuster Theatre isn't the only place Dramashop has taken the stage. Their past two shows, "Dog Sees God"
Wherever the bar is, they want to keep raising it and pushing it up. They don't want to sit back and relax, that's not part of the psyche of this group.
               - Rev. Shawn Clerkin
and "8," were located at the Renaissance Center Theater and PACA, respectively. And when it comes to "8," part of the Erie Reader Staged Reading Series, not only did a packed PACA house get to see the type of modern-day programming that the theater company likes to put on, but also how much of an opportunity they provide for the Erie community to become involved as well, with a cast of nearly 20 taking the stage for the Dustin Lance Black play, including 13 first-time Dramashop performers.
While there were some familiar faces in theater circles, like Jerry Brace, the show provided everyone from student actors to stage rookies a chance to not only act, but experience the whole process that the Dramashop core cares about so much.
"We don't expect that the first time an actor is on stage doing the blocking that they're going to be comfortable and that they're going to have all of the decisions made that they need," Zach says. "We know that it takes four or five or six weeks to figure out who is this person that I'm playing and all of those details. As directors, we don't put all of that out there on the actor on day one, and chances are we don't know all of that on day one either, so it really is a process to figure it out."
"It's not something you can just slap on a stage, and there it is and it's great," Jess, Dramashop's secretary/treasurer adds. "There's a lot of work, there's a lot of character development. Even when it opens, it might not be done. It's going to change throughout the run if we're doing it right because we're still learning something from the script every time you perform it and that's theater in process."
Having interviewed a fair number of first-time Dramashop performers from previous shows, one constant thought through the actors was how exciting it was to be involved with the theater company, being a part of a show that wouldn't have been available if it weren't for the process-loving group.
"It's definitely something that our students wouldn't have the opportunity of being involved with here, just because [Dramashop] does a lot more edgier pieces," Jax says. "They filled a niche that I feel has been missing for a while in this community."
So, now that Dramashop has successfully caught the attention of the Erie community in just two seasons, where do they go from here? Will they incorporate more musicals once they get "[title of show]" under their collective belt? Will they ever settle down and pump up the size of their seasons? Will they get to a point where they feel like they've made it?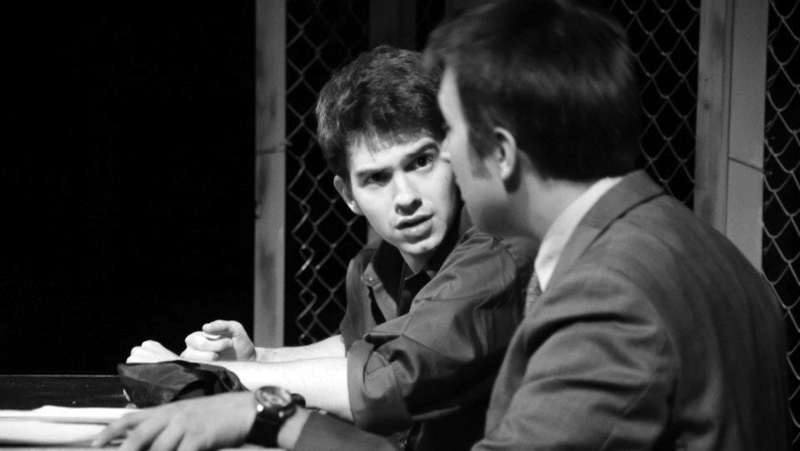 "For them, that would be kind of a questionable moment," Shawn says of Dramashop hitting the "big-time." "If we ever got it, I would seriously question a) our taste and b) our complacency. The other thing with the folks involved with Dramashop is that they are always striving to do what they do better. Wherever the bar is, they want to keep raising it and pushing it up. They don't want to sit back and relax, that's not part of the psyche of this group."
The Dramashop crew echoes their acting Yoda's sentiments. "I think we're sitting pretty much where we wanted to be at the outset," Jess says. "I mean, there's always room for growth, especially artistically, but I think the scope of the seasons and the kind of things we're trying to do is pretty true to what the goal is."
Instead, they'll continue to keep on with their regularly scheduled alternative programming, providing the town with seasons full of contemporary commentary. They're even open to having local playwrights send their creations to them, potentially providing the community with another platform to partake in the theater company. Yes, they would love to see more people come and audition and attend their shows, perhaps getting their name out in the community, but ultimately the Dramashop crew has done something that few others succeed at: they created their own creative outlet.
"I've always said you can step into show business, you can go audition and let somebody else determine your future and your direction, or you can find your niche and find your gap and fill it with your theater, and that's exactly what they're doing," Shawn says.
The Dramashop crew doesn't need to ask whether this is their scene; they're running the show, and we're all welcome to attend.
Alex Bieler can be contacted at aBieler@ErieReader.com, and you can follow him on Twitter @Catch20Q.