Drunken Barbecue Chicken
Chef Jorge isn't afraid to mix wine and beer. See what he's cooking up this week.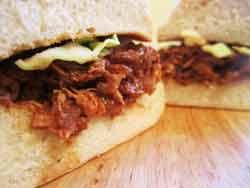 In a blink of an eye, summer has arrived to Erie. Before we know it, we will be having Block Parties and 8 Great Tuesdays. And personally, I already had my first trip to Presque Isle for a cookout. As we all know, here in Erie our summers are full of great things to do—music, arts, baseball games, and of course food.
So in the spirit of summer, I want to make one of my all time favorite dishes: Drunken Barbecue Pulled Chicken. What better way to taste summer than barbecue? Today's recipe is one that I usually save for pork, but since I have already given you a pork recipe and no one wants to turn on the oven in the summer unless you really need to, I modified the recipe to one of chicken that can be done on the stove top.
The reason that the recipe is called Drunken Chicken is because we are going to marinate the chicken in beer and then cook it in wine. The beer will help tenderize the meat and the wine will add more flavor to the barbecue. It sounds like a lot but trust me, the compliments I got for this recipe at the bridal shower I cooked for were well worth the time and the few extra dollars.
If you have a growler, I recommend going out to the Brewerie and filling it up with Uncle Jackson's Blonde Ale. Although it's not as light as the beer I usually use, the taste of the Blonde Ale  folds in all the flavors just right.
For wine I wanted something that was on the sweeter side and pretty inexpensive for the quality I was getting, so I grabbed a bottle of Presque Isle Wine Blushing Heron. It's nice to live in a town that provides so many local and unique flavors that can result in a recipe and dish being so exclusive to the area.
This recipe is one you want to plan ahead for, if you can. I took a medium stock pot, placed the whole hen in the pot, and filled it with the Blonde Ale, chicken bouillons, pepper corn, and onions overnight to marinate. Of course, you can use chicken breast for this recipe—I just like the flavor the dark meat and bone add to the dish. As always, my recipes are only guidelines to your culinary endeavors and feel free to share your recipes and experiences with me online in the comment section following this article.

Ingredients
1 whole    Chicken
1 whole     Onion
3 Cans        Light Beer
3 Cubes    Chicken Bouillon
1Tbs        Whole Peppercorn
8 oz        Dry Red Wine
20 oz        Barbecue Sauce (Preferably Sweet Baby Ray's)

Recipe
We start by peeling and chopping our onion—a large rustic chop is fine.
Place our chicken into a medium stockpot and add the onions and whole peppercorn; take the chicken bouillons and crush them over the chicken.
Add the beer to the chicken until the chicken is covered in the beer. At this point we let the chicken marinate for an hour or more.
Now we can start cooking after the chicken has drank up the beer—or at least marinated for an hour or so.
Cook over a medium flame. The chicken and mix will take about 30 minutes to cook—the simplest way to know if chicken is cooked is by checking to see if it has reached an internal temperature of 160 degrees Celsius. If you don't have a thermometer you're going have to do the old-fashioned way and cut into the chicken and make sure there is no pink meat left).
Once the chicken is cooked all the way through, remove it from the liquid and let it rest so that the chicken cools, making it easier to manage. Now we are going to take our butcher knife or clever and cut right down the middle of the chicken this will make it easier for use to tear the chicken apart and reduce waste.
Now we are going to start shredding the chicken. Some people will use a fork to do this, but I like to just use my hands. It's quicker and easier if you don't mind getting your hands dirty, and I clearly don't.
Now our chicken is shredded. In another stockpot, we want to take our barbecue sauce and heat it up; add the wine to the sauce and then bring it to a low simmer. Then we add our chicken and mix it in thoroughly.
You can serve this as a sandwich or with a side of corn bread.
Like always, my friends: Buen Provecho!