Chef Jorge Gets to the Heart of Serving up Some Good Flan
Looking for a fancy dessert with some flare? Try Chef Jorge's flan.
March 30, 2011 at 4:07 PM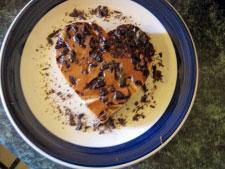 The best way to describe flan is as a backward crème brulee-- being that it is a simple custard. The difference is that flan is baked in its caramel sauce.
The recipe that we are doing to day is a 1-2-3 Flan with a Romolo's Chocolate surprise. At the restaurant, we make both a flan and a cheesecake flan, so I figured why not try something a little more fun.
My family came up to visit this weekend, so I had a lot of fun with them and got to go around and do things that we usually take for granted here in Erie. The one thing that my family always loves doing when they come up from Maryland is going to Romolo-- which is funny because both my mom and stepdad met working at a chocolate factory. So while we where there, my stepfather was giving me   the tricks of the trade.
So that night we decided to stay in for dinner. To finish our meal I made flan. But after telling my mom my recipe for it, she told me my recipe was too complicated and gave me the recipe her friend Ana Anders gave her. So once she told me what it was, I knew that it would be my new recipe flan.
As I always say, no recipe is written in stone. The techniques do help improve the quality of what we are making, but the flavors are always open to change.
So I made a traditional flan with caramel in a dark chocolate. You can leave out the chocolate in this recipe, but let me tell you, between the creaminess of the flan, the smoothness of the caramel, and the nice dark flavor of the chocolate, you would be robbing yourself of an enchanting experience.
So let us start our baking, as we do any other time, by turning on our ovens-- this time to 350 degrees.
Recipe
Caramelized Sugar
1C Sugar
Flan
¼ Lb    Dark Chocolate Caramel Caps
1 Can   Sweet and Condensed Milk
2 Cans  Evaporated Milk
3          Whole Eggs
Recipe
Check to ensure our oven first has reached 350 degrees.
Caramelized Sugar will be made in a pot on the stovetop. What I do is I warm up the pot first, once it is hot to the point where it is almost smoking I add the sugar. At this point you are going to have to stir the sugar until it all caramelizes-- that is when it turns into a light brown liquid. (You can make it as dark as you want, I prefer a light brown, so it doesn't taste burnt.)
We are then going to pour this caramelized sugar in to a pan of about 8 inches. (Remember to work quickly because the sugar hardens quickly.)
*For this recipe we will also have to do a water bath so make sure you have a pan bigger than the one we are baking our flan in. A water bath helps keep our sides from burning before the inside of our custard cooks-- the reason being that the water will keep it cooking at a temperature of 212 degrees. If the water gets hotter than that the water will evaporate. So what you need is a pan that will be at least on inch wider so we can fill it with water when we bake our flan.
Flan
Take the cans of milk and the eggs and mix them in a blender.
At the end add the chocolates and pulse them in the blender to as smooth as you want the chocolates to be; I chose a nice rustic chunk, so it was two quick pulses for me.
Now we pour our mixture into the pan we have poured our sugar in.
This pan will now be placed into our bigger pan. We will fill this pan half way up with water. As simple as that, you are going to be baking in a water bath.
Place our pans in the oven and let cook for about an hour; the best way to know if flan is done is it is firm, and if you poke a knife into it, the knife will come out clean.
Let the flan rest for about an hour before you flip it out of the pan or else it will break into a big mess. And you will have to use a heart shape cutter to have a flan you would be willing to show a picture of.
I hope you enjoy this recipe and like always, buen provecho, my friends.