Chef Jorge Throws Healthy Aside and Cooks up a Pot of Cheese Burger Soup
This recipe comes with a warning: Chef Jorge says this one's not for the weak of heart. And we trust he means business.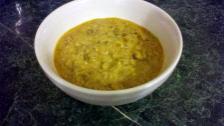 This recipe is not for the weak of heart. Healthy was thrown out the window when I made this soup because this soup is nothing more than a soup of pure indulgence and a belt notch loosened.
It was Monday morning at the restaurant. I had 45 minutes before we opened for service. My buffet was set and my house soup was cooking. But then I realized I still needed a soup d' jour. So being that it was Monday and I was dragging from the weekend rush, I made Cheese Burger Soup. It is as simple as Hamburger Helper, but with more flavor than that little box could ever contain.
The good thing about this recipe is that it is a simple one pot meal: it is filling and tasty.
So let us start our soup of the day:
Ingredients
1 Cup              Flour
2 Whole           White Onions chopped          
2 Tbs               Garlic Minced
1/6 Cup           Jalapenos
1 Cup              Diced Tomato
2 Tbs               Chili Powder
2 Tbs               Garlic Salt
1 Tbs               Paprika
1 Tbs               Black Pepper
2 Cubes           Beef Bouillon
3 Cups             Milk
12 oz               Shredded Cheddar
2lbs                  Ground beef
1 Cup              Ketchup
½ Cup             Mustard
½ Cup                         Worcestershire Sauce
Recipe
We are going to start by sweating off all our vegetables in the stock pot—meaning we are going to place our jalapenos, garlic, onions, and tomato in our pot at a low heat so that the vegetables start to release their natural flavors and juices and start to lightly caramelize.
After about 10 minutes of sweating the vegetables, we add out ground beef and our Worcestershire sauce and dry seasonings. Brown the meat thoroughly.
At this point, we strain our meat into a separate bowl and save it for our roux. A true roux—as I learned in school—is equal part flour to fat. This is used as a thickening agent for soups and sauces. In this case, instead of using butter for our fat, we will use the drippings from the ground beef. The reason is that I want us to save all the flavors that we used to season our soup,
So while the drippings are still hot, we want to add our flour and mix them together; let it sit until we need to use it further in the recipe.
Now we are going to add about 2 quarts of water to our stock pot and continue to cook our soup. Also add our beef bouillon and bring it to a simmer.
Add this point, we want to add our milk and cheese, and once the cheese had melted into our soup, add ketchup and mustard.
Bring the soup to a simmer again and add our roux. Stir it in to make sure we don't have any "dumplings" or balls of flour in our soup bring it to a boil and turn it off.
At this point, all that is left is to do is serve yourself a bowl sprinkle a little cheese over it and enjoy. Like always my friends, buen provecho!