Earl Weaver and Stan Musial
Two of baseball's greats passed away recently.
January 26, 2013 at 6:26 PM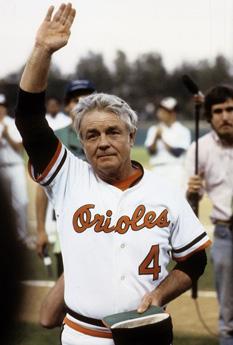 Last week, two baseball greats passed away: Stan "the Man" Musial and Earl Weaver.
Musial, of course, was the Hall-of-Fame outfielder with the St. Louis Cardinals, known for his amazing combination of contact hitting and power, a skill that's almost inconceivable today. He's also, by most accounts, an extremely stand-up guy, a midwesterner's midwesterner, if you will, and for that reason, there's nobody better than Joe Posnanski to say good-bye.
That said, Musial was never really in my personal baseball pantheon. I grew up a Red Sox fan, and I knew all about Williams and Pesky and Doerr and DiMaggio – Don, of course – but, maybe because he was a National Leaguer, or because he was good when the Sox were bad, none of my Sox-rootin' family and tribe ever really mentioned him. So be it.
That cannot be said for Earl Weaver. Having managed the Orioles in the 60s and 70s and 80s, I grew up with him arguing with umpires and stewarding great 'birds teams – teams that regularly thrashed the Red Sox back in the day. He was unquestionably one of the great managers in an era with a lot of great managers. Whitey Herzog. Sparky Anderson. Billy Martin. Tommy Lasorda. Dick Williams.
Still, he was good for comedy relief when I was a kid. I had no idea what a friggin' baseball genius the man was. It was only later that I realized how forward-thinking he was, how his theories on baseball would become mainstream in the 21st century.
He eschewed small ball strategies such as the bunt, the stolen base, and the hit-and-run in favor of a managerial philosophy whose foundation was simple: "pitching, defense, and the three-run homer," as he liked to say. He literally wrote the book on the art of managing a ballclub: Weaver on Strategy is one of the indispensable tomes of genre, influential nearly 30 years after it was published because it was so far ahead of its time.
Weaver used hand-written notecards of stats noting matchups and the tendencies of hitters, pitchers, and where batted balls were likely to go. He utilized platoons to perfection. He's the one who installed a six-foot-four third baseman at short. That was Cal Ripken. He loathed bunting and base stealing because they tended to squander precious outs. "If you play for one run, that's all you'll get," he said. He was a visionary. And, better yet, he was a character.
Tom Scocca: "[W]hen I saw Earl Weaver lose his shit, I had never seen a grownup out of control before. Here was an adult—an old man, to my eyes, white-haired and stout and wrinkly—storming around screaming like a toddler, bursting with rage. It's all very funny and harmless on YouTube now, we're all big folks, but the first time my brother witnessed Weaver erupting from the dugout, he broke out in tears of alarm."
Roger Angell: [Weaver] was the best naked talker I ever heard. Deadline-aware writers, seeking him out in his office shortly after another last out, would often find him behind his desk gnawing on a chicken wing, sans uniform and undies: a five-foot-seven, birthday-suited unsentimentalist still alight with the complexities and hovering alternate possibilities of the trifling game we'd all just attended."
Thomas Boswell: "Weaver's Orioles were always amazed that he retired so young, stayed in Florida and always seemed content, especially compared to the constantly wired Earl of Baltimore, whenever they saw him again. They assumed he was worried about his health or didn't want his ritual postgame drinking, to unwind after games, to get the better of him. What they missed was his wisdom. One of his owners, the distinguished lawyer Edward Bennett Williams, talked constantly about "competition living" and how little else mattered. Weaver looked at him amused and grew tomatoes in the bullpen.
"Many will remember him for his wins, his arguments and his quips. 'I gave Mike Cuellar more chances than my first wife.' Or, on seeing slumping Al Bumbry heading to chapel services, cracking, 'Take your bat.' He never met an authority figure, in a blue ump's uniform or a general manager's office or a state trooper's cruiser, that didn't bring out the hell raiser in him.
"That's Earl. But there was plenty more. He thought about everything in baseball with a unique freshness, as if it was unexamined before he arrived. He loved to analyze the psychology of his players, adding every new detail to his mental portrait. And, in a game where consistency is worshipped, he actually enjoyed changing his mind, reworking the puzzle.
"'Why?' we asked him.
"'Everything changes everything,' he said."