Eerie Roller Girls: The Empowering and Badass Sport of Roller Derby
After several road matches, the Eerie Rollers next upcoming home bout is slated for Saturday, July 19.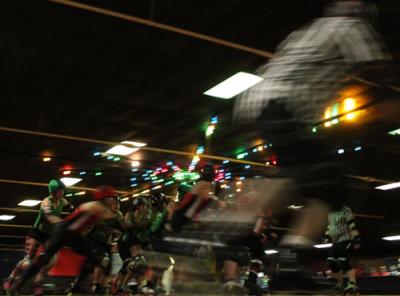 To Denise Manchester and her daughter, Alaine, the Eerie Roller Girls – and that rough, rock-em-sock-em sport they play – are proof-positive that girliness doesn't have to be delicate, that beauty doesn't have to be dainty.
Just take one look out onto the rink on any given bout night, and you'll get, in a blur of fierce motion, just what there-since-the-start Eerie fans like the Manchesters are talking about.
"I think it's very empowering," Denise told me as they watched the Roller Girls powerhouse their way through this year's season-opening home bout on June 14, rolling over some international competition as they went up against, and took out, Ontario, Canada's Royal City Roller Girls at Erie's roller derby home-turf, Presque Isle Skating.
The sport – abounding with high contact, with bold energy, with campy cool – is one where "you can't be faint of heart," said Manchester, and it demonstrates "you can be feminine, and athletic, and intelligent, and...
"And badass," her daughter chimes in.
Damn right, I think. Makes me glad I brought the family – the lovely lady, the baby girl, and the growing boy – along for the ride to this one. Just then, too, someone else's little girl shuffles by, wearing a bright, silvery tank top: "GIRL POWER," it screamed off the front in bedazzled letters.
I've heard and seen that one plenty before, all over – just never in such the right place.
It was good to see so many kids – and their parents, too – at that night's grueling-close match-up, which the Roller Girls ended out with a 201-186 win. All around, it seems like the team's fan base keeps growing – and local women's interest in participating does, too.
"It's aggressive, it's empowering to women, it's a team sport – and it's a good way to meet people," said Karoline Swanson, who leads the Roller Girls – who all roll under surly nicknames – as Coach Septic.
So, here's where some people might kinda typecast the women who'd be interested in such sport. But make no mistake; these skaters – from 'Ballistic Betty' to 'Whisk-She Devil,' and the couple-dozen-plus colorful characters in between – really are from all walks.
"We have professors, students, a doctor, an engineer," said Coach, all rolling with the Eerie Roller Girls, putting in long practices and taking hard knocks in preparation for their next bouts, and, hopefully, even bigger things in the not-too-distant future.
Erie's squad has now established itself as an apprentice league in the Women's Flat Track Derby Association, meaning the league's on its way to meeting the requirements for becoming officially recognized by the sport's worldwide governing body.
"It's kind of like they've finally arrived," one of the Roller Girls' announcers, 'Victory Jones,' told me at the last home match. "Being an apprentice team in WFTDA carries it to the next level."
Parts of the requirements for becoming part of WFTDA include (as the Reader's Jay Stevens reported in a cover feature about the then-new Roller Girls in 2011) getting backup from an already-established league, and an audit by WFTDA to make sure the league fits in with the larger organization's philosophies.
But the key to becoming part of WFTDA, Stevens wrote back then, "is that the league is invested in the sport. That it won't go away."
After my first experience with the Roller Girls, I can tell you Stevens said it just right then – and, he's right now – when he added this:
"Attention WFTDA: roller derby in Erie is here to stay."
Following their July 12 away-bout against Akron Ohio's Neo Roller Derby squad, the Roller Girls are back at Presque Isle Skating on Saturday, July 19, for a double-header match up – that's right, a whole evening of double trouble – as the ERG All-Stars take on the Lake Effect Furies and the ERG B-Squad goes up against the J-Town Roller Girls.
For more information – about ERG, this season's schedule, tickets, how to get in on the action, and details about the sport that is roller derby – check out eerierollergirls.com.
Ryan Smith can be contacted at rSmith@ErieReader.com, and you can follow him on Twitter @RyanSmithPlens.