Eric Brewer in Second Place
He's closing in on first place, and needs your vote as the deadline draws near!
November 17, 2011 at 8:19 AM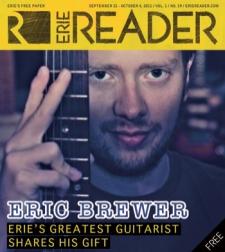 As of 8 a.m. Thursday, Eric Brewer is within striking distance of the lead in the Guitar World "Lick of the Day" challenge. While some people think second place is admirable. I call second place, "first loser." And we are not going to let one of our own be labeled "first loser," right Erie? Right?
Sign in to YouTube, watch his vid, and click 'Like' once each day until midnight Pacific time Friday. First place wins a spankin' new Paul Reed Smith brand amplifier. Second place wins the "first loser" award. 
Don't forget: sign in, watch the vid, click like, and do it everyday until midnight Pacific time on Friday!
www.youtube.com/watch?v=caW7XtaU1Qc&feature=watch_response
http://www.youtube.com/watch?v=caW7XtaU1Qc