Erie Art Museum Hosts Folk Humorists Lou and Peter Berryman in Concert
Nothing heals the wounds of tax season like an evening of humor and music. 
April 14, 2015 at 11:21 AM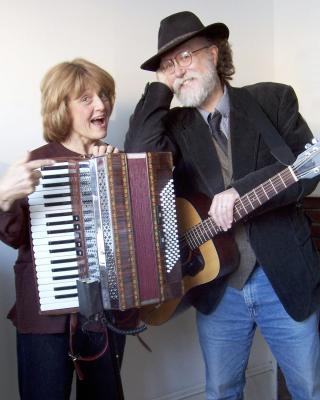 On Friday, April 17, the Erie Art Museum will welcome musical humorists Lou and Peter Berryman in concert. Described as "folk music meets musical comedy," the duo has been praised by Pete Seeger, among many others, and their songs have been covered widely, even by Jello Biafra of the punk-rock band Dead Kennedys.
Kelly Armor, EAM's Education & Folk Art Director, says the duo "always make me laugh so hard it hurts," and numerous reviewers are equally enthusiastic.
Art Wojtowicz, of MusicHound Folk; The Essential Album Guide, wrote, "The Berrymans offer refreshing observations on the human condition in a style blending folk music with musical comedy. And they manage to translate it all into hilarious songs that have become folk classics ... The humor draws on Lou's gifts as a melody writer, accordion player, and vocal comedienne, as well as Peter's guitar and vocal skills and extraordinary lyric writing ... Few can resist laughing out loud by the middle of the second song."
The Boston Globe called them "at once bitingly funny and endearing, wildly absurdist and vividly human."
According to their website, "Lou and Peter Berryman began their musical partnership in high school in Appleton, Wisconsin, way back in the sixties ... Gradually expanding their circuit, they began crisscrossing the continent and gaining national attention with appearances on such programs as Public Radio's A Prairie Home Companion and NPR's Weekend Edition. Regular appearances at festivals and folk music clubs all across the country now serve as venues for the songs contained in their sixteen recordings and three songbooks, which have been performed by everyone from Garrison Keillor to Peggy Seeger. The popularity of Lou and Peter Berryman - whose friendship survived a brief marriage in the seventies - is a testament to their intelligent and wickedly funny material which is never bawdy or risque but is rich with wordplay and witty images."
Videos of many of their songs have been uploaded to YouTube, including "Mr. and Mrs. Noah":
Lou and Peter Berryman take the stage at 8 p.m., and doors open at 7:30 p.m. Admission is free, with a very non-taxing suggested donation of $15 per person.