Erie gets Wild with Rib Cook Off & Music Festival
It's time for a four-day celebration of meat and merriment in Perry Square Park.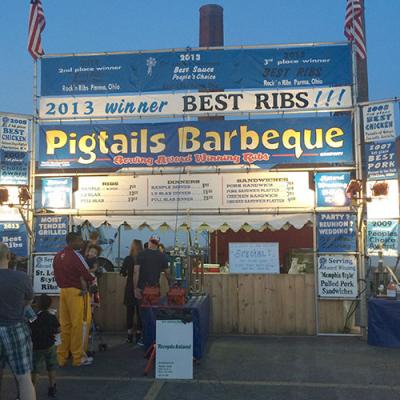 It's that time of the year when barbecue lovers throughout Erie head to Perry Square to feast on some delicious meat. That's right: Erie's Wild Rib Cook Off & Music Festival is back for a four-day run starting May 27.
The Rib Fest has been a favorite event of local carnivores and for good reason. Every year, several travelling cooking teams, like Mojo's Rib Shack and Carolina Rib King, provide tasty servings of meat that come with their own handles. That's convenient – and delicious – eating right there.
It's been so good that the 2015 Rib Fest marks the 25th year of the event. Like past iterations of the occasion, the Rib Fest promises more than just meat – although many people wouldn't complain if that were the only offering at Perry Square. As you might have guessed by the second half of the Rib Fest's official name, the four-day event also offers plenty of live music that you can chew (and dance) to, including performances from Sean Patrick and the Newgrass Revolution and Jackson Station.
If you need more reason to head downtown for the Rib Fest, there's going to be three main event matches from Pro Wrestling Rampage May 30, as well as the usual lengthy list of local vendors and children's events. You can even get a chainsaw-carved ice mug to help you wash your tasty ribs down with a cold drink. I repeat, chainsaw-carved mugs. That's just cool.
For the past 25 years, the Rib Fest has provided Erie with some mighty fine tastes, sights, and smells, so head down to Perry Square and enjoy the tradition for yourself. — Alex Bieler
11 a.m. to 10 p.m. May 27 and 28, 11 a.m. to 11 p.m. May 29 and 30 // Perry Square Park // erieribfest.com