Erie Gift Epicenters
Stop into these storefronts for a bevy of locally-made items
November 20, 2019 at 1:30 PM
In addition to the items featured in our annual Made in Erie Gift Guide, there is a staggering number of locally-made gifts available to Erieites elsewhere. While the home-minded gifter should keep their eyes peeled for the various one-off craft events around the holiday season, there are a handful of places around town you can waltz right into and pick something up any time. Keep in mind that there are many different dedicated storefronts, be they wearables (Iron Empire, Erie Apparel, Relish Studio & Gallery, etc), food (Romolo Chocolate, Icing on the Lake, Stanganelli's, etc.), or drink (Mazza Vineyards, Altered State Distillery, Lavery Brewing Co., etc.) that service one primary retailer. At these places you'll find things from a multitude of makers, many of them from right here in Erie. Each place has helpful staff on hand who will be more than happy to assist you. Simply ask "what do you have that's locally-made?" and they'll point you to a sea of choices for your yuletide needs. 
Artlore Studio
Now celebrating their fourth year in business, Artlore Studio is one of the few businesses that boasts a varied inventory entirely comprised of Erie-made works. Part art gallery and part boutique, it's a true gem for Erie's art community. Keep up with their event calendar to catch one of their many musical offerings, or simply stop by during their regular hours. 
3406 W Lake Rd. // (814) 520-8800 // instagram @artlorestudio
Attic Rehab
One wouldn't expect to find an attic on the ground floor, but this mesmerizingly charming storefront on the first level of the PACA building defies those odds. With a gorgeous array of upcycled furniture and home goods, Attic Rehab's "recovered treasures" are worth a look. The boutique also features a stable of local vendors for candles, soaps, ceramics, and more (with a special locally-centered pop-up on Dec. 7). 
1501 State St. // (814) 860-4886 // instagram @atticrehaberie
Glass Growers Gallery
Right next to the Erie Art Museum (in fact, there's a museum entrance at the rear of the store), Glass Growers Gallery has been operating since 1974. One can find beautiful gifts large and small, from fine art and jewelry to socks and toys. Guests will get lost in their well-stocked shelves, the store's friendly staff able to guide you to works from many local artists and artisans.
10 East 5th St. // (814) 453-3758 // instagram @glassgrowersgallery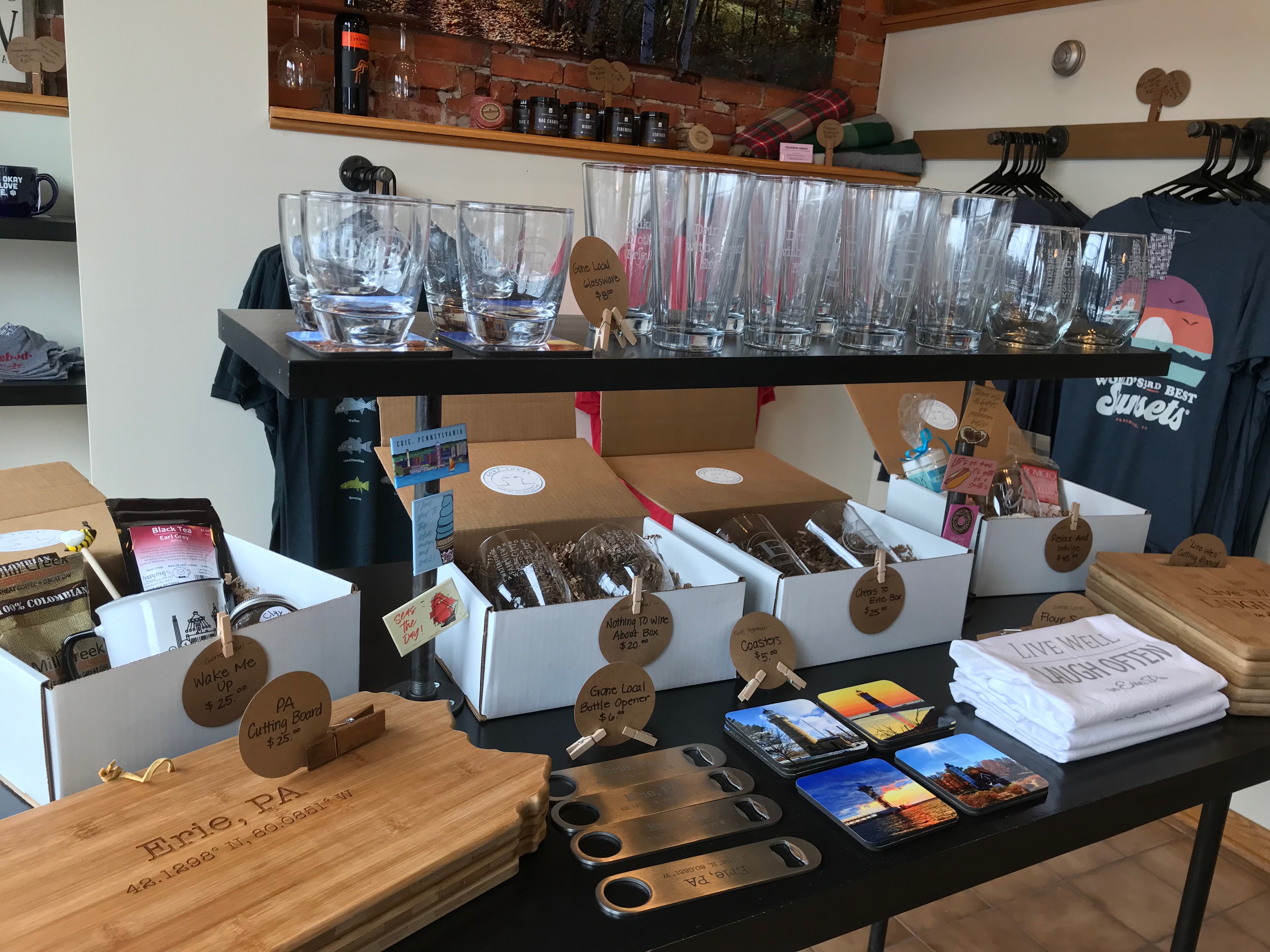 Gone Local
A new pop-up location that's running until the end of December, Gone Local is exactly what the Erie-focused gift giver is looking for. Everything in the store is either made in Erie or with the city keenly in mind. The store features a nearly exhaustive list of many items that have been featured in our Gift Guide, and inspired a few new ideas. Take special notice of their curated gift boxes for the coffee, snack, or pet enthusiast in your life.
405 State St. // (814) 392-0488 // instagram @gonelocalerie
The Oasis Market
Not just a place for produce, baked goods, and other foods, The Oasis Market has all kinds of locally-made items, and an inventory that's always growing. Guests that come in looking for a few stocking stuffers will want to return to this small business incubator again and again with its warm, invigorating atmosphere.
914 State St. // (814) 651-0679 // instagram @theoasismarket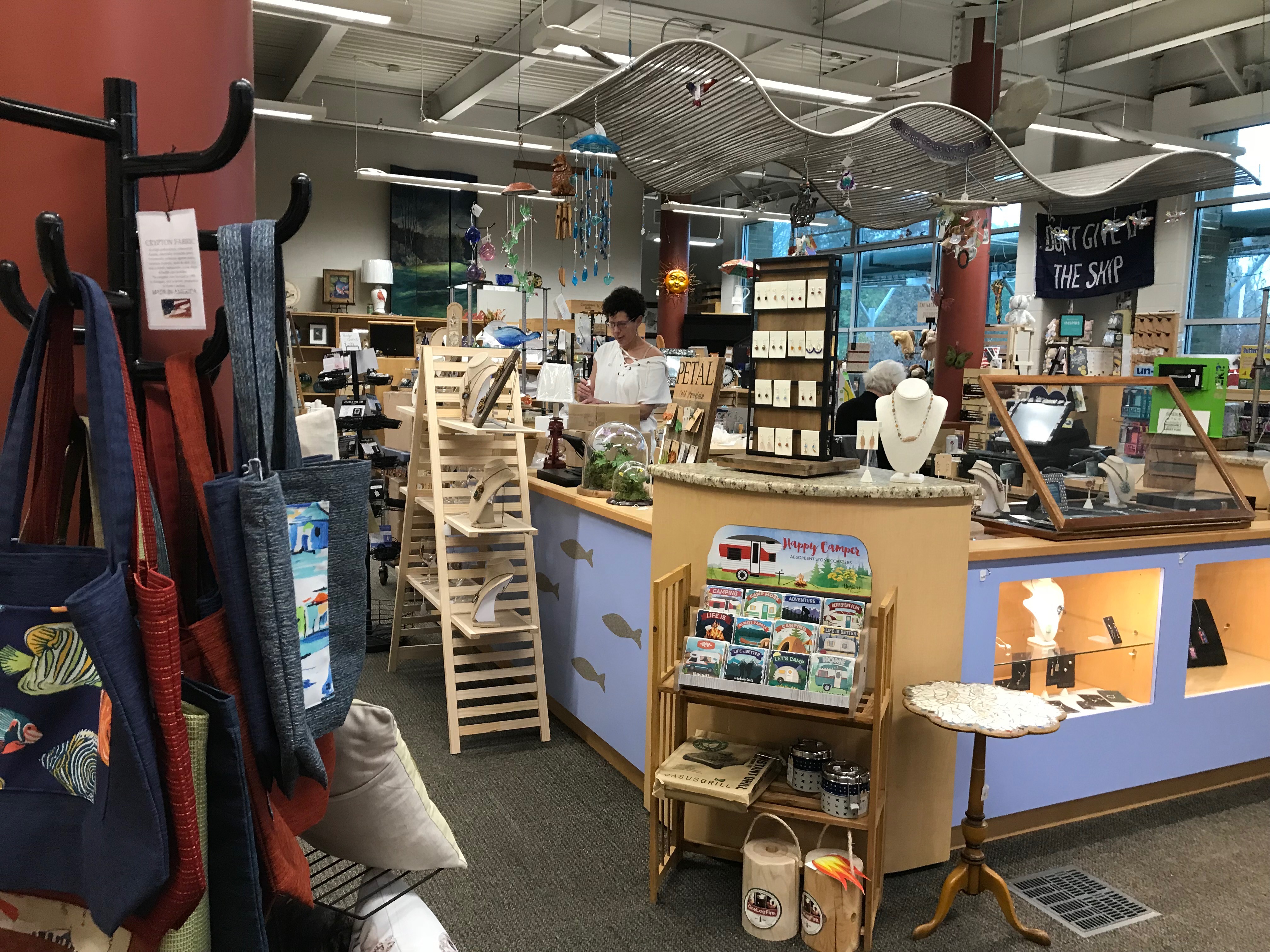 Presque Isle Gallery & Gifts
Situated right at the entrance of the Tom Ridge Environmental Center, Presque Isle Gallery & Gifts is a fun destination, and an easy excuse to pop into TREC while you're there. Take a second and ask one of their staff members to point you to their Erie-made items. Art, keepsakes, accessories, and more are scattered throughout, with a large cluster just beyond the register island. 
Tom Ridge Environmental Center at Presque Isle, 301 Peninsula Dr. // (814) 836-9107 // instagram @pi_galleryandgifts
Sparrow Gallery 
Opening its doors just this August, Sparrow Gallery is a wonderfully welcoming place with a focus on championing regional artists and makers. From soap and spices to paintings and jewelry, Sparrow's shelves are filled with great local finds, and are always looking for more on a consignment basis. They also offer a full slate of workshops, growing the arts community by letting attendees try their own hand at painting and crafting as well. 
1835 W 26th St. // (814) 923-1380 // instagram @sparrowgalleryerie
Nick Warren loves stopping in to all of these places, and got himself a few nice things when compiling this list. He can be reached on eBay at some_numbers trying to sell non-locally-made things, and on email at nick@eriereader.com.