Erie Needs the Energy to Turn Itself Around
Buffalo is booming through the manufacture of solar panels; Erie should be taking note.
January 20, 2016 at 10:30 AM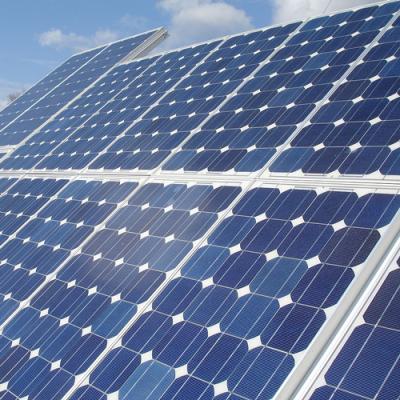 There was a lot to like about President Barack Obama's last State of the Union address. Grey hairs and wrinkles aside, it was a return to 2008 Obama: vibrant, vigorous, and spirited. Whether you agree or disagree with his brand of politics, ignoring the energy with which he spoke to the country was hard to do.
And you couldn't help but like the ideas. Education and opportunity. Growing and harnessing the powers of technology. Assessing and evaluating the U.S.'s place in a world gripped by terror. Making politics reflect the best of us instead of the worst of us. And tapping into the same collective energy that got an American on the moon, we're going to cure cancer!
Of course, it wasn't a conclusive speech. Some topics went unaddressed.
The word "gun" appeared just once amidst a nationwide gun-violence epidemic. Iran was only mentioned twice (with just four words separating the two mentions). "Terrorists" was heard seven times.
Regardless, tucked away mid-speech just after Obama assigned the task of curing cancer to Vice President Joe Biden, the president opined that the "same level of commitment" to critical research must be committed to developing clean energy sources.
"Look," Obama said, "if anybody still wants to dispute the science around climate change, have at it. You will be pretty lonely, because you'll be debating our military, most of America's business leaders, the majority of the American people, almost the entire scientific community, and 200 nations around the world who agree it's a problem and intend to solve it."
Call it an inconvenient truth, call it whatever you will, the climate is changing and we in the U.S. are significantly contributing to that change, amassing nearly 16 percent of global carbon dioxide emissions.
While we can debate gun control, argue about our approach to terrorists, and squabble over foreign policy, we can't dispute science. Call it an inconvenient truth, call it whatever you will, the climate is changing and we in the U.S. are significantly contributing to that change, amassing nearly 16 percent of global carbon dioxide emissions.
Implementing carbon taxes as a solution aside, businesses, organizations, and cities are working to reduce their carbon footprint through more efficient and cheaper alternatives. Like solar and wind.
Where we stand in the shift away from carbon and to these alternative energy sources is a choice Erie must make about its future. And we needn't look far for inspiration.
For now, let's consider solar.
But just look at our winters! We get no sunlight! It could never happen in Erie!
Hogwash. Germany – the world leader in solar energy development – gets less sunlight per year than Erie. And people like John Purvis with Solar Revolution are proving that a market for solar energy exists in Erie. So we can do it.
But there's also the construction of the panels.
For that, Erie should be ogling Buffalo because SolarCity is more than ogling Buffalo. With a $1 billion investment from New York State – as part of the "Buffalo Billion" initiative – many are hopeful that the newly rooted presence of SolarCity, America's largest solar power provider headquartered in San Mateo, Calif., will turn "Buffalo and western New York into a hub for advanced manufacturing and renewable energy." Prior to installing a solar panel factory on the site of a demolished steel factory in South Buffalo, SolarCity purchased all of its panels from China.
"The goal of the Buffalo Billion is to stoke an economy that's just started to grow again after half a century of decline," Joel Rose reported for NPR. "Real estate prices are going up. Millennials are moving into the city. And for the first time in years, giant construction cranes are rising into the sky."
Howard Zemsky, a local real estate developer and the president of Empire State Development, the state agency that's in charge of the Buffalo Billion, told Rose: "For a town that would've been easy to bet against after 40 years of decline, I think it's had a huge impact on Buffalo and western New York."
Don't think Erie could contribute in the manufacturing game? While healthcare and social assistance agencies make up the largest employment sector in Erie County, manufacturing has been leading the way through a post-Recession economic recovery, as noted in fellow Erie Reader Contributing Editor Jim Wertz's co-authored work with Erie County Gaming Revenue Authority Executive Director Perry Wood in The Jefferson Essay that examines Erie's Advanced Industries.
In that work, Brookings Centennial Scholar Bruce Katz noted that "The U.S. seems poised for a manufacturing renaissance and places like Erie can participate in that, and already are, because of your location and legacy assets."
Erie has been a good-at-making-stuff-kinda place. It's in our roots.
It began when Daniel Dobbins orchestrated the construction of the War of 1812 fleet here in Erie. It continued a century later when GE Transportation opened its first plant in Erie. Another hundred years later, we must look to our future yet again not only to see what's sprung from our roots but to decide what new seeds can be planted.
We can't afford to be a dream-simple-or-dream-singularly-kinda town if we're going to be a care-about-manufacturing-and-its-role-in-our-future-kinda city.
And if we care about our rebound, we'll need the energy. The once-written-off Buffalo has it. Do we?
Ben Speggen can be contacted at bSpeggen@ErieReader.com. You can follow him on Twitter @BenSpeggen.