Erie Theater: From Suspense to Farce
All An Act and Dramashop reviewed
March 21, 2012 at 3:50 PM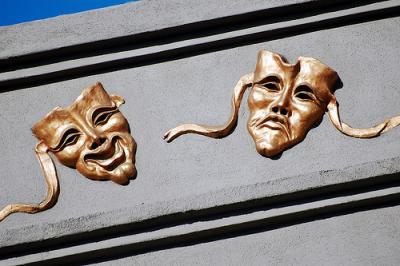 The perfect introduction to a murder-mystery
As I approached All An Act to see the final performance of "The Mousetrap," I found a sidewalk full of people standing in front of the building.
After a girl asked if I was there for the show, she said a bomb threat had forced everyone to evacuate the building.
Now, I'm somewhat numbed to bomb threats ever since kids from my high school thought that would be a clever senior prank. (Side note: glitter bombs are cleverer than bomb threats.) So as I stood waiting, I half-smiled considering the unintentional irony that may well have just set the ultimate stage for the mystery play that is "The Mousetrap." Fortunately, we were only delayed a few minutes before filing back in unharmed.
Agatha Christie wrote "The Mousetrap" in 1952, which is now the longest-running show in history. It also proved successful for All An Act.
"'Mousetrap' has been our second highest-selling show in our eight years," said director David Mitchell, who also played the part of Detective Sergeant Trotter.
The cast of eight stretched all personality types as strangers stuck at a snowed-in boarding house, owned by the well-intentioned Mr. and Mrs. Ralson, played by Wayne Gardner and Dorothy Kaliszewski. Each ethos offered a differentiating trait, magnified when they learned of a killer on the loose with detective on skis not far behind and ready to interrogate. And the clashing of those characteristics made each of them a suspect. The uncombed, quirky Christopher Wren, played by TJ Hinman, gleefully annoyed a sharp-tongued Mrs. Boyle, played by Ruth Scandale. The understated beauty of Miss Casewell, played by Lauren Kennedy, offered slicing glares as Mr. Paravicini, played by Michael Weiss, and Major Metcalf, played Jerry Brace, tried to keep things light-hearted.
"The audience loved it. You heard everyone gasp when the killer was revealed," said Mitchell, as I nodded.  
All An Act's production of "Mousetrap" pulled off the tough-selling element of suspense flawlessly, leaving me on the edge of my seat, wide-eyed with anticipation more than once. And while the audience mustn't reveal what happens, I will say the ending of this, as Christopher Wren would say "deliciously macabre," mystery was much more climactic than that bombshell of intro.
Audience Flips for British Farce
We'll now switch gears from nail-biting to gut-busting.
The stage for "The Killing of Sister George" was tucked back into the depths of the Renaissance Center. The performance, produced by Dramashop, opened in the tidy living quarters of June Buckridge and Alice "Childie" McNaught. The roommates' relationship isn't as tidy, as Childie finds comfort in her doll collection to cope with the abusive behavior of a distraught June.
June plays a famed radio personality, Sister George, and has a sneaking suspicion her beloved character will soon be killed off. To the delight of the audience, her reaction to this is anything but graceful. Her manic gestures make her wobble with nerves, and June only finds solace in sipping a stiff drink and barking commands at poor Childie, making their banter hilarious. The audience lapped up every frantic mannerism of Sister George, played by Nathan McCarty.
I wondered how much time McCarty spent traipsing around in a wig to prepare for his part. He perfected the act of a seemingly menopausal basket case with every theatrical motion and screeching demand for another gin. The airy Childie, played by Erika Krenn, dutifully abided every one of June's requests, only to be swatted at and sent back into the kitchen.
The only advice the self-involved June will consider is that of the fortuneteller, Madame Xenia. Valerie Jacques played the part of Madame Xenia and showcased the irrational logic of the fortuneteller in a most humorous light. At this point, everyone suspected poor Childie as the most levelheaded of the lot.
Enter Mrs. Mercy Croft, who comes to June and Childie's home to confirm their fears of Sister George's demise. Mrs. Mercy, played by Emily Cassano, is shocked at June's wild behavior, which made her look even more absurd. At this point the audience couldn't stop cracking up at the debauchery unfolding on stage. Childie considers her escape, Madame Xenia tells callers mourning the death of Sister George that the character is busy getting ready for her own funeral, as June goes completely off her drunken rocker. Hoots and giddy hollers from the crowd confirmed Dramashop successfully pulled off this British farce.
"The show is its funniest when the cast is having fun, and they definitely were," said director Jessica Ciccone. "An audience member came up to me and said he was at the original performance in 1964. He said it was a nice nostalgic trip, and that we had done the performance justice."