Erie's Groovy College Radio Scene: Time to turn on, tune in, and get a degree
It's where youth reigns supreme on the dial.
December 10, 2014 at 5:45 AM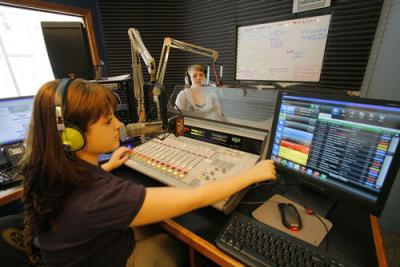 Before people could watch viral videos and star-studded shows on glowing rectangles sitting on a table or in a hand, there was the theater of the mind. Radio may not have the high definition images of TV, but the medium still maintains a healthy audience between set frequency stations, satellite radio, and podcasts for those seeking news or entertainment at any hour.
Some radio stations cater to familiar formats, like country, top 40 hits, or sports. However, as the radio frequencies and listening audiences get smaller, you can start to find a few exceptions to the usual formatted fare, a certain group in which youth reigns supreme: College radio.
Erie has a few options to choose from on the educational institution front, and each has a different stylistic flavor than the stations comprised of airwave professionals.
"College radio provides an alternative in any community," says Chet LaPrice, operations manager of 90.5 WERG at Gannon University. "You've got the mainstream and then you've got the left end of the dial with these eclectic stations that do things a little differently."
While WERG churns out alternative music for the region, the other three colleges have filled different niches. Edinboro University's 88.9 WFSE will touch upon some of the same music as WERG but operates on a more freeform structure, with DJs putting a personal spin on playlists instead of following a set station schedule that has predetermined songs and other elements for students to play. Mercyhurst University adopted an oldies format for 88.5/1530 WMCE, using a mix of students and professional DJs to provide the area with hits from the '60s, '70s, and '80s, where the former pros can play the music they loved from the past. Penn State Erie, The Behrend College has station has 107.1/1450 WPSE, Erie's station for business news, but most of the students tune in off of the radio dial to BVZ, an online radio station where the DJs provide edgy programs during their live streams.
The four stations each have their own interesting quirks that differentiate them. When it comes to designating one as the best, Gannon has an edge. But that's not just a knock over the other local institutions, as WERG recently won the Abraham & Borst Best College Station in the Nation when members of the staff attended the 74th Intercollegiate Broadcasting System Conference in New York City this past March, beating out about 1,000 other stations from across the nation.
WERG earned top-five finishes for Best Newscast, Best Use of Social Media, and Best Use of Underwriting, in addition to winning Most Creative Promotional Event, an IBS Golden Microphone for Excellence in Station Programming and Operation, Best College under 10,000 students, and the top overall prize. Even more, it's not just upperclassmen who are helping out, as students can contribute from the beginning of their collegiate careers.
"Chet has it structured to where [students] are scheduling music and scheduling software [to help run the station]," Joe Lang, the cheerful operations manager at Connoisseur Media in Erie, says of the changes WERG has experienced since he attended Gannon in the '80s and early '90s. "When I was there, we played records, so we had a sticker on the record that had the days of the week, and you'd put an 'x' where you played the songs. Now they're using software and computers."
Former Gannon graduates aren't the only ones who have noticed the accolades Chet and his students have earned. In fact, Ron Raymond, assistant professor and adviser for Edinboro's WFSE, thinks that Gannon's current fortunes can be used as motivation for his station's future.
"We're very happy for Gannon and WERG, and Chet has done an outstanding job there, and it's been a real example for our students, too," Ron says. "I pointed out the recognition that WERG received and set that as an example and to encourage [students] to raise the bar at Edinboro."
Ron, a radio vet of more than 30 years, cites ongoing changes in terms of formats and managers as challenges in college radio. But despite those trials, there are plenty of attractive qualities for newcomers. Many college radio DJs are either students who are either looking for career experience or people entering the alternative radio game for fun because of the stations' musical freedom, an aspect that appeals to people looking for a noticeable departure from the mainstream. "There's a certain attraction to the freeform where all of these different personalities are on at all different times and you can make a connection with an individual personality and a particular show that may be on just once a week," Ron says earnestly.
Regardless of a person's motivations for going on the radio, it takes a certain comfort level to be able to face the microphone no matter what the situation. Radio isn't for everyone, but BVZ DJ Auda KonTroll knows from personal experience how much of an opportunity the college stations provide.
"There are definitely fewer listeners [for online radio], but it's a good starting-off point for college students who are trying to decide if they actually want to get into it," says the alternatively-coiffed host of Rebel Girl Radio, which feature female-fronted acts while discussing women's issues. "The other people on BVZ are really passionate about their shows because they feel like they're bringing music that people aren't accustomed to hearing on their own, and it provides a fresh palette."
College radio stations offer up a chance for people to hear something that they normally wouldn't on commercial radio. According to a national survey Ron completed in the past couple of years, most college stations operate in the alternative spectrum, providing a listening opportunity for underserved genres. WERG even features Super Soul Saturday and specialty shows on the weekend, letting a group of locals play urban, Latin, and even polka music at different hours. 
Of course, if these genres attracted a wider audience, commercial stations would try and profit on them. College stations survive on funds from their school, donations, grants, and any profits gained from underwriting spots, short segments that are allowed to inform listeners about a company without promoting them. It's a tricky juggling act for non-commercial radio. According to Ron, a growing number of colleges across the nation have been pulling the plug on terrestrial stations and opting for an online option, like BVZ. There's always risk in operating as a non-commercial station, but ultimately college radio serves as a learning opportunity, a place for students to gain experience for their future careers, and a chance to discover their voice. 
As expected, there are downsides to having a group of amateurs on air. Awkward talk breaks. Mispronunciations. The overwhelming silence of dreaded dead air. Still, there's something special about having a group of people who decide to do things a little differently.
"We're all human, we all make mistakes, and sometimes those can be funny," Chet says, a twinkle forming in his eye as his cadence quickens. "'De-peachy Mode…' no, it's 'De-pesh Mode,' but it's learning, it's what you're here to do. If everything sounds perfect all of the time, it doesn't really sound dynamic or intimate."
 Every semester brings new challenges and opportunities, and that's part of the fun of college radio. And you never know – perhaps that DJ you're listening to on a college station might be the next radio superstar."As Captain Picard in Star Trek used to say, 'The sky's the limit,'" Chet says, a smile forming when he considers the future.
College radio may not have the same flash as TV programs, but theater of the mind is here to stay, providing Erie with an alternative the region can be proud to tune in to.
Alex Bieler can be contacted at aBieler@ErieReader.com, and you can follow him on Twitter @Catch20Q.