Erie's Haunted Happenings
The Eerie Horror Film Fest headlines Halloween attractions.
October 15, 2014 at 7:20 AM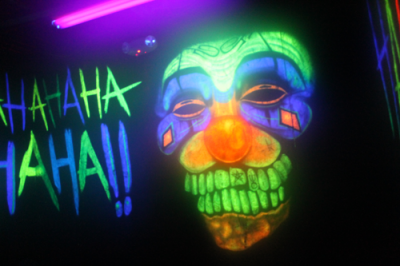 Here Come the Mummies are ... well, they're coming.
So's The Boogeyman.
A buncha famous zombies, and ghouls, and creeps (the fine actors who've brought them to undeath, that is) will be there, too.
So will the dude who plays the dude in Battlestar Galactica; that big, mean-lookin' guy from Mad Max 2 and Commando; and – hot damn, man! – even the fresh-roadkilled hitchhiker from Creepshow 2 (who was, seriously, a large portion of the stuff of my '80s childhood nightmares).
That's but a glance at the thing that is the 2014 Eerie Horror Fest, happening Friday, Oct. 17 through Sunday, Oct. 19 at the Warner Theatre.
And if last year's festival – Eerie's seminal 10th annual celebration of horror, and cinema, and indie filmmaking, and of all manner of things in between – was, like Horror Fest President 'The Rev' Greg Ropp told us then, "a dream come true," well, it's a sure bet this year's gonna be like some kinda nightmare (you know, the fun-scary kind) come to life.
First off, and for the first time ever, there's live music – a big 'ol show, indeed – that'll make for pitch-perfect accompaniment, as the anciently undead, and awesomely funky, Here Come the Mummies creep onto and corrupt the historic Warner's beloved and beautiful stage Friday night. The Mummies – billed as, and delivering damn well 'Terrifying Funk From Beyond the Grave,' – are lurching back into Erie one more time following their (undead) live (ghastly) appearance at 8 Great Tuesdays this summer just past.
"They're a blistering-hot funk band that'll melt your face right off – the hottest ticket in town that night," Ropp told me during a recent late-night interview.
And, check this: Ropp even went as far as saying that if tickets to that Mummies show were to sell out, he would, given the opportunity, happily eat worms – that's right, folks, WORMS – with (or, at least, like) the pro-wrestling legend known as The Boogeyman, who, you know, has been known to do that kinda thing in the ring over the years.
Now, funky mummies – and the prospect of possible worm-eating with behemoth boogeymen – would make this thing well worth the cost of the ticket, but, for the mere asking price of 20 bones, festivalgoers get to take in all that, and everything else, that makes Eerie Horror Fest what it is: Celebrity guest appearances, autograph signings, and hang-out opportunities; screenings of some of the coolest up-and-coming horror and sci-fi flicks around; vendors galore; and what's always a genuinely unique atmosphere of macabre merriment.
It's kinda like a nerdy horror comic convention fell for a pretty red-carpet affair and they made a weird little baby together, Ropp explained to me. Sounds right enough.
And, over the years, lots and lotsa special guests have dropped by to visit the growing tyke: Horror mega-man Tom Savini, Boondock Saints stars Sean Patrick Flanery and Norman Reedus, who also stars in AMC's The Walking Dead, Clerks' Jason Mewes, Kane Hodder (Jason himself from the Friday the 13th movies), and Gunnar Hansen, who terrified the world as Leatherface in Texas Chainsaw Massacre, are but a few of the hundreds and hundreds who've stopped by Eerie since its inception in 2004.
This year, along with the Mummies and The Boogeyman, the list of special guests and related events include genre superstars Richard Hatch (Battlestar Galactica, Star Trek, pretty much every TV show in existence during the '70s and '80s); Eric Roberts (The Dark Knight, The Expendables); Vernon Wells (Mad Max 2, Commando); Jim Winburn (John Carpenter's Halloween, The Fog); a Creepshow 2 mini-reunion with stars Dan Kamin (Chief Woodenhead) and Tom Wright (The Hitchhiker); Eugene Clark (George Romero's Land of the Dead, Trailer Park Boys: The Movie); and a Dawn of the Dead mini-reunion with stars G. Jow Shelby, Sharon Ceccatti, and Nick Tallo.
There's also a special screening of the award-winning independent film Please, Talk With Me, The True Story of the CD21 Haunting, with director Mara Katria and J. Jeff Ungar (whose experience the film is based on), as well as appearances by pro-wrestler Chris Hahn (a.k.a. Johnny Paradise) and area ghosthunters A Paranormal Group/Erie County Pa.
Along with all the celebrity hobnobbing, live music, special screenings and such, there are, of course, movies – and lots of 'em, and often along with their makers – on display at the Horror Fest.
Since its debut, over 400 films have been screened at the festival, according to organizers, in a competition that opens its worldwide call for entries, quite fittingly, on Halloween each year. Many of those films have seen their world premiere at the Horror Fest, said Ropp, and some movies shown there have even gone on to secure distribution deals with major companies (think the ultra-spooky 'V/H/S').
"We're not trying to be Cannes [International Film Festival]," said Ropp.
Eleven years in, and still growing, "we are what we are," he added. And "I love it. The fans make it what it is."
You can find out everything there is to know about all the stuff going bump in the nights of this year's Eerie Horror Fest by visiting eeriehorrorfilmfestival.com.
Now then, dear Reader readers, with the Horror Fest getting me feeling all creepy, I figured it'd be fun to go into some detail about a couple of other events – designed to scare the socks right off you, and not for the faint-of-heart – happening in and around the Erie region as Halloween's comin' up around the bend.
Off (with) the toppa my head, there's Ghost Lake, happening a ways south at the historic (and beautiful, and patently spooky) Conneaut Lake Park in Conneaut Lake – back again and big as always – and the new, related, and much-more-closeby Eeriebyss Factory of Terror, both being hosted by Niles, Ohio-based Mid America Events.
The special-effected actors and professional fright-makers at those haunted-house-times-10-type attractions work off of their locations' naturally-creepy atmospheres and physical layouts, making immersive, interactive experiences designed to scare you 'til you cry (or worse) from it.
I've not yet gone down into the Eeriebyss – again, it's pretty new to the area (and, just so you know, located at 1053 W. 12th St., between Raspberry and Cascade, at the former Cost Plus/Cohen building) – but I have made my way, along with some dear friends and loved ones, into and out of the multiple "Levels of Fear" at Ghost Lake a couple of times in recent years.
And I gotta say I'm looking forward to going back this year, to once again conquer its 13 'levels' – from 'The Front Gates of Hell' to the 'Haunted Hotel Conneaut,' the '3D Carnival of Fear' to the most amazing blackout-ride-from-hell I've ever encountered, the Blue Streak 'Ghoster Coaster.'
That park is old, reaaally old and everyone knows it's fallen on some tough times – fires, vandalism, general decrepitude – over the last couple of decades, and that's certainly visually apparent (hell, you can feel it all over there, too).
But that – like an old, abandoned city factory – makes for a perfect setting for, say, a post-apocalyptic epic (some prominent parts of 2009's The Road were, in fact, shot at Conneaut Lake Park), or the live-action scarefests that are Ghost Lake and Eeriebyss, both running rampant every Friday, Saturday, and Sunday through Nov. 1 at their respective, ominous locations.
To find out more about the events – directions, prices, how many minutes they'll take off of your life, whether you should consult your physician and/or take a change of underwear, etc. – check out ghostlake.net and eeriebyss.com.
And have fun getting scared – I know I'm gonna.
That said, I'll be looking to share some of that fear with everybody, as I'll be posting bits and pieces (eck!) about various Halloween-time happenings through the end of the month at our very own ErieReader.com.
If you know of some things we should consider putting down there, and maybe getting out to, feel free to drop me a line anytime, at rsmith@eriereader.com.
Just don't get creepy.
Writer/photographer Ryan Smith can be contacted at rsmith@eriereader.com, and you can follow him on Twitter @RyanSmithPlens.