Female Journalism Takes Flight
Barbara Hawley reached new altitudes for her profession in Erie
March 18, 2021 at 1:00 PM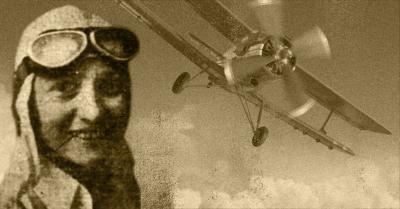 On Aug. 22, 1932, the Erie Daily Times reported on a local record being broken. A woman, taking off in her Great Lakes Sport Trainer biplane from the Erie County Airport, ascended to an altitude of 13,000 feet. 
"[She] remained aloft for approximately one hour before reaching the 13,000 mark," the Times reported. "In descending to the field, she made nearly 25 consecutive loops."
Her name was Hazel Elizabeth Ann Eberhart; although in Erie, she was better known to the public as Barbara Hawley or to friends as Barbara Fusseder. She was born on March 9, 1901 in Lawrence, Kansas to Michael Obediah and Jessie Winona Lathrop Eberhart. In 1904, her sister Nora was born. These early years would be marked by numerous tragedies, first in 1905 when their mother died. Their father remarried in 1911 and they had a daughter in 1915, but she only survived three days. 
Both Hazel and Nora attended Lawrence High School and, after graduating, Hazel attended Kansas State University to study journalism. During her freshman year, tragedy struck the family once again when their stepmother died. Hazel continued her studies though and was very active on campus: joining the poetry society, the literary club, and Theta Sigma Phi, a society for women studying journalism. During her junior year, her father died, but again, she persisted through her senior year and graduated in 1925 with a degree in journalism.
Nora married and moved to Texas and, with no immediate family left in Kansas, Hazel packed her bags for Erie, Pa. where she became the first journalist for any Erie newspaper to have an actual degree in journalism. Her first gig was with the Erie Daily Times, but she was soon employed by their rival, the Erie Dispatch-Herald, where she was the only woman reporter. She had a daily column called "The Nutshell" as well as a weekly radio program on WEDH, the Dispatch's radio station. 
"I covered beats which included the city and county courts, did considerable publicity work, and carried on feature assignments which ranged from murder and suicide to 'stunt' work on one of whose assignments, I recollect, I unwittingly ran a New York Central engine off the track," she wrote. 
During these years, she also covered many well-known and beloved Erie figures, including composer Harry T. Burleigh and radio engineer Wendell King. As a reporter, she took on the pen name — her "professional cognomen," as she described it — of Barbara Hawley. She also began to use the name Barbara in her personal life.
"[The name] was bestowed upon me by my paper when I entered its employ, primarily as heroine of a serial story which was being run, and which since that time has 'stuck,' even to the extent of being upon my U.S. passport," Hazel, now Barbara to those in her life, explained.
The serial story appeared to confuse rival Erie Daily Times editors. Upon reading the serial story and discovering other area newspapers had printed the same story with location changes, they weren't sure if Barbara Hawley was a real person and did not initially seem aware that she was their former writer Hazel Eberhart. 
"Yes, children, Barbara Hawley, of the Dispatch-Herald, is real," the Daily Times editor wrote, then added a jab: "She belongs with the fiction that the Dispatch-Herald leads in ... and if it will make your Chrismas [sic] any happier believing such myths, we say 'more power to you.'"
On April 12, 1927, Barbara married a German immigrant and well-liked barber named Edward Fusseder in Ripley, N.Y. They moved into a modest two-bedroom bungalow on 728 W. Fourth St. Soon after, Edward became interested in aviation and began training. Barbara soon joined him, although she was initially skeptical. A flight with World War I veteran and airport owner Neil McCray changed her mind. 
"Neil McCray, a 'magnificent pilot' who loved flying aerobatics, gave her a ride that convinced her that she had to do it too," the Fairview Area Historical Society explained in their story on her. "She said afterwards, 'It was great fun… and you would exchange your next morsel for a chance to go up again.'"
She helped pay for these lessons by doing the airport's publicity. She also began writing a weekly column for the Dispatch-Herald on aviation. Edward earned his private pilot's license in 1930 and a few months later, she earned hers, becoming the first woman in Erie and the region to do so. The following year, she joined the Ninety-Nines, the organization of women pilots co-founded by Amelia Earhart in 1929. 
"I was known particularly as a 'stunt' pilot and gave weekly shows at local airports," Barbara wrote in a family biography. She participated in countless exhibitions, dazzling crowds with loops and tricks and daring maneuvers. 
She was very active in the community as well. She was also an active member in the Erie Woman's Club, a creative writing club, and St. Matthews Lutheran Church. She volunteered many times as a judge in city parades and held weekly children's story hours at the public library. Around this time, they purchased a cottage on Melhorn Road in Fairview. 
In September 1932, Barbara met with Erie Daily Times writer Marion Reilly at a State Street club. Reilly was the first woman in Erie to receive her commercial pilot license and had her own weekly column on aviation. Together, they planned a reception for Amelia Earhart who was set to visit Erie and who earlier in the year had made history as the second person (and first woman) ever to make a solo, nonstop flight across the Atlantic Ocean. 
Valerie Myers told the story of Earhart's visit in a recent Erie Times News article, relaying how she spoke at Strong Vincent High School, met the mayor, visited with the Behrend family, and how Reilly had "marveled at the unpretentious visitor."
In the summer of 1933, Barbara sailed aboard the German ship The Deutschland to begin a four-month stay in Germany. Edward stayed in Erie, but the purpose was for her to meet his parents for the first time. The world had its eyes on Germany that summer. Adolf Hitler had been appointed chancellor that previous January and the Enabling Act, passed into law after the Reichstag fire, had just that March granted Hitler emergency powers that would help him tighten his authoritarian grip. 
While in Germany, she wrote stories for the Dispatch-Herald about her experiences including German culture, architecture, and observations about everyday life under Hitler's regime. 
Her pilot license expired while she was in Germany and when she returned, she did not bother to renew it. After three more years of writing, she resigned from the Dispatch-Herald and became, in her own words, a "hausfrau," the German word for housewife. She occasionally did publicity work on the side until World War II erupted a few years later. She reentered the workforce and took on roles as publicity director for the Community Chest and the American Red Cross, while also helping perform informative and entertaining radio plays on WERC.
Eventually, she and Edward moved to Driftwood Drive in Harborcreek Township near Lake Erie. Once there, they embraced a simpler life. Barbara spent much of her retirement there hiking the woods and beaches. In early 1966, she became suddenly ill and was hospitalized at Hamot. She later died and was buried in the Erie Cemetery. Edward lived until November 20, 1989 and upon his death, he surprised Presque Isle State Park with a gift totaling $121,521.
While Barbara Hawley may not quite be the household name of other well-known Erie residents, her impact on local journalism and aviation cannot be overstated.
Jonathan Burdick runs the historical blog Rust & Dirt. He can be reached at jburdick@eriereader.com