Finding a New Direction for East Avenue in Erie PA
Viaduct debate reignites conversation, memories of historic street
January 31, 2018 at 1:15 PM
Update 02/07/2018: Erie City Countil voted to move forward with the demolition of the McBride Viaduct in a 4 to 3 vote, also moving to reject a public hearing on the matter. Council member Liz Allen was one of the voters in the minority. 
Green Stamps, scarlet fever, Pio's pizza and the St. Ann's Novena.
Those are some images I associate with my occasional but memorable trips to East Avenue from the west side.
Apple kuchen, Willie Stargell, and a hardware shop that resembled a "mini" Kraus Department Store.
Those are some of the memories — more concrete and precise than mine — from Erie folks who have lived and worked on East Avenue.
During the Jan. 16 town hall about the McBride Viaduct at the Jefferson Educational Society, it occurred to me that the community conversation about how to move forward to address serious concerns about Erie's east side could benefit from a look back at East Avenue.
I scoured my memories to recall the days when my little sisters and I would sit at the dining room table filling up booklets with S & H Green Stamps, the reward for shopping at the A & P. I remembered being excited when my parents saved enough stamps to "buy" aluminum lawn chairs from the Green Stamp Store at 714 East Avenue. The building now houses a Dollar General.
I borrowed the scarlet fever recollection from my father. After catching the communicable disease at age 12, my dad was quarantined at Lakeview Hospital, in the 100 block of East Avenue. He didn't like missing his entire summer vacation and being separated from his family. Lakeview became the first building to house what is now the Barber National Institute.
In the mid-2000s, as friends from the Erie Times-News moved to other jobs and other places, we began to meet at Pio's Italian Restaurant & Pizzeria, 815 East Ave., for great lunches in a cozy setting. Pio's was close to Rosedale Avenue, where Jeff Pinski, former Morning News managing editor, grew up, and not far from the Romanian neighborhood on Pennsylvania Avenue where our original boss, Larie Pintea, lived as a kid. Pio's proprietor Louis Nicolia also played violin for the Erie Philharmonic, so Pio's boasted both character and characters — the perfect setting for journalists to swap stories. Pio's closed in 2010 but it's now Empire 13 Pizza, operated by former immigrants.
My Catholic parish has always been St. Andrew's at West Seventh and Raspberry streets, but every summer, my mother would head to St. Ann's at 10th and East Avenue for the church's annual novena, where gifted orators would lead the services. My mom had a special devotion to St. Ann; that's why all four Allen girls have "Ann" as our middle names. I haven't been to that church for a while, but last July, the parish celebrated its 98th annual novena. That's staying power.
St. Ann's was also the family parish for Mary Glance, a retired teacher and school librarian who read a letter she wrote about the viaduct at the town hall.
"Too often in Erie it's 'tear it down.' Think of the number of old buildings that have been demolished. What gives a city character? If the McBride Viaduct were in Pittsburgh with its many neighborhoods, or other progressive cities, it would be embraced. (Imagine) the McBride Viaduct with a bike path down East Avenue to the bayfront and a ferry near the foot of East Avenue. Cyclists and pedestrians could cross to the peninsula. How great would that be for east-side residents?" she wrote.
I've listened to the passionate campaign to remake the McBride Viaduct, which closed to vehicles in 2010, into a walkway. But Mary's comments were the first that sketched out a view for what East Avenue could become — a connection between Erie's urban east side and tranquil Presque Isle.
In a phone interview, Mary, 76, (whose maiden name is Behan), recounted fond memories of East Avenue and the McBride Viaduct. Her mom actually filmed the opening of the bridge in 1938. "Film, over time, fades," she says. "It was transferred onto a disc but by that time it had deteriorated, a shadowy glimpse of the ceremony."
The old film might not be sharp, but Mary's memories are.
After Sunday Mass at St. Ann's, her family would stop at Haft's Bakery at 915 East Ave., next to the rectory.  "We always got the apple kuchen," she says. "They were a really good bakery and they were there for years."
Older people remember when State Street was Erie's retail hub and also know that Parade Street was Erie's original main street, but, "East Avenue was a very busy street for the east side," she says.
"At 11th and East Avenue, my uncles had two stores — a big corner grocery store and the Avenue Penn, a five-and-dime. Three of my uncles ran the grocery store and my father and another uncle ran the five-and-dime," she says.
She remembers trains rumbling along East 10th Street. "They were always loaded with logs going to Hammermill, and back around Downing Avenue, Bacon Street, Hammermill used to have fields full of logs." If you had wet clothes drying on a line or even if you just stood on a corner when the train stopped, your clothes would be covered in soot. "It was like snowing charcoal," she recalls.
She took me on a virtual tour of East Avenue — past the novelty shop, the pharmacy, the meat market, the jewelry store, the newsstand, the Avenue Theatre, the barber and beauty shops, the taverns, New York Lunch (still standing), the century-old firehouse and the former Donnelly Hardware store. Donnelly's was "almost like Kraus," the iconic department store that still operates at 810 Parade Street, she says.
That's similar to the way Barnie Veneziano, 88, talked about Donnelly's. It was like "a mini-Kraus's," he says. I liked the way they talked about Donnelly's, because their words helped me to picture East Avenue when it was lined with family-owned businesses or "mama and papa stores," as Barnie calls them.
Trained as a cook in the Army, he started working at a restaurant at 818 East Ave. in 1953 and, two years later, bought it with his wife, Dee. He thought about calling it "Bernardo's," after his real name, Bernard, but decided that "Barnie's" fit better, because it served "diner-type" food.
Barnie knew a guy from the nearby Security People's Bank who was involved with the annual Erie Charity Sports Banquet run by Art Arkelian every winter. Through that connection, Barnie became friends with Bob Prince, the legendary Pittsburgh Pirates announcer, who would travel to Erie with a star Pirates player for the banquet. Prince, in turn, would bring those stars to eat at Barnie's.
Barnie remembers Willie Stargell making a splash when he walked into Barnie's wearing a "$10,000 mink coat" to ward off Erie's cold weather. Imagine that! "Pops" Stargell, who was part of the "We Are Family" championship Pirates in 1979, feeling at home on East Avenue.
After Barnie and Dee sold the restaurant in 1987, a plan by the new owner to operate it with Mercyhurst University culinary students failed. But the next owners succeeded in running Barnie's for almost 20 more years, until 2007, when one owner moved out of state.
The next owner operated the restaurant for two years but "they couldn't make out," Barnie says. Today, Barnie's is a Metro PCS cellphone store, and Barnie is enjoying retirement after years of working in food service at the Pennsylvania Soldiers' & Sailors' Home and at the Sausage Shack at UPMC Park. Well, he does still work a few hours — as a doorman at a funeral home
He regards East Avenue, once known as "The Polish Broadway," with affection, as he ticks off a list of employers, including Hammermill Paper Co., whose workers packed his restaurant. Hammermill was sold to International Paper in 1986, and IP closed the Erie plant in 2001, but a lot of the businesses he remembers are still operating — and I see it as a good thing with opportunity.
Barnie doesn't get involved in the debate about the McBride Viaduct.
Mary, however, is ready to rally her former grade-school classmates not only to call attention to the viaduct's situation, but also to point out that Erie's east side has been shortchanged for decades.
As a kid, she and her friends would play at the foot of East Avenue, near Lake Erie. "In wintertime, everybody was out on the ice floes — things you shouldn't have been doing," she says. Friends with a little boat would row across the lake to the peninsula. "There was a lot of that," she says.
When I was a kid, my five siblings and I would squeeze into our American Rambler station wagon (the kind with a tailgate but no third seat) so Dad could take us to the beach after supper.
Such a trip wasn't routine for east-siders. "It was seven miles on the city side, then seven miles down the peninsula. It was a pretty long trip, always bumper-to-bumper traffic," says Mary.
So did they take a dip in the water at the foot of East Avenue? "We were forbidden," she says, because Hammermill used to dump waste in the lake.
Plans to connect the east side to Presque Isle have come and gone for years. I like her ferry idea because it seems doable and pragmatic.
But I also like the fact that talking to Mary and Barnie prompted me to reread news stories about how a community-led effort saved Fire Station No. 8 at 832 East Ave., which closed in 1989. People signed petitions and lobbied City Council. The Great Lakes Building Trades Council donated $100,000 worth of labor to fix the sagging floor and make other repairs. The firehouse reopened with a grand neighborhood celebration in 1990 and marked its 100th anniversary in 2005.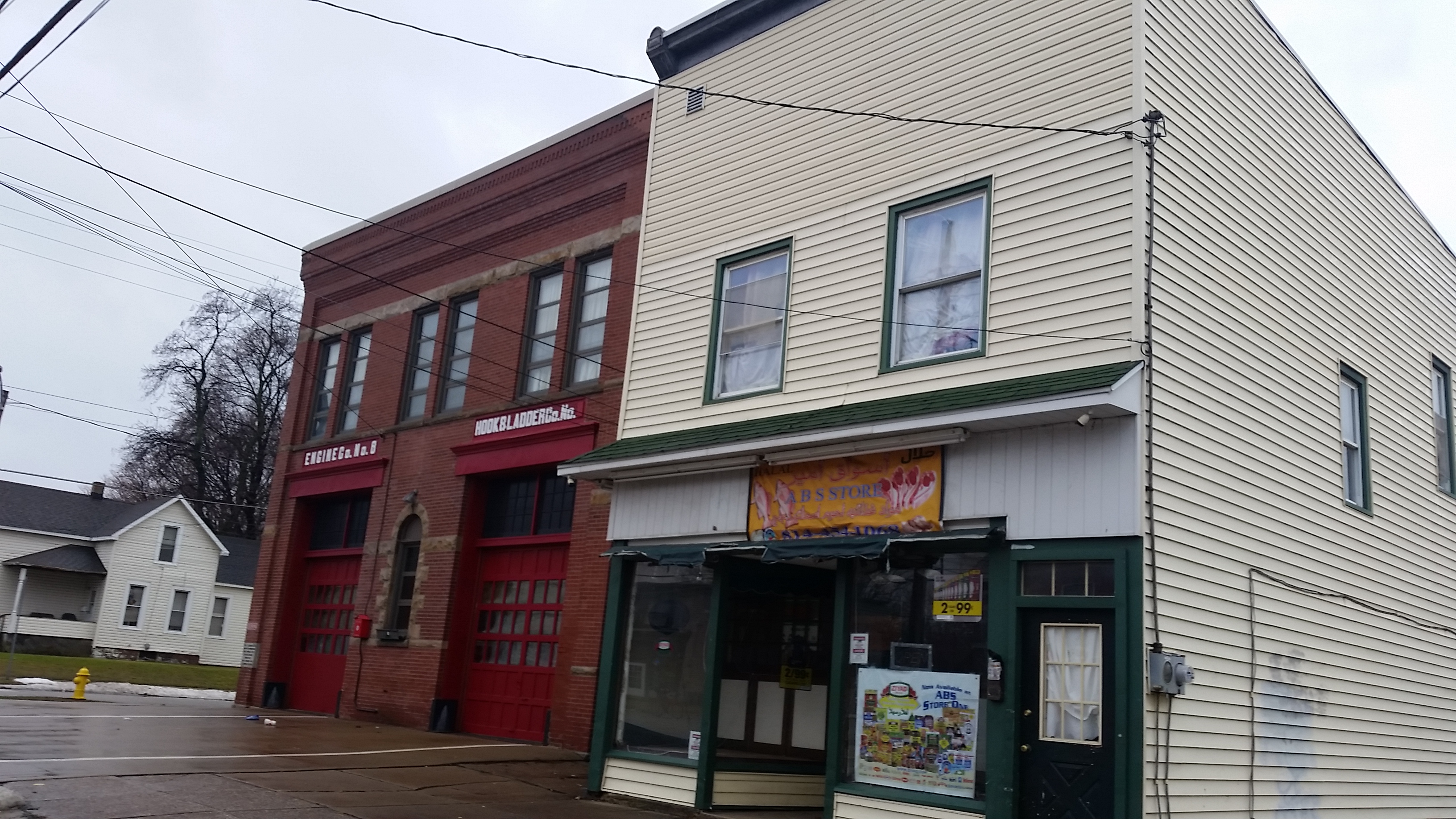 Fire Station No. 8 (left), located at 832 East Ave., is still standing after more than a century. Locals petitioned to save it in the early 1990s. Beside it is the former home of Donnelly Hardware Store (right).
I cite the firehouse example with extreme caution, however, because putting resources into that station had other consequences — and a $100,000 makeover pales next to the millions needed to fix the viaduct.
"People on the east side are not second-rate citizens, we do not pay second-rate taxes and we do not deserve second-rate fire protection," an East Lake Road resident told City Council at meeting in July 1992, as council debated whether to reduce staffing at Station No. 10 on East Lake Road as a budgetary measure, two years after reopening Station No. 8.
"I urge you to check your politics at the door and do whatever is necessary to keep all fire stations open," urged another resident.
The Marne Road station operated with a part-time crew for a few years, but in 1997, City Council closed it and laid off firefighters and police officers to balance a strapped budget.
The "Erie Refocused" comprehensive plan directs city officials and community leaders to work with city residents to talk about the tough decisions that lie ahead in how we spend money, allocate scarce resources and revitalize struggling neighborhoods.
Before plans become final to take down the McBride Viaduct, I think we could benefit from a bit more learning, talking and listening, to make the right decision.
LIZ ALLEN is a retired journalist and new member of Erie City Council. When she was going door-to-door to run for council, she found respite at the foot of East Avenue, dipping her toes in the lake and talking to beach-glass collectors and fishermen.