From Northwest Pennsylvania to Southeast Asia
A chat with Millcreek native and U.S. Ambassador to Cambodia Bill Heidt
January 17, 2018 at 4:00 PM
Separated by 12 time zones and over 8,700 miles, Erie and the Cambodian capital of Phnom Penh are a world apart. During the Cold War era, however, they may as well have been in different universes.
The average American could not dream of the nightmare Cambodia had become by the late 1970s, as political instability and the ravages of the Second Indochina War (which encompassed the Vietnam War and the Cambodian Civil War) took a massive toll in terms of casualties, the country's economy, and the country's psyche. Between 1965 and 1973, the United States, in its effort to "contain" Communism in Southeast Asia (i.e., the driving purpose of the Vietnam War), aggressively bombed the Cambodian countryside where North Vietnamese forces were encamped. The level of collateral damage was shocking, and in part helped mobilize support for the Khmer Rogue (the "Red Khmers," with "Red" meaning "Communist" and "Khmer" being the name for the Cambodian ethnic group), a small guerrilla faction with dangerously radical ideologies.
After the overthrow of the enormously popular (at least among the lower classes) Prince Norodom Sihanouk in 1970, the right-wing (thus anti-Communist and U.S.-approved) Lon Nol assumed control of the central government. The newly minted Khmer Republic was weak and almost entirely dependent on foreign aid, and ultimately fell in 1975 with the capture of Phnom Penh. In the aftermath, the Khmer Rogue proceeded to slaughter some 1.7 million people during its campaign to reset Cambodia to "Year Zero," wherein a completely agrarian, ethnically pure society would exist. The Khmer Rogue was displaced by the invading forces of Vietnam in 1979; thereafter, the (also Communist) People's Republic of Kampuchea would attempt to rebuild the country, although infighting between various factions persisted throughout the 1980s.
Full diplomatic relations between the United States and Cambodia were restored in 1993 following the establishment of the Royal Government of Cambodia (and United Nations-sponsored elections). Although serious challenges remain, Cambodia has come a long way in that timespan. So too has U.S. Ambassador to Cambodia Bill Heidt, who suffered the jet lag kindly in speaking to the Reader of his experiences.
Matt Swanseger: Tell me about life growing up in Erie. What part of town did you live in, and did you have any idea that you'd ever be living and working on the direct opposite side of the globe?
Bill Heidt: I grew up in Millcreek. Our family home is very near J.S. Wilson; that school was built on my grandfather's land. My grandfather (also named) Bill Heidt was the township supervisor in Millcreek — a lot of the work he did helped it grow into the dynamic part of town it is now. It was through him I got interested in politics. That's why when I went to school, I thought about majoring in political science and ultimately ended up in international affairs. When I was little, I never had any idea. I remember when Saigon fell in 1975, which was kind of the symbolic end of the Vietnam War. I was about 14 at the time. I had no idea I would be living there [22 years later].
MS: So from college onward, take me through your passage into government. What was your "in?"
BH: I went to Penn State from McDowell, and majored in Foreign Services and International Politics. I enrolled in graduate school in Washington, D.C. at George Washington University. The way foreign service works is they give you a test, and if you pass the test and pass the interview, they put you on the list and potentially hire you. I first took the test in 1986, and passed second time. I was hired in 1987.
MS: What positions did you hold before you became ambassador?
BH: My first position came in fall of '87, [when I was] assigned Pozna, Poland. It was a small consulate in Western Poland, halfway between Warsaw and Berlin. I did visa work, interviewing applicants in Polish. I could still do a Polish interview today and knock it out of the park. [laughs] I was there at a very historic time, during the last year of the last Communist government. The Berlin Wall came down in October of '89. It was fascinating to witness the transition; [the United States] went from the bad guys to the good guys overnight.
Overall, I've had two assignments in three different countries: Poland (again in 2009-2012, as the Deputy Chief of Mission, an embassy's second-in-command), Indonesia twice (2000-2007), and Cambodia twice (97-99, since 2015). I've worked three different times in D.C., and also in New York at the U.S. Mission to the United Nations.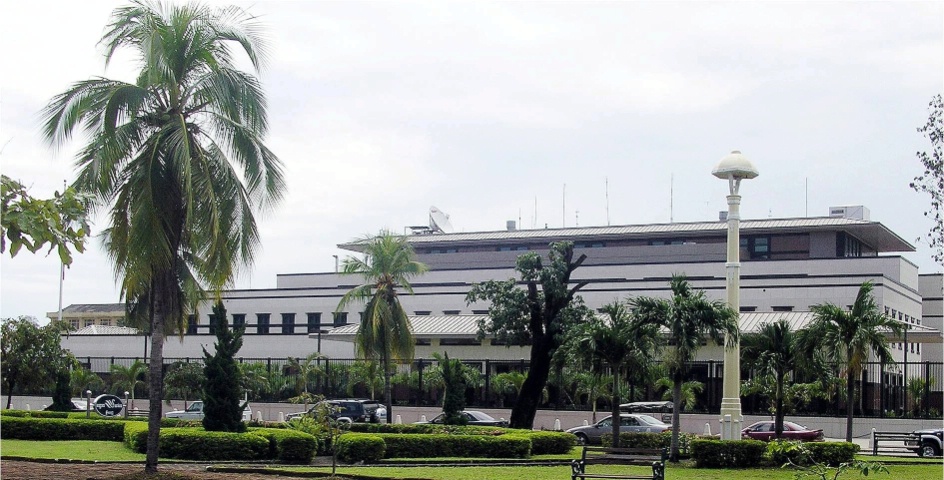 MS: How did the skills and lessons gleaned from those positions parlay into ambassadorship? Had you even planned on becoming an ambassador?
BH: If you're a ball player, your goal is to make it to the majors; if you come into the foreign service, your ultimate goal is to become an ambassador. During the first half of my career, I couldn't even think of what I needed to do to make that happen. Only after I got back from Warsaw did I really start to understand the steps to become an ambassador. It's very competitive. Ambassadors [are chosen] by the D [Deputy Secretary of State] Committee at the State Department. You get your name nominated and try to impress that committee; they decide who gets what job. About two-thirds of the jobs are held by career foreign servicepeople; the other third are appointees.
MS: What does a typical day as an ambassador entail?
BH: I always start the day with a meeting. We're 11 hours ahead of Washington, so we'll check what came in overnight from D.C., and look at the press to address or respond to any stories [demarche = an official set of instructions of how to approach foreign policy issues]. Other than that, I spend a lot of time running around town to meetings, attending or giving speeches, and [conferring] with the government and other diplomats. We'll hold meetings with American businesses about how to penetrate Cambodia's market, to help them sell things in Cambodia and support U.S. exports in general.
I also travel a fair amount, including to all 25 [Cambodian] provinces. During these visits, I'll talk to local officials, discuss development projects, talk to NGOs (non-government organizations), and try to get an idea of how life is in that part of country. I also spend a lot of time with youth outreach. There are a lot of young people in Cambodia — 65 percent of the population is under 35. It's all a part of public diplomacy. We're selling the U.S., our values, why it is important for the people who are going to be running their country to be friends with us.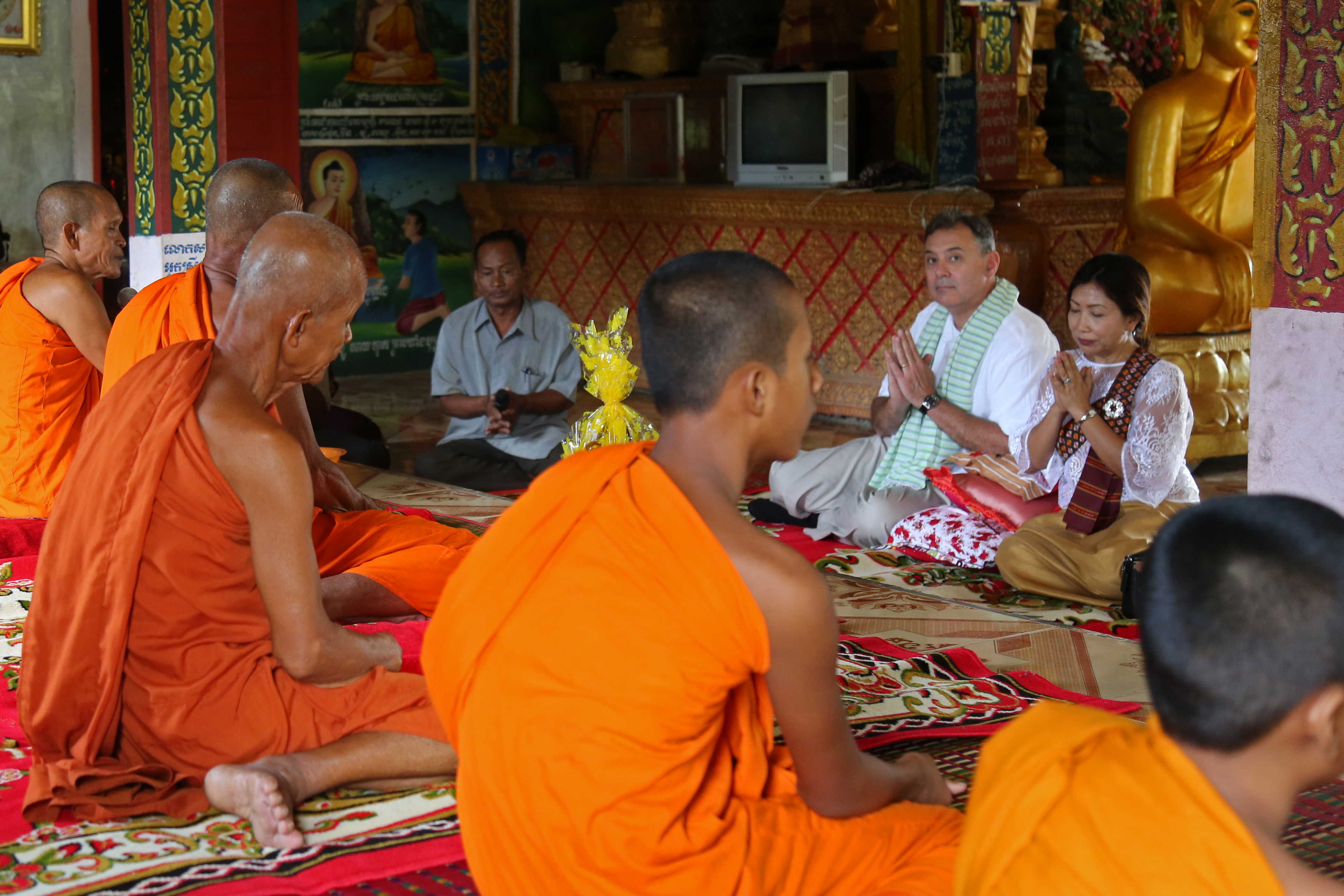 Cambodia is much poorer than the U.S., but their economy has been growing at a 7 percent rate per year for a decade. You'll now see Rolls Royces and Bentleys on the street. There's a lot of new money and property development in Phnom Penh. Cambodia is home to a big garment industry that exports about $3 billion a year — there are about 700 factories in the city. The other major industries are tourism and agriculture. Kids are in school now; basic health services are available at state-run clinics.
MS: Modern Cambodian history has been turbulent, to phrase it mildly. During the turmoil of the '60s and '70s, it seems as if little Cambodia was caught in between and suffered greatly as a result. From your perspective, do you get the sense that the Cambodians feel they are in charge of their own fate or are they still struggling to find agency?
BH: Cambodia is a country that hasn't won a lot. In America we're used to winning. They're very proud when they do win; they want to win. They're very proud of their own country and the progress they're making. That said, they're still very dependent on China and outside assistance. It's plausible that if their political system becomes a little more democratic, they could have more of a stake in their own country. Cambodia is caught between two larger and more powerful countries, Thailand and Vietnam, and have had to worry about maintaining independence from their neighbors. Both of those countries are more developed. Cambodia feels a very strong, powerful drive to catch up to its neighbors.
MS: Some blame the US at least in part for the atrocities of the Khmer Rogue, and given the severity of those crimes, it's clear how resentments might linger. What has the U.S. done to address these narratives? Can they be rewritten?
BH: The strong spillover into Cambodia was very negative. The thing people talk about the most is the bombing, to try to cut off the Ho Chi Minh trail [a prominent Northern Vietnamese supply route] where Viet Cong forces were operating. It's unclear how many people were killed, but a lot of people bear resentment, particularly among the older generation and the people in government. One way we've tried to find reconciliation is the $6-7 million we've spent cleaning up UXO (unexplored ordinance of war) and landmines. We are quite popular among younger generation, most of whom admire America. Three-quarters of the country wasn't even alive during Vietnam War. It's much different if you experience it yourself directly. Our sense is even if some hold a grudge, we must continue our outreach to youth.
MS: In the more recent past, the U.S. has asked Cambodia to repay some $500 million of war debt, and the Cambodians have used the Americans' involvement in the violence and destruction of that period to leverage their refusal. How do you navigate this challenge as a diplomat and what are the prospects of ever collecting these debts?
BH: We loaned Cambodia around $270 million during their Civil War from 1972-74, all loans under PL480 Food for Peace, with no direct connection to the bombing. They link them to the bombing, but the only link was that it was taking place at the same time. They are the successor regime to the Khmer Republic; it is a valid debt. They don't want to pay it and haven't paid us in 50 years, so the best we can do is compromise — improve the terms so the U.S. can get some money back, but Cambodia would get some relief. Arrears is why it has racked up so much.
MS: Prime Minister Hun Sen has demonstrated some trust issues with the U.S. as of late, especially as a Cambodian election looms. Can you provide a kind of overview of the Cambodian political climate and the parties involved? What are you hoping for from the outcome of the election? Perhaps not in terms of a party you'd like to see win, but in the future relationally?
BH: The relationship right now is very difficult. The U.S. and other countries have objected to the deterioration of their political climate. The opposition leader was arrested for collusion, and implicated the U.S. in their charges. They also threatened at the court case to dissolve the opposition party — the opposition party won 44 percent of the vote; the government party won 51 percent. This was undermining the democracy completely, and created a great deal of tension. We don't take a position on who should win; the elections should represent the general will of Cambodian people. So there has been a strong pushback to not dissolve the opposition and run a good credible election, scheduled for July 2018. It won't be credible if the opposition party is not [on the ballot]. Worldwide, the U.S. advocates for human rights and democracy. It helps them develop and reduces the level of conflict.
MS: You were appointed to your post during the Obama administration and now are overseen by the Trump administration. Without getting yourself in trouble, can you kind of outline the differences you've noticed policy-wise and/or priority-wise?
BH: Political appointees leave; in Southeast Asia, we are mostly career employees. I would say in general, with respect to Cambodia, Trump has taken a different approach to trade issues. Some of the trade agreements they've backed out of, such as the TPP (Trans-Pacific Partnership); they're talking about backing out of NAFTA (the North American Free Trade Agreement). It hasn't impacted Cambodia too much. The Trump administration hasn't appointed a lot of people that would normally be in State Departments — the under secretaries and so on. Lots of parts of buildings are running on temporary or acting employees, which is not good. [Replacing them] is a slow process, but I don't have any particular visibility into the process. I don't know why they don't, but they don't.
MS: Do you think the structure and resources are in place for Cambodia to become a player in the global economy? What role or niche does it fill in Southeastern Asian relations and what does it have going for it that might recommend it as an international presence?
BH: Cambodia's foreign policy is really defined by its membership in ASEAN, or the Association of Southeast Asian Nations. As one of the smaller countries in ASEAN, its policy has to take into account views of larger nations. It's a challenge that comes with lots of compromises.
MS: What knowledge and/or wisdom from your appointment might you confer unto your successor?
BH: Ambassadors serve in 3 year rotations. President Trump will announce within [the first quarter of 2018] who will follow me. I would tell him Cambodia is going through a lot of transitions right now. Even though they're doing things that aren't in line with our wishes, keep communications open, try to keep talking with the government. I don't really know what I'll do next. I might retire or might take another job in Washington. I have a 14 year-old son and he wants to go to high school in America. So I might find a job in the State Department to pursue, or something in the economic field.
MS: Anything else to add before I let you go?
BH: From a human interest angle, I have run into people from Western Pa. from all over the world. People talk about brain drain, but Erie is a pretty international place. There are currently four people from Erie in the State Department, and Erie products can be found all over the world. In Asia you'll see locomotives from GE all over the place. I was always proud of that. At the Marine Ball (celebrating the Marine Corps birthday), the chocolate medallions they served were made at Romolo's. How cool is that?
Matt Swanseger can be contacted at mswanseger@eriereader.com.
For more information on Cambodian-U.S. relations, visit state.gov