Gears and Grub Roars On
West Erie Plaza a rumble of activity for annual festival
July 18, 2018 at 12:45 PM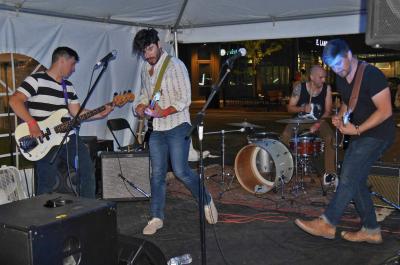 THURSDAY, JULY 19 - 21
Rumbling through downtown Erie, Roar on the Shore is one of the biggest motorcycle events in the eastern United States. With it comes crowded streets, the ringing of revved engines and five days of rough-and-tumble out-of-towners. Though Roar is a divisive event for locals, across town a smaller, more Erie-centric festival is taking place for the third year running.
Gears and Grub is "three days for music, peace and local eats," a festival made of all things Erie. The event is set to run from July 19-21 in the West Erie Plaza which has, in recent years undergone a revitalization after the property was bought by VCG Properties.
"Gears and Grub started in 2016 in response to the desire of local food truck vendors to have a space to set up during one of Erie's busiest tourist weekends of the year," Emily Smicker, event organizer — who planned the first Gears and Grub event in two weeks — said.
Now, two years later, the festival is in full swing.
"We have expanded to 15 food vendors, included a Beer Garden with five local breweries and one local wine vendor, local bands each night (15 for the whole week), and local art vendors and businesses," Smicker elaborated.
Erie favorites Cluk Truk, A Waffle Miracle, The Atacolypse Food Truck and more are set to fulfill the "grub" part of this local festival alongside nearly a dozen others.
The city will also shine in a more amber light with local breweries providing a variety of home-brewed alcoholic beverages. If one is looking for a fruitier way to quench his or her thirst, Presque Isle Wine Cellars will be in attendance in addition to The Brewerie at Union Station, Lavery Brewing Co., Erie Ale Works, Voodoo Brewery and Millcreek Brewing Co.
While downtown is full of the sounds of engines, Gears and Grub has a setlist full of local talent. Cult Classics, Matt "Broke" Boland, Eric Brewer & Friends and Falling Hollywood are just some of the musical acts slated to perform at The Plaza.
As the event has grown since its conception, local response has been positive.
"Every year is a new record turnout, unbelievable sales numbers for local businesses and a tangible sense of community pride," Chris "CA" Conrad — Managing Director of VCG Properties — said.
With music, food and art, community is the central theme resonating through the planning and implementation process of Gears and Grub, Smicker described.
Going on, she noted that "Gears & Grub creates a unique hyper-local and family-friendly atmosphere for the community, visitors and local businesses to be able to enjoy during such a huge and exciting week for the city."
"Gears and Grub tries to celebrate all things Erie," Conrad said. "We hope to provide something a little different, a little niche and at the same time pay homage to ROTS & Harley BikeFest, whose organizers bring in a tremendous volume of tourism to our area. For Gears & Grub it's less about bikes and more about funky, creative, organic and all-encompassing good times."
— Hannah McDonald
July 19 - 21 // West Erie Plaza, Erie PA 16505 // Free // westerieplaza.com/grub