Ghost Lake and Eeriebyss
These live-action scarefests both run rampant every Friday, Saturday, and Sunday through Nov. 1.
October 29, 2015 at 10:46 AM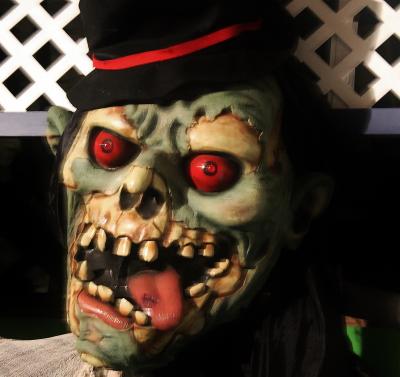 "More horror than anyone can stand," they say.
Whoa: There's an axe-wielding, bloodied-up stooge in a ratty bunny costume.
"Chicken-out spots are not an option," they say.
Man, that dude really did have all kindsa crazy in his eyes … c'mon, just keep moving … 
At its best, baddest-ass parts (and there are many) the thing they call Ghost Lake is frantic, uncomfortable, cold-sweaty — well, a little living nightmare. And, for a lot of us, scared stupid sounds like a damn fine way to spend an evening, especially around Halloween.
Now, let's be clear here, folks: Ghost Lake — materializing weekends through Nov. 1 at the historic, dusty-beautiful, and truly spooky Conneaut Lake Park — boldly bills itself as "the longest and scariest Halloween attraction in the world."
With a run-time of about two hours and 160-plus creature-actors creeping and crawling all over the old amusement park grounds, there's no reason to question the "longest" part. And as for "scariest," I can tell you from past experience: Some of its "13 Levels of Fear" are scary as hell.
The ones that aren't? Well, they're just freakish fun. And oh yeah: The park's great, old Blue Streak roller coaster might be the most amazing blackout-ride-from-hell ever. I mean it. I'd probably drive all the way to Conneaut Lake and pay the ticket price just for one breath-stealing late-night ride on that big, rickety, beautiful old belle of a coaster.
Too far to go to get scared stiff? Well, much closer, and also presented by the same production company (Niles, Ohio-based Mid America Events) is the Eeriebyss Factory of Terror. It presents more of the same maniacal fun found at the old Crawford County amusement park, but in an abandoned Erie factory setting. 
I've yet to venture into the Eeriebyss myself. But, having made several runs through the "13 Levels" in the past few years, I imagine what's going down this month at the former Cost Plus/Cohen building is likely also good fun for fans of haunted happenings.
The special-effected actors and professional fright-makers at these haunted-house-times-10 attractions work off of their locations' naturally-creepy atmospheres and physical layouts, creating immersive, interactive experiences designed to scare you till you cry (or worse).
These live-action scarefests both run rampant every Friday, Saturday, and Sunday through Nov. 1. To find out more about the events – directions, prices, how many minutes they'll take off of your life, whether you should consult your physician and/or take a change of underwear, etc. – check out ghostlake.net and eeriebyss.com.
Writer/photographer Ryan Smith can be contacted at rsmith@eriereader.com, and you can follow him on Twitter @RyanSmithPlens.