Girard's Mission Main Street
How the town's citizen-led revitalization is bringing Main Street back
April 25, 2022 at 10:30 AM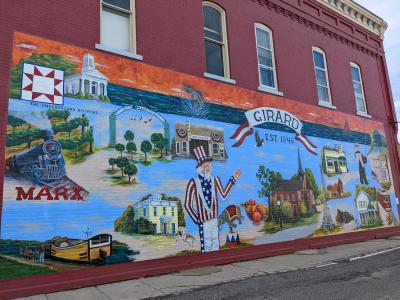 In Sinclair Lewis' 1920 opus, Main Street, he writes: "I think perhaps we want a more conscious life. We're tired of drudging and sleeping and dying. We're tired of seeing just a few people able to be individualists. We're tired of always deferring hope till the next generation. We're tired of hearing the politicians and priests and cautious reformers (and the husbands!) coax us, 'Be calm! Be patient! Wait! We have the plans for a Utopia already made; just give us a bit more time and we'll produce it; trust us; we're wiser than you.' For ten thousand years they've said that. We want our Utopia now—and we're going to try our hands at it." 
While these words were written 100 years ago, they still feel inherently relatable. In recent years, it has become a priority for small cities and towns to reclaim and restore their historic Main Streets from economic abandonment and structural neglect. And while in the City of Erie this reclamation is largely happening at the overarching hands of local corporations and large private donors, in the smaller boroughs throughout Erie County, in particular in Girard, it is happening because of the people who live and work there, who are trying their hands at creating their own Utopia on Main Street.  
I've recently become very familiar with Main Street Girard as I have partnered with the borough to learn, write about, and share some of the success stories of Main Street building restorations (in particular, those using Girard's Facade Grant Program, which is a 1:1 matching grant program using funding provided by the Erie County Gaming Revenue Authority's Mission Main Street program for property owners on and around Main Street to use for exterior improvements). In learning the stories of the people who own property on Main Street, I have come to find a passionate group who all truly care about making their town as beautiful, successful, and idyllic as possible. Among this group is Val Mininger, co-owner of the Crick Coffee House and Eatery at 236 Main St. W, who has made it her personal mission to revitalize Main Street, and to give the people of Girard something to be proud of.
"We travel a lot and go to a lot of small towns with Main Streets and every shop is always full and busy. We need to have that here and there's no reason why we shouldn't. So we tried to do something different that could also then act as a starting point, and that would bring people not just from Girard, but from other places. People won't come to Girard for one consignment store, or one little gift shop, but they will come to walk the whole street and stop in each place," Mininger explained. 
While Mininger's business (established in 2017) is somewhat new to Main Street, there are some who have been there for years and watched the gradual revitalization with appreciation. Eliza Wolfe has owned Eliza's Pottery and Main Street Art at 138 Main St W since 2005 and has been a great advocate for Girard's rebirth for years: "I was one of the businesses here before the revitalization started and it was really depressing. I tried to be there as a shining light and a lot of people did start coming in." 
"A lot of building owners have taken advantage of the grant program and it's really wonderful to see the place come alive," Wolfe continues. "I believe that it's very uplifting for people to drive through and see that there is a business here, it's not just an empty space going to waste. It's a vibrant, alive town, and seeing work done gives me hope." 
Wolfe's building is one of many that has a rich history, tied to the early success of Girard. Built in 1861, it was once a saddlery, harness, and leather goods shop, and now, being renovated, restored, and freshened up, it provides a great example of how to be the steward of a building, and how building owners can, in turn, be stewards of the town.
Melinda Meyer, president of local nonprofit Preservation Erie touches on the importance of preserving the history of small town Main Streets like Girard: "Not that we need the experts to tell us; we seem to know it instinctively. Research shows that people love to live near and visit well-cared-for and interesting historic places, especially downtowns. And downtown Girard has such a cool history with ties to the Erie Extension Canal, the railroad, and, of course, showman Dan Rice. Its history and historic buildings with their unique and beautiful architectural details are part of what makes Girard special." And Girard's special and unique history largely still remains in its historic buildings which can tell that history by simply existing. 
Dan Rice, a famously eccentric man who lived in Girard in the mid-1800s (when he wasn't traveling the country with his circus acts), succeeded in helping to put Girard on the map. He was nationally visible (he helped inspire the character of "Uncle Sam" and even ran for president at one point). He dedicated the nation's first Civil War Memorial in 1865 which still stands at the center of Main Street, separating East from West.
In addition to Dan Rice, another family that put Girard on the map was the Battles family, an influential group who settled in Girard around 1822. The Battles Museum, which lies south of Main Street on Walnut, contains a mansion, a family farmhouse, and acres of preserved farmland, is currently owned, operated, and maintained by the Hagen History Center. But the Battles family made their mark on Main Street as well, in the form of a bank: The Battles Bank. The bank was constructed around 1893 by farmer, lawyer, and businessman Rush Battles. Rush died in 1904, and his wife Charlotte and daughter Elizabeth kept the bank running for decades, and did so famously, even through the Great Depression. 
The bank still stands as an architectural reminder of those times, although today owners Gina and Jon Welch have found a reuse for the building in the creation of Full Circle Winery. They have completed major restoration work on the building, while still making sure it remains recognizably a bank and the couple are proud to share their vision and dream with the people of Girard. Gina Welch reflects on the building's personal connection: "When we were engaged, this building was a jewelry store and we actually bought our rings here. So we've literally come full circle to have this place here in Girard. It's a great little town here and it's extremely important that we're here in the community of Girard."
The combination of restored historic architecture, a rich and interesting history, a cohort of business owners putting in hundreds of hours of work, as well as the support of local government means that Girard's revitalization is palpable, noticeable, and organic. 
Girard Borough Manager Rob Stubenbort is excited about the changes he sees happening every day in his borough: "As the hub of the West County, Girard Borough is in a perfect position to offer shops and services for our borough and our unique, yet quintessential, small-town vibe is an attraction for Erie County and beyond." Stubenbort mentions a council that was recently created called Downtown Girard, a group of elected officials and community members who have come together to help manage grants, offer support to business owners, and secure funding. 
Melinda Meyer comments on the creation of this group: "The residents of Girard have such pride in the community and are incredibly engaged. This is how the borough was able to create Downtown Girard … Since its formation in 2018, Downtown Girard has issued more than $100,000 in grants for property improvements, supported creation of the first mural in the downtown, pursued National Register listing for a downtown historic district, and led work on a master plan, which is still in-process. The folks in Girard love their community and are willing to get involved, and it shows."
The Girard Borough Council has also made some improvements and changes that have helped draw attention to Main Street and make it more inviting, including ornamental lighting, landscaping, and event support. They have also eliminated paid parking on Main Street to encourage visitors to stay, shop, and support downtown. It is also worth mentioning that there are multiple historic commercial properties currently up for sale on Main Street, including the iconic Girard Dinor and neighboring Treehouse Tavern.
The people of Girard are no longer "deferring hope till the next generation;" they recognized that a change needed to happen and are working to make that change for themselves. If you are not from Girard, or do not frequently pass through it, perhaps make it a point to stop and visit soon. Take a nice summer drive, get some lunch at The Crick, meander your way through vintage consignment shops and Eliza Wolfe's art gallery, pass by the 1865 Civil War Memorial, have a glass of wine at Full Circle while enjoying the historic architecture, and see for yourself all that Main Street has to offer these days.
Erin Phillips runs Old Erie On Foot, an in-depth look at local architecture "by foot, stroller, papoose, bike, and occasionally minivan."