Global Summit: Edith Widder
Oceanographer, marine biologist, and deep sea explorer, Edith Widder, will speak at the Jeffersonal Educational Society tonight.
November 14, 2013 at 12:13 PM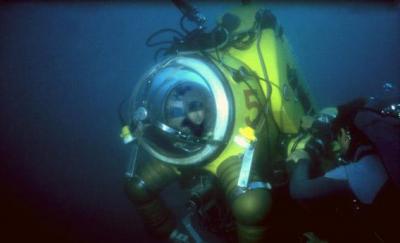 So the Global Summit is doing very well so far, I'd have to say. The talks have been packed. Heck, I probably don't even need to write these preview thingies! But...go read mine anyway.
Anyhow...tonight features someone truly cool. A deep sea explorer!
Who: Edith Widder
What: "The Unexplored Potential of the Deep Sea for Human Progress"
Where & When: Tonight -- November 14 -- at the Jeffersonal Educational Society at 7:30 pm. (See the JES Summit page for ticket and location info.)
Why: Wait -- I tell you Widder is a deep sea explorer, and you ask why you should see her?
Okay. Fine. Here's more: Widder is an oceanographer and marine biologist whose special area of expertise is bioluminescence -- or the natural light produced by certain deep-sea species. She's performed dives all over the world in deep-sea submersibles and deep-sea diving suits, and recently founded her own non-profit called the Ocean Research & Conservation Association -- or ORCA -- that uses innovative technology in service of ocean conservation.
She's even won a prestigious MacArthur "genius" grant.
Yes, she's that cool.
There's More: If that wasn't enough, Widder was the first scientist to capture a giant squid on film in its natural habitat. Using some of her new techniques at observing undersea life -- using LED lights, for example, to mimic bioluminescent jellyfish -- she's lured as-of-then new and unobserved species of squid to her cameras.
Media: Google Edith Widder, and you'll find plenty of media featuring the scientist, most notably a series of TED talks and at least one National Geographic video. A Discovery Channel special was made of Widder's discovery of the squid.
Oh, and some random dudes here in Erie interviewed her for a podcast.