Go Explore the Music and Magic of Great Blue Heron
The three-day music festival kicks off July 3.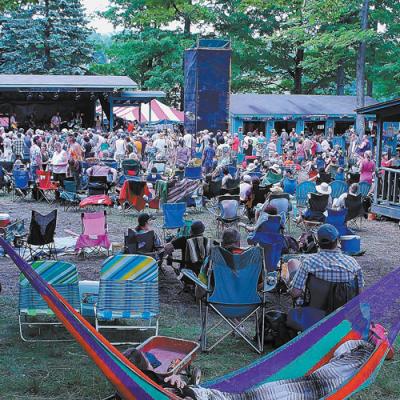 It's an open, friendly, warm-to-the-touch kind of invitation: "Come to the Heron," organizers say. "It's real pretty here."
They said it there, man.
And I've said this here before: At the Great Blue Heron Music Festival  – nestled in nearby, real-pretty Chautauqua County, N.Y. – you're apt to run into a lot of friendly folks in cozy situations, enjoying life to the tune of lots and lots of good, live music.
It's been that way at those lush-green, good-vibed grounds in Sherman, N.Y. for the past 23 years, and, with this year's festival just around the corner on Fourth of July Weekend, the Heron's flying into its 24th year on a sweet-sounding breeze.
When I've asked people – from artists to organizers to dance-happy hippies to gray-bearded grandpas – to describe the Heron in their own words, there's always one that comes up: "Beautiful."
From the grounds to the sounds to the energy of the crowd, people tell me it's beautiful there. And I have to agree – it seems, indeed, that there's a lot of good magic in those gentle hills.
Putting that good magic to good music – and plenty of it – this year's Heron lineup includes performances by Donna the Buffalo, The Town Pants, Los Straightjackets, Driftwood, Smackdab, Jimkata, Big Mean Sound Machine, Big Leg Emma, Sean Patrick McGraw, and a couple dozen more jam/roots/rock heavy-hitters from around the region between July 3 and 5.
If you've been there before, it's likely you're planning (or, at least, hoping) on getting back. And if it's your first Heron, well, get ready to loosen up, get down, and let your spirit soar. – Ryan Smith
July 3-5 // 2361 Waits Corner Road, Sherman, N.Y. // greatblueheron.com