"God of Carnage," Reviewed
Four actors, one director, two nights, and no frills. Dramashop brought ?God of Carnage? to Erie.
January 26, 2012 at 2:04 PM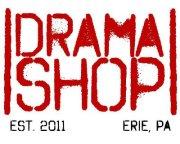 At the heart of it all, at the simplest state, lay the words on the page. Beyond that lay the abilities of the actors on stage to make them speak to us as we sit script-less in our seats. But strip away ornate scenery, elaborate props, and special effects and a chillingly naked presentation can either be left feeling exposed and raw or comfortable and natural depending on the vision of the director and the talents of the actors.
Fortunately for Erie, four actors and one director on a snowy two-day stretch in mid-January brought the latter.
That simplicity in stripping away the additional to focus intensely on words—that which is primary—was what Dramashop presented to Erie Thursday, Jan. 19 and Friday, Jan. 20 with staged readings of "God of Carnage," a darkly funny play about the dynamics of people when pushed into tight corners that leave little room for politeness. Originally written in French by Yasmina Reza, "God of Carnage" explores the relationship between two couples through what begins amicably as a discussion but dissolves into a chaos contained to a living room.
Before the play begins, Benjamin, the son of Alan and Annette Raliegh, struck Henry, the son of Michael and Veronica Novak, breaking two of his teeth. The fight, we come to learn, was over Henry's refusal to let Benjamin join is gang, which is what sets the play into motion.
There's an awkwardness that at first feels all too comfortable. These are people forced into a situation in hopes of resolving something they had no direct part in, and we laugh as they move lightly and awkwardly on their toes around words and phrases for fear of stepping down too hard on any cracks in the language. But as time begins squeezing, pinching, and pushing in all the wrong places, eruptions on stage lead to laughing—and a little bit of squirming—in the seats. How long, one first wonders, must we behave and speak in a civil manner for appearance sake? How long, one wonders later, have we been behaving by way of adapting our natural responses to fit inside this stuffy room, finding the most obtuse ways to avoid saying what we truly think?
As coffee and clafouti give way to rum and cigars, alliances shift and allegiance becomes nothing more than a figment of a distance past, as the exchange between man to man, woman to woman, couple to couple, and back and forth again took the audience by the collar and never let go.
Director Evan O'Polka captured the deliberateness of Reza's translated text and made good use of slight gestures, pauses, and timing—allowing the actors to explore the text in front of the audience, stripping away the veil that all too often separates the stage from the seats. Incorporating the use of PowerPoint slides to show viewers stage direction took the play even further, sitting it nicely in the laps of the crowd gathered at Gannon University's One Green World Café.
Erie theater veteran Ken Brundage excelled in the role of Michael Novak with a confidence and poise, capturing personality with tone, inflection, and pace that one couldn't help but be drawn to—even as he vehemently defends his pet cruelty involving an instance with a hamster.
Danielle Johnson brought a quiet intensity to Annette Raleigh that eventually boiled over the edges. Raliegh's commitment to etiquette aired smoldering coals that eventually burst into flame both mentally and physically.
Denise Manchester's Veronica was reserved yet feisty. By focusing on pauses—those awkward silences and uncomfortable moments—she moved the show along with great sense of story and purpose.
A pleasant surprise, newcomer to the stage Patrick Washington took on Reza's Alan Raleigh, delivering both his ineptitude—from taking call after call while trying to reign in a PR crisis—and his frustrations of being forced into meeting in the first place. If Washington beamed so strongly in debut, Erie can only hope to see more of him in the future.
Trying to hold together the relationships of the characters on stage in "God of Carnage" can be similar to trying to pick out the one egg with a hairline crack in the carton—not seeing how far the crack goes leaves you unsuspecting to how messy things are about to get and no idea how far that mess can spread. Erie can be thankful to the cast and director at Dramashop for taking Reza's delightful and deliberately messy words and stripping them down to their most carnal state to give a brutally honest and wonderful presentation of theater in its most naked form.