Going Viral
When a worldwide pandemic rattled Erie
March 14, 2018 at 3:00 PM
A few weeks back, the results that my wife and I were waiting for came in: our four-year-old son had tested positive for the influenza A virus.
His previous day had been rather normal. It was only in the evening, right before his bedtime, that he came down with a fever — and it spiked aggressively. My happily spirited boy went from playing with his superheroes to being outright delirious within a matter of minutes. We called the on-call nurse, but when the thermometer read 105 degrees — after a dosage of Tylenol — we rushed him to the emergency room.
The next week was a miserable rollercoaster of high and low temperatures, sometimes seeming to break completely before spiking again to dangerous levels. We perfected a system of quarantine to keep him comfortable and entertained, while protecting our ten-month-old from exposure — thanks to the help of our family and numerous cans of Lysol.
The vaccine kept the rest of us healthy, but that whirlwind of a week had me thinking about how fortunate we are to live in a time with such medical advances. It inspired me to do some digging in the historical archives concerning another horrid flu strain, one which led to one of the worst pandemics in human history and devastated the city of Erie during a few short months a century ago.
The year was 1918. Charles Du Puy Spencer, a young and exuberant 32 years old, seemed to have it all — the quintessential American life.
He had graduated from Princeton a decade earlier. There, those who knew him described him as "a man of sterling and most likable qualities." He returned home to Erie after graduation, where he had a job waiting for him at First National Bank. His grandfather had been a founder and its first president, while his father, William Spencer, was then serving as its second president. It seemed that Chap — as his friends often called him — was being groomed to be his father's successor.
Chap soon married a young woman from Braddock named Mary Hester Weimer and they settled down in a home on West Seventh Street. Like his own father, Chap made sure to involve himself in the community. He was a leader in the local YMCA chapter. He was treasurer of the Erie Boys' Club and various manufacturing companies. He joined the Board of Trustees at the downtown Park Presbyterian Church and rubbed elbows with Erie's elite at the prestigious University Club on Peach Street. When the United States joined World War I, it was only natural that Chap, ever the respectable citizen, would take charge of the Erie campaign to promote war savings stamps.
In late September of 1918, Charles traveled to a convention in Chicago put on by the American Bankers Association. He participated in roundtables, listened intently to the numerous speakers, and met privately with other bank leaders to discuss the Federal Reserve system. While there, he developed what he thought was a nasty cold.
What he was not aware of was that only two weeks earlier, a few sailors at the Great Lakes Naval Training Station had similarly fallen ill. The sickness, which worsened with each passing day, was spreading viciously throughout Chicago, where soon there would be 10,000 reported cases every week.
When he returned to Erie, Chap's symptoms worsened. He became severely ill and realized that he had been stricken by what the world was coming to know as the Spanish flu.
Pneumonia set in within days. His wife Mary, while caring for him, became sick as well. At times, it seemed like he was on the mend, but on the ninth of October, his condition worsened. Within hours, he died. Mary recovered after a few weeks.
Chap's death came amid the second of three aggressive waves of influenza that spread worldwide, fueled by the movement of troops, poor sanitation, and, in some cases, governments and press that downplayed the severity of the pandemic. Death tolls ascended rapidly in stricken communities. Hospitals, coroners, and funeral directors were unable to keep up in many cities.
By the end of that October, there were 325,000 reported cases throughout the state of Pennsylvania. Pittsburgh and Philadelphia were particularly devastated. Erie was no exception. The flu ripped through the city, affecting not just the young and old, like most flu strains, but men and women in their prime years. Strict quarantine ordinances were almost immediately enacted. It was forbidden to see the sick.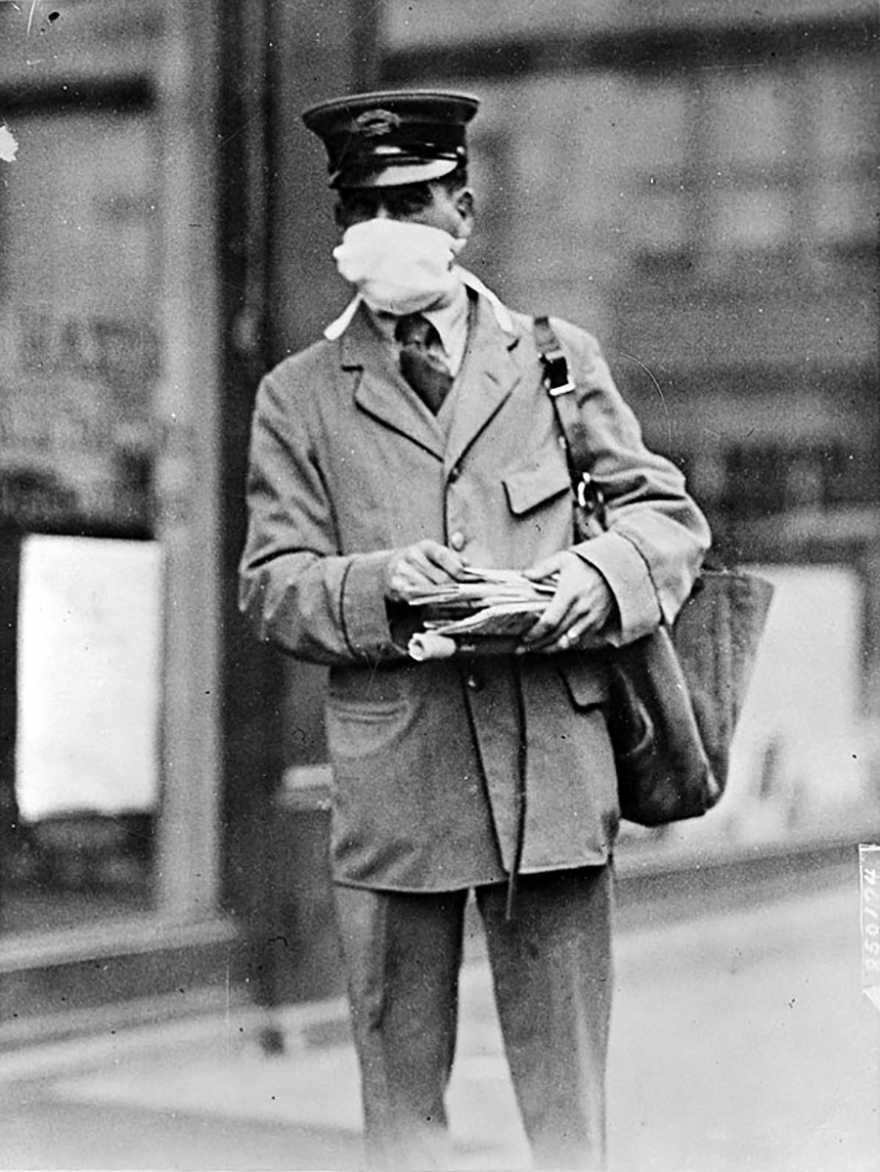 National Archives and Records Administration
Fortunately, Erie officials weren't completely unprepared. They had experience in handling epidemics. In 1910 and 1911, the city had numerous outbreaks of typhoid fever and dysentery with one outbreak afflicting as many as 30,000 residents. During the 1911 outbreak, the city had faced a particularly aggressive two-month typhoid epidemic, believed at the time to be from the bay ice or milk supply. According to one medical journal at the time, it was the "failures of the city health department" that led to such outbreaks, because they did not force "milk-dealers to comply with the milk regulations to the extent of straining cow-manure and other dirt out of their milk."
Officials produced and strictly enforced quarantine rules as they worked to isolate the source of the typhoid — going as far as mapping the various routes of milkmen and comparing them to homes infected with the disease. They held "baby saving shows," inspired by similar demonstrations put on in Philadelphia, to reduce the infant mortality rate.
Having experienced such epidemics surely proved valuable during the flu pandemic — but despite their knowledge, what was transpiring in 1918 was still different. It was much worse. It was paralyzing cities throughout the nation. A public health report listed 9,514 cases of influenza reported in the city of Erie throughout 1918. Of those afflicted, 504 died. Another 50 died during the third wave that following spring. Neighboring Meadville suffered less but still had a significant 3,269 reported cases with 79 deaths.
Worldwide death figures were a staggering 50 million. Some historians even call that estimate conservative. In the United States alone, an estimated 675,000 died — more than the U.S. combat deaths in both world wars, Korea, and Vietnam combined.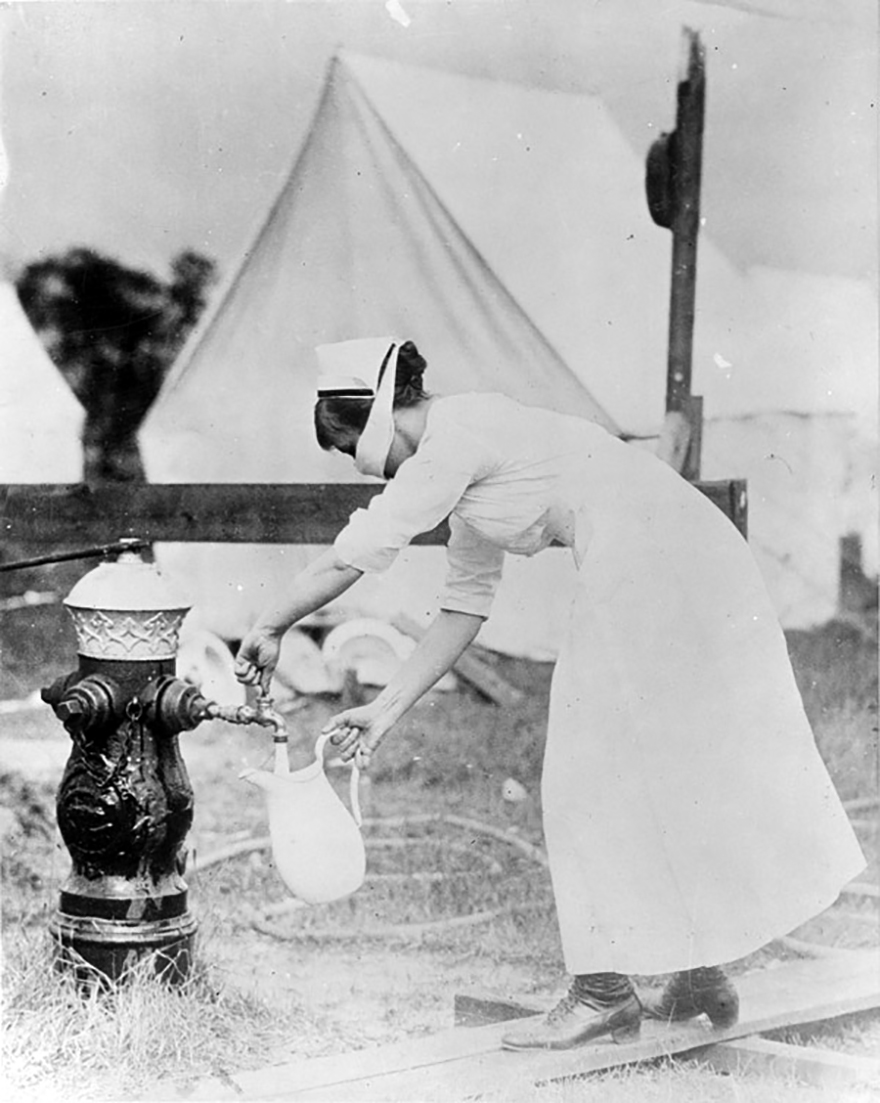 National Archives and Records Administration
Three aggressive waves of influenza in 1918 wiped out 625,000 people in the United States and 50 million people worldwide. The fear of contracting "the Spanish flu" affected everyone's livelihoods, regardless of age or profession.
March 11, 2018 marked a century since the initial outbreak of the influenza pandemic in the United States — and while this flu season has been one for the recent record books, vaccination, antibiotics, and sanitation have proven to be effective.
The Erie County Health Department's last count had the county at 2,537 reported cases for the season, the highest since the department started reporting influenza cases in 2003 — and flu season isn't over. After four consecutive weeks of over 300 reported cases each, the latest report by the Erie County Department of Health demonstrated some relief, with the county having 250 reported cases in the most recent week.
When I asked Charlotte Berringer, Director of Erie's Community Health Services, what stood out about this flu season as compared to previous ones, she noted the record-breaking numbers. Still, she was quick to add: "Nothing else about this season was remarkably different from other flu seasons. The A-H3N2 just appears to be a more virulent strain this season than past seasons."
She further noted that the flu vaccine is widely available throughout Erie, including for the uninsured through Life Works and the Erie County Department of Health. Of course, the vaccine isn't perfect, in large part because of how flu viruses mutate.
"Because we are still making flu vaccine the same way we made it in the 1940s, it takes up to six months to reformulate the recipe, make, and distribute it," Berringer explained. "Viruses can easily mutate enough in those time frames … [so that] the virus can change rapidly enough that vaccine efficacy is already diminished as the product is released for distribution."
The solution?
"Public health globally desperately needs a newer technology to make flu vaccine," Berringer concluded, but also noted that there is development on this front.
Does that mean a pandemic like what took place in 1918 could happen again?
"There's absolutely no controversy that we will have another pandemic," Dr. Greg Poland, virologist and vaccine researcher, recently told the Chicago Tribune. "What's unpredictable is the severity of it."
Even if the vaccine isn't completely effective though, it's still worthwhile to get each year.
"Those who have received immunizations in the past do, on average, better than those who haven't," Poland told the Tribune. "They build up some immunologic imprinting and memory that serves to help ensure they survive."
Having just experienced such an aggressive flu virus with my son, it's even more difficult to imagine what Erie residents — and the world — faced in 1918. We can be thankful that with our modern understanding of sanitation, vaccination, and antibiotics, along with our knowledge of past pandemics, when that time does come, we will be as prepared as possible.
Jonathan Burdick runs the historical blog Rust & Dirt. Follow them on Twitter @RustDirt, and on Instagram @Rustanddirt.