Growing Gains
How new farmers boost health, environment, economy
April 24, 2019 at 9:00 AM
By: Liz Allen
When Lisa Dvorak's daughter started having stomach pains, Dvorak decided to dig into the root causes.
She ended up buying a farm so her family could grow what they eat, instead of ingesting processed food.
When Garrett Gleeson attended Allegheny College, he intended to become a physician. But when he couldn't schedule a medical micro lab and wound up in a plant micro lab instead, his career path changed. A few years later he too started a farm. Now, instead of doing medical research, he grows healthy food.
After I met Dvorak and Gleeson at a recent "Farm to School" event at Jefferson Elementary School, I wanted to learn more about why they opted to become farmers. Writing about why eating local is good for the planet seemed like a natural topic for April, as we celebrate Earth Day. It was also fun to learn that both Dvorak and Gleeson are among the 35 producers whose goods are sold at Edinboro Market, a non-profit set up to aid local growers.
I have a personal stake in this as well. On April 23, I marked the one-year anniversary of my heart attack. I've never smoked, I have low blood pressure, and am not overweight. But as the cardiologist explained, I couldn't escape my family's history of high cholesterol. Now I try to eat more vegetables, fruits and fish. I take a statin, too.
Dvorak, 42, was teaching in a preschool when her daughter Evabelle, six at the time, began having stomach problems. "I started looking into what was in all the foods we were eating, and didn't like what we were eating," she said. She and her husband Jeremy, who works for Verizon, had a little yard with a small garden in Millcreek, but she did not come from farming stock.
"I didn't really have any idea what I was getting into or where the path was leading," she said.
What they got, five years ago, is a nearly six-acre farm on Route 98; Cussewago Creek gurgles through their backyard. They have chickens, ducks, one rooster and one goose in the barn, and nearly 100 trees in their "food forest."
There is also a vegetable garden, an "experimental" garden where she is trying out rhubarb, asparagus, hyssop, catnip, chives, oregano, and strawberries, and patches for edible flowers, garlic, onions, sunchokes and sunflowers.
They practice regenerative farming, so nothing goes to waste. The chickens, for example, eat "unwanted bugs" and help till the soil. The ducks eat dandelions and clover and also savor slugs and worms. If eggs display a little crack and can't be sold, she hard-boils them and feeds them back to the birds.
Dvorak "re-homes" the chickens and ducks in the barn to lay eggs and protect them from predators, but otherwise they roam.  "I love having all my birds happy," she said. "We fenced in the garden instead of fencing in the birds."
After moving from the suburbs to the country, the family was joking about the "living and learning" aspect of their decision. That's how they came up with the name for their property: Live and Learn Farms.  "We kind of dove in head-first and tried a little bit of everything, all at once," said Dvorak. "We're still learning so much every day."
Dvorak reads everything she can about fruits, vegetables, soil, wildflowers, fowl, predators, birds and other topics related to farming. She learns new things from her Facebook community and from other farmers.
Her husband listens to podcasts. That's where he learned about where to buy a "food forest bundle" of 100 trees, including persimmon, pawpaw, apple, cherry, chestnut, hickory, pear, pecan, and redbud. The redbud acts as a "nitrogen fixer" for the soil, said Dvorak.
Their children, Evabelle, now 12, and Colton, 16, are hands-on helpers, too.
"That first summer, we were all out there planting trees. We only lost a few with the weather," she said. Why so many different types of trees? To produce edible nuts and fruit. She's especially looking forward to the day when the pawpaw come in.  "They kind of taste like a [cross between a] mango and a banana," she said.
"The biggest thing we want to do is to grow food. Everyone here has a job. Everything has a purpose," she said.
That includes Einstein, their mastiff-shepherd mix, who walks the perimeter of the farm with Dvorak to check for predators twice a week.
Microgreens are also one of her specialties, because they can be grown inside year-round and have lots of health benefits. Microgreens are the tops of baby plants, such as peas, radishes and basil, that are snipped six to nine days after germination. They taste good on just about anything, including ham and cheese sandwiches, bagels, strawberries, pasta, cheese and crackers, and pizza. "Everybody who lives in this house has their favorites," she said. And if you like to entertain, microgreens work as "a garnish on absolutely everything. It gives it a huge nutrition boost and it looks fancy," she said.
Although they eat lots of homegrown produce, the Dvoraks aren't vegetarians. Participating in farmers' markets, she's met local producers of honey, maple syrup, beef, and pork. She has confidence in their products. "I know that they are producing food the best possible way," she said.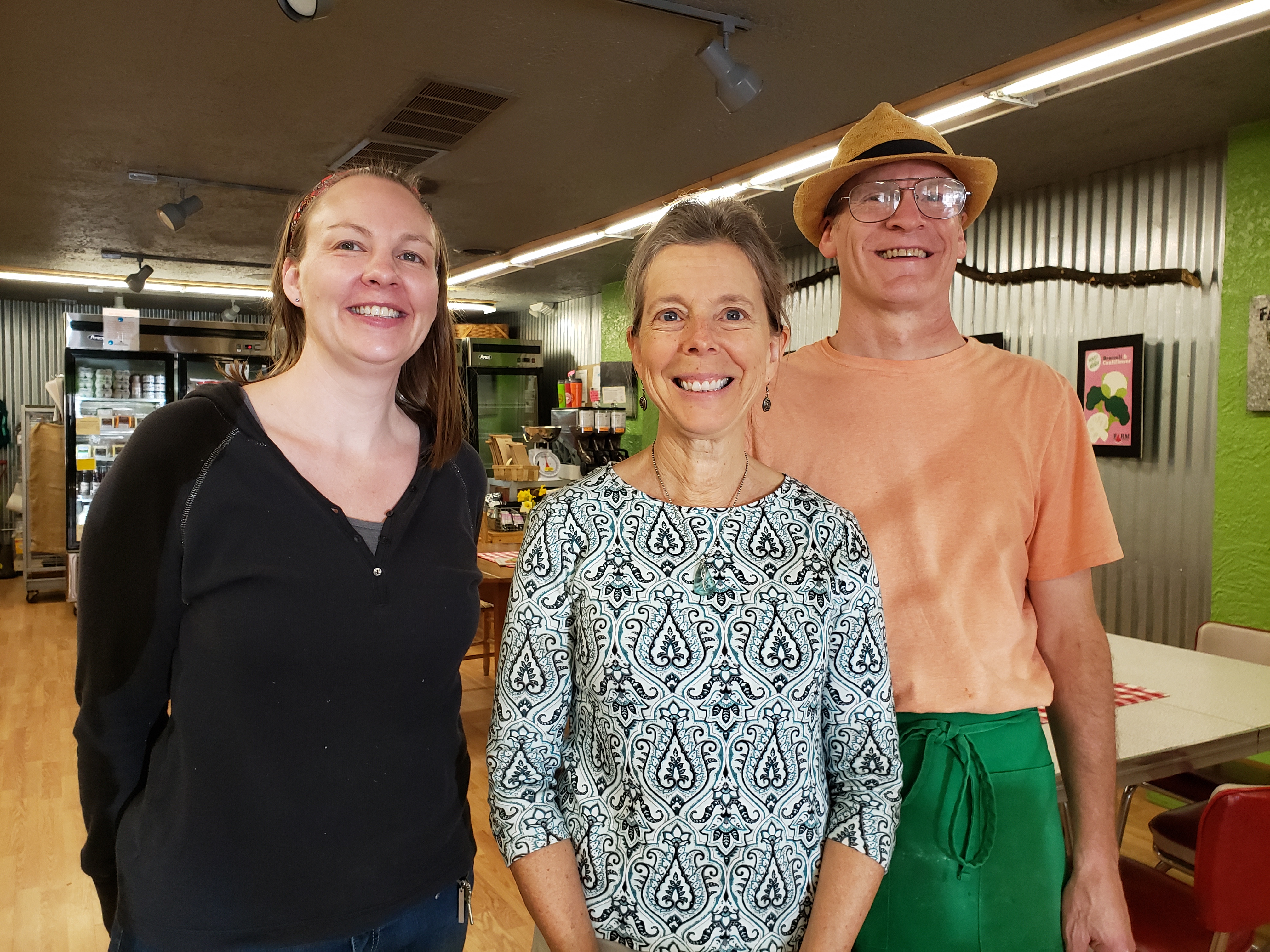 Lisa Dvorak, left, is one of 35 producers whose goods are sold at Edinboro Market, owned by Marti Martz, center, and Martz's husband, Curtis Hals. Hals also runs the Sweet Spot, which sells coffee, bread, and other goodies inside the market. 
Dvorak has sold community-supported agriculture (CSA) baskets to customers in Erie, Edinboro, Albion, and Meadville and her fresh eggs and microgreens are available at the Meadville Market House, the Whole Foods Co-Op and Oasis Market in Erie, and at Edinboro Market.
Marti Martz and her husband, Curtis Hals, opened Edinboro Market, 109 Erie Street in Edinboro, in December 2017. "Our goal is to reconnect people with their food," said Martz. She serves as president of the board of the market. It is set up as a 501 c3 to support regional growers and help them build customer bases.
The market is modeled on the Wild Ramp in Huntington, W. Va., which Martz visited in March 2017, meeting with a board member, the marketing manager and a grower. "We talked for two-and-a-half hours. We liked their concept. We have implemented almost the same thing."
At Edinboro Market, 80 percent of the proceeds are returned to the producers every month. Food items and other products are displayed with a profile card, so customers can read about the history of the business and how the products are made. The profile cards alone are worth the trip. How else would I have been introduced to the stories of God's Country Creamery, Pot-O-Gold Dairy, Byler's Relish House, Hogs & Honey, Rip Rap Baking and Fat Hawk Farm, to name a few? Or discovered maple-coated peanuts, goat's milk soap, dilly beans, ginger beer, grass-fed beef and chocolate, all in one place?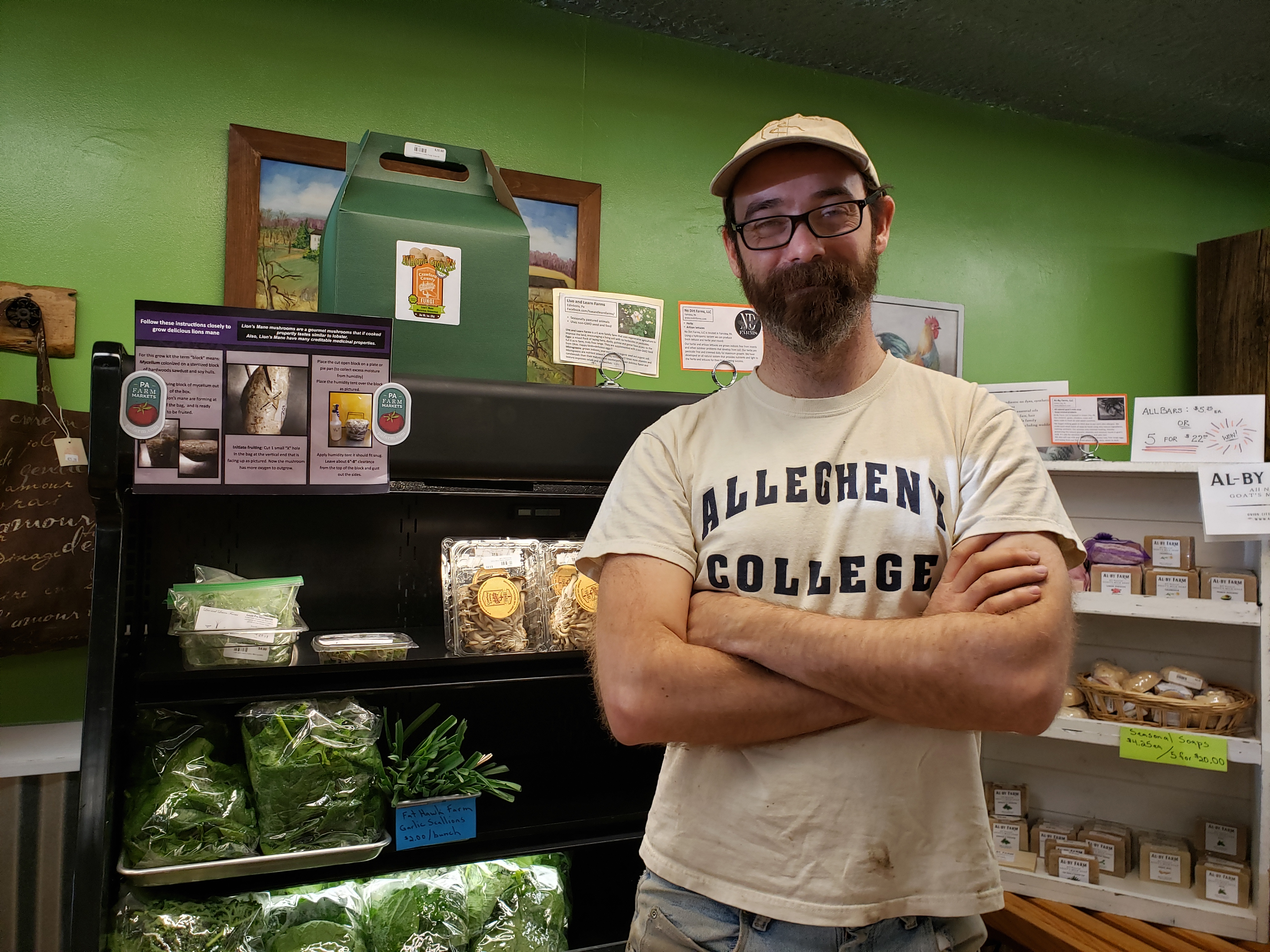 Garrett Gleason switched gears, from medicine to farming, and now sells his salad greens and other produce at Edinboro Market.
Gleeson, 29, the one-time aspiring med student, was stocking spinach, kale, garlic and scallions from Fat Hawk Farm on the day I visited Edinboro Market. Gleeson runs Fat Hawk Farm on family-owned property in Guys Mills.
"I grew up with a vegetable garden but we never sold anything," he said. His interest in agriculture started to grow when he was attending Allegheny College but he became more passionate about it when he was a graduate student at the University of New Hampshire and took a forest pathology lab. "I realized my favorite part of my research was working in the greenhouse," he said.
He landed a job at Nook & Cranny Farm near Ithaca, N.Y., which grows more than 200 varieties of vegetables on just four acres. "It's high-intensity agriculture. They did a lot in a small space," Gleeson said.
He returned home to start his own two-acre farm in 2016 and named it after the pair of red-shouldered hawks that have nested there for about a dozen years.
Gleeson used to also have a part-time job, but now he works around the clock on his farm (although he currently has an intern from Allegheny who helps out eight hours a week). In addition to salad greens, he focuses on root crops, including carrots, beets, and parsnips. He's also trying artichokes, husk cherries ("not a cherry at all"), and kiwi, which his parents have grown on a trellis for 30 years. "I'm always cruising seed catalogues," he said.
In addition to selling produce at the Edinboro Market, he sells at the Meadville Market House, the Meadville Mobile Market, Core Goods in Oil City, and at the Little Italy Farmers Market.
"I have a mission statement. The goal of this farm is to provide local food that is good for human health, the local economy and the environment," he said. He's not a medical doctor. But, he said, "I'm still accomplishing my main goal, to improve the health of others."
By the way, Evabelle, the daughter of Lisa and Jeremy Dvorak, no longer has stomach problems, now that she has given up gluten and is eating fresh foods off the family farm.
Liz Allen has become a fan of Beezlebub's Salsa, sold at Edinboro Market. On the advice of store co-owner Curtis Hals, she tried the medium version, which is milder than the original. You can reach her at lizerie@aol.com.
Learn more
Live and Learn Farms, Fat Hawk Farm and Edinboro Market all have Facebook pages. Edinboro Market also offers classes with support from the Erie County Department of Health. Lisa Dvorak, of Live and Learn Farms, will teach "Mighty Microgreens" on May 21 and a class on growing and using culinary herbs, by Julie Barton of Octagon Acres, will be held at a date to be determined. Sign up for classes at the store or by emailing EdinboroMarket@gmail.com.