Tony Hale Brings His 'Next Big Thing' to Erie
The star talks about, Veep, Arrested Development, and his work with Emma's Footprints.
January 21, 2015 at 6:30 AM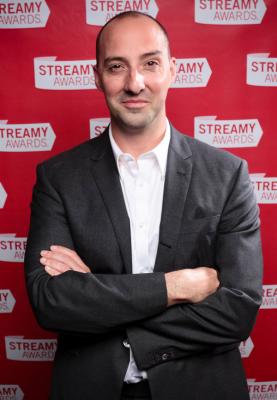 For several years of my life, Tony Hale was Buster Bluth. Hale played the extremely neurotic member of the eccentric Bluth clan in the critically-acclaimed – and beloved – TV series Arrested Development, a role that could easily serve as the singular highlight in many a thespian's career. Still, Hale has had several highlight performances since Arrested's early cancellation, including winning a Primetime Emmy Award for Outstanding Supporting Actor in a Comedy Series for his portrayal of Gary Walsh, the incredibly loyal personal aide of Julia Louis-Dreyfus' Vice President Selina Meyer on Veep.
Hale's work on big and small screen isn't his only creative outlet, mind you. The lanky actor is also an author, having co-written the children's book Archibald's Next Big Thing, an impressively-illustrated and heartwarming tale of a chicken who is too focused on the future to truly appreciate the present. It's a message that's near and dear to Hale, and one that will help bring him to The Gem City this February.
The actor will be in Erie for a pair of events that will support Emma's Footprints, an organization that helps people who have experienced the death of an infant or lost a child during pregnancy. Locals can first see Hale at Storytime with Tony, an intimate Q&A with the actor about his life and Archibald's Next Big Thing from 10 a.m. to noon at the Blasco Memorial Library. Later that night, the Ambasador Center will host Emma's Next Big Thing: A Valentine's Day Masquerade, a fancy party featuring food, desserts, entertainment, and a live auction, all while Hale plays the part of dinner guest, bartender, and dancer.
I had a chance to chat with Hale after he had wrapped filming on the fourth season of Veep and we discussed his connection with Emma's Footprints, finding contentment in his work, and life after Buster.
Alex Bieler: How did you get involved with Emma's Footprints?
Tony Hale: My buddy Tracy [Dailey] started this organization, and I met her through some other friends of mine and I just love what she's doing. Because of her own experience, she  started [Emma's Footprints] and really provides all of these amazing services for families who have experienced pregnancy and infant loss. You don't hear about those services much, and I think it's wonderful that she really used her own situation to spark this. She knew that I had come out with a children's book and we thought "Hey, let's try to come up with something that we can do together" and that's how this Valentine's Day soiree happened.
AB: I've actually got the book [Archibald's Next Big Thing] over to my left here. I read it about a week ago and I'm really impressed with it, especially the overall size of it. It looks great and there were a couple moments where I literally laughed out loud.
TH: Good, thanks! It was a super-fun process – something I had never done before, so I learned a lot of lessons, but it was a good time.
AB: Was writing a children's book something that had interested you for a while?
TH: The message of the book talks about something that had interested me for a while because it came from my own experience. I've been in this business for a really long time and I've got some great gigs, but I've still found myself looking for the next gig. Many times we get so focused on our next adventure that we'll miss the adventure that we're on, and that's something that I really had to wake up to and love to talk about. I met this friend of mine, Victor Huckabee, at an art show in L.A., and he had created this character Archibald and just started talking and we thought "Hey, let's combine these two things and come up with something" and that's how the children's book idea happened.
AB: I watched a comedic actor table discussion on The Hollywood Reporter where you had talked about contentment at your current gig. Given that you're currently on Veep, are you still struggling with that or has your own book helped?
TH: Because of my experience in the past, it woke me up, but I think it's a discipline and it's something I struggle with all the time. My friend has a great quote of "You have to wake yourself up 100 times a day to where you are." It's something where I have to wake myself up all the time because I can find myself in other places, find myself living in a "what if?," and find myself daydreaming, anywhere else than where I am. I talk about it a lot and I write books about it and I encourage [contentment] because it's something I have to remind myself about.
AB: How has life been as an Emmy winner?
TH: [Laughs] Oh, it's just a king's life. When that happened, it was by far one of the most surreal moments in my life. Thankfully, I had such a great night; because of the lesson I have been learning and trying to bring awareness to and practice, I was very present. Because of that, I remembered everything, and it was an awesome, awesome night. Your life doesn't change dramatically, and I'm just thankful that I have a job [Laughs]. That was a great night.
AB: I watched the clip where you won and I saw that you had a note prepared. I've always been intrigued by this, but what does it feel like to write a little note just in case your name gets called?
TH: I know! It feels slightly narcissistic and arrogant because you're doing something that might not happen, but you also don't want to be that guy who gets up there and not have anything. When that stuff happens, it's because of the support of a lot of people, so you don't want to be in that situation and not bring awareness to that, so you always have to be awkwardly prepared for it.
AB: Your wife won a Daytime Emmy, didn't she?
TH: She did; she won for makeup. She's a super-talented makeup artist, and she did the special effects episode for All My Children, I believe, and it was a Halloween episode, so she got an Emmy.
AB: So it's a family thing. I hope [your daughter] Loy doesn't have too much pressure on her.
TH: [Laughs] Oh, she better get one!
AB: Arrested Development was such a cult favorite. Did you ever feel worried that you would be known just as Buster Bluth or has your success with Veep helped with that?
TH: Oh yeah. I also understood the fact that Buster is pretty much a cartoon character. He's so extreme and neurotic and has so much going on in that body. I knew that leaving the show, it wasn't like someone was going to be casting a lawyer in a movie and be like, "You know, that guy who played Buster Bluth, he would be perfect." I knew it took time to put yourself out there and show what you could do, and Gary, the character I play on Veep, is not as neurotic, but he definitely has some neuroses. That's what auditioning is for. I really enjoy auditioning because I enjoy the opportunity to showcase different things and you don't really have the job yet, so you can experiment.
AB: Is there a certain type of role you enjoy more than others?
TH: Any role that pays I really, really enjoy.
AB: That's a good answer.
TH: I don't know… it is fun because Buster and Gary have a lot of similarities. I did a couple of episodes of Law & Order where I played these interesting characters and it was heavy, but then I did Happythankyoumoreplease. I enjoy being able to branch out and do very different stuff, so anything that breaks the mold is fun.
AB: I noticed that you were on Law & Order and you were also on The Sopranos. You had some heavy stuff before Arrested Development.
TH: Yeah, on the The Sopranos I played a male nurse who gave chemotherapy to Uncle Junior and I was so scared that day. I was really young and I had done bit parts on that and Sex and the City, and those were really, really big shows in New York when I was living there and those were the shows to get and I was so nervous, oh my God. I was surrounded by these incredibly iconic characters on The Sopranos, and I was like "Okay, Tony, don't screw up; just keep it together and don't poop your pants on TV."
AB: [Laughs] I've read that you'll break and laugh on set, so were you frightened of that, although that show wouldn't be quite as funny.
TH: Yeah, it's really unfortunate. It's incredibly unprofessional because I can't keep it together. Like Julia [Louis-Dreyfus] for instance; I'm in such close proximity to her on set all of the time and she's just the smallest thing, and it's just impossible. It's impossible to keep it together. Look at the cast of Arrested and look at the cast of Veep; these are seriously funny people and they expect you to keep it together, and for me, it's just not humanly possible. I'll turn my back or look in my bag and try to hide it, but sometimes I'll just let loose and ruin the take. I really should go back to acting school.
AB: I must admit that I am a huge fan of Arrested Development, and I'm guessing that people come up to you and quote Buster, so I'm really intrigued to see what you hear the most.
TH: I hear "Hey, brother" a lot.
AB: That doesn't surprise me.
TH: I will say, I really enjoy when people remember stuff that Buster did or happened in the show because I don't always remember. We finished the show – at least the first part of it – in 2006 and you move on. You find other jobs and get into other characters, but then it developed this life after it was finished and I forgot about a lot of stuff and people would come up and say "Do you remember when you went to that Motherboy convention and you were dressed like Little Boy Blue?" or whatever he was and I'm like "Oh my God, that's right!" I forget storylines and lines, so it's fun when people remind me.
AB: When my editor originally asked me if I was familiar with your work, the first thing I typed back to him was "It walked on my pillow!"
TH: [Laughs] I specifically remember that line because I believe it was in the trailer of the first season.
AB: Well, we're excited to have you in Erie.
TH: Thanks man, I'm excited to come.
AB: Anything specific you're hoping for? Maybe nicer weather?
TH: I'm actually excited about getting back in the cold. I've never been to Erie, so I'm excited about that. We'll have a good party, so it's going to be a good day.
Want to meet Tony Hale and support Emma's Footprints? Head to emmasfootprints.com to purchase your tickets to Storytime with Tony and Emma's Next Big Thing: A Valentine's Day Masquerade before they sell out!
Alex Bieler can be contacted at aBieler@ErieReader.com, and you can follow him on Twitter @Catch20Q.