Here Come the Mummies: 13 shuddering shots
Here Come the Mummies came to the Eerie Horror Film Festival. Here come some photos of their freaky funkiness...
October 20, 2014 at 12:02 PM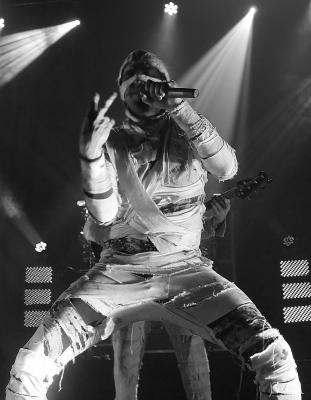 My first impression of the 2014 Eerie Horror Film Festival's spotlight musical performance -- beside that the band was fearsomely funky -- was that, for being all undead and stuff, they appear to have one helluva live-show fanbase.
Just beyond that first thought came this: Shooting these mummies is damn good fun.
So now, as part of my continuing-in-spurts (eck!) coverage of various Halloween-time happenings around the Gem City region, here come 13 ghastly ganders at Here Come the Mummies' Oct. 17 performance at the Warner Theater:
Know of somethin' spooky goin' down in the next coupla weeks? You can reach Reader writer/photographer Ryan Smith at rsmith@eriereader.com, or follow him on Twitter @ryansmithplens.