Hitting the Sweet Spots
Ice cream stands across Erie County serve up scoops of summer
Summertime is a feast for the senses. Just think about the sun's warmth beaming down on your face as you breathe in some fresh air. If we were to take a Family Feud-style poll, I'd be willing to bet that for the "taste of summer" the survey would inevitably say: Ice cream. Going out for frozen treats is one of the essential components of summertime. The very journey to the spot is often an experience unto itself, be it by leisurely walk, invigorating bicycle ride, or family carpool, it's all a short trip built on anticipation.
"It takes everybody back to their youth regardless of how old they are," explained Jack Holland Jr., the owner of Holland's Dairy Queen on West 26th Street. "It's a good place for families as a whole to come together and just kind of celebrate everyday life. Sometimes its special occasions, but mostly it's just a good destination for people to get together." 
From baby cones and beyond, many of us have built an indelible personal connection with the dessert, a sometimes Pavlovian reward for a job well done, or conversely the high-calorie self-medication following a bad day. It's not just the social context and memory triggers that make us love ice cream, as a study from the Centre for Neuroimaging Sciences at the Institute of Psychiatry in London found that eating ice cream immediately affected the orbitofrontal cortex (OFC) area of the brain, associated with reward-based stimuli.
So in short, we tend to like ice cream. We tend to like it even more in the summer, as it doesn't take a team of scientists to figure out that a cold treat on a hot day is pretty darn nice.
In particular, July just happens to be National Ice Cream Month, with Sunday the 21st (the third Sunday of the month) being National Ice Cream Day. This is all based on a 1984 proclamation by then-president Ronald Reagan declaring it "the perfect dessert and snack food" (though that same document also opens with the assertion that "ice cream is a nutritious and wholesome food.") Despite his famous predilection for jelly beans, the Gipper knew what the American people liked. In fact, according to the International Dairy Foods Association, the average American consumes over 20 quarts of ice cream every year, more per capita than any other nation.
Arguably the most quintessential Erie spot for the stuff is Sara's Restaurant on Presque Isle. A four-time recipient of Erie's Best Place to Get Ice Cream, Sara's is an iconic destination in one of the best locations in the entire county. The restaurant is loved for their burgers and hot dogs as well, but the headliner of the menu is their Orange Vanilla Twist. Speaking with owner Sean Candela, he said "we're blessed. We have really good employees. We have a lot of fun in what we do." Sara's is currently in their 39th year, and Candela has been there from the beginning (his brother, Brian Candela runs the nearby Sara's Campground).
Speaking to how business ramps up as the heart of summer approaches, Candela notes that "when we open April 1 — no matter what the weather is — we have a long line. So people come down no matter what the weather is. And then you get into May and you start getting the kids coming home from school or leaving at the end of the year" he explained. "And of course, when school's out officially, then we really get busy. But it's weather dependent. Cold and wet weather tends to slow us down, but if it's warm rain, or once you get into summer and the lifeguards are around and Waldameer is open it tends to be pretty busy all the time."
"A lot of times I'll grab just a little bit of vanilla when I leave because one of the keys to ice cream is that the faster it goes in and out the machine, the better it is," explained Candela.
"Because it's like a butter churning process. So on slow days, if you ever get chunks in it, it's beating and beating and beating, and it gets butter crystals in it, which isn't going to hurt you, but it just takes away from the smooth texture" that soft serve in particular is known for. "So the faster the better; it goes in and it comes out. It's the best! So that's why everybody says we have such great ice cream, because it doesn't stay in the machine very long."
As Sara's approaches their fourth decade in business, it's important to note that longevity happens to be one impressive characteristic of the industry on a larger level. Creamland has been in business just as long, and eastward down 26th street, Whippy Dip just celebrated their 54th year, opening in 1965. As far as chains go, the Pine Avenue Dairy Queen and the Lawrence Park stand (with its authentic vintage design) have also been in operation for decades. Holland's Dairy Queen began as a stand at that location in 1970, and has existed in its current form since 1984. After his father opened a location on 12th and Peninsula in the summer of 1968, he began working with his father at a young age. You can see a plaque at the 26th Street store honoring his 45 years of service. As to why he was happy to do it for so long, he admitted "I liked the setting. I like the fact that you have families that want to come to you and you have employees that enjoy being there. Because it's ice cream, and it's fun, and it's high-energy."
Also situated along West 26th Street is one of the relative newcomers to the scene, The Freezerie. Boasting a menu of homemade ice cream, the parlor was opened by Kang Garnic and his father Gary in 2012.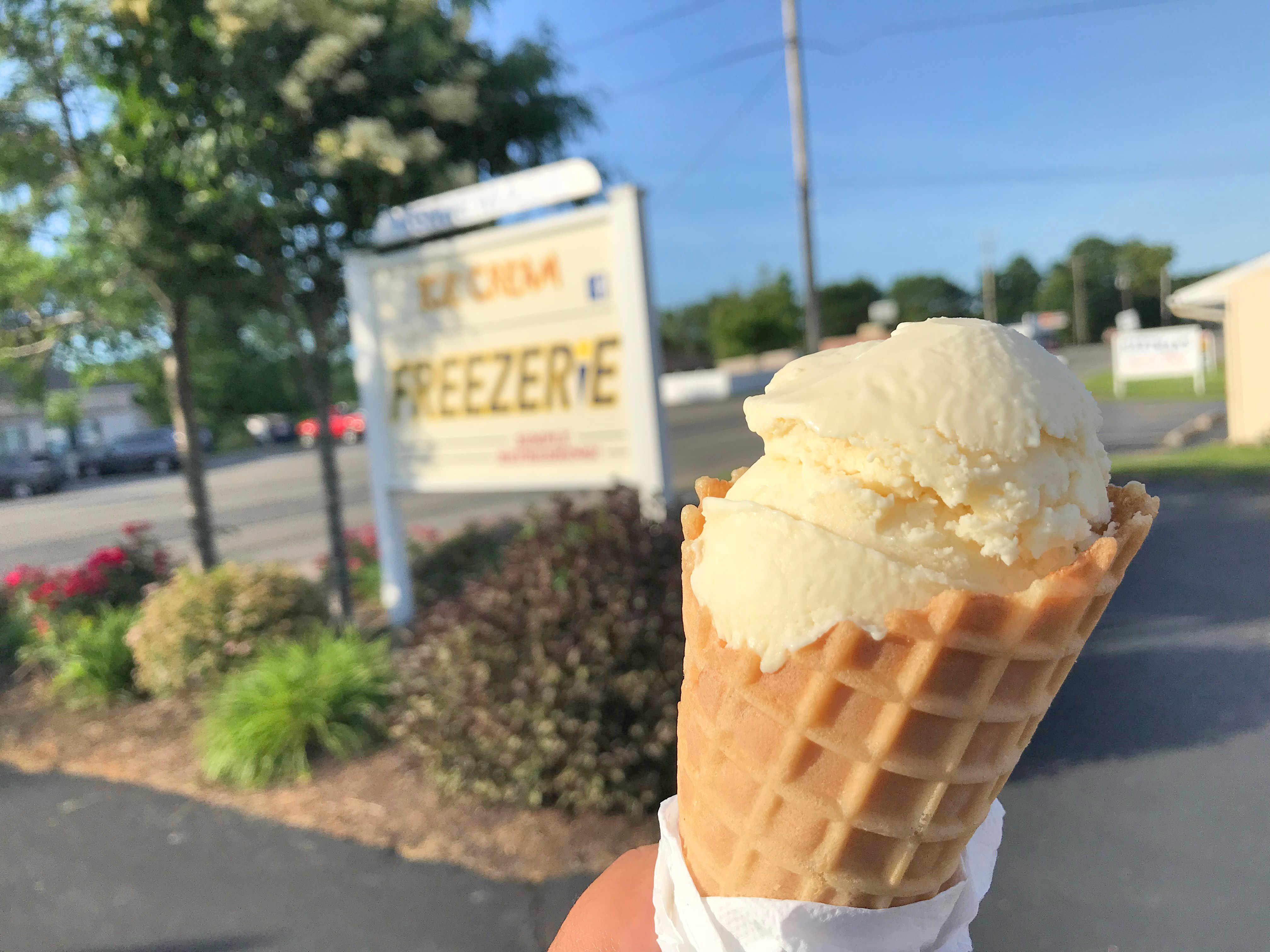 "It's all from scratch, for anyone who doesn't want to believe it. If it was any fresher, we'd have the cows out in the back," joked the younger Garnic. "The same goes for the dairy-free vegan," he added. "We do buy the cream, we buy the milk, we buy all the ingredients. There are few steps involved when it comes to the churning process, but from start to finish, it's probably about 90 minutes to two-and-a-half hours," he explained, illustrating the path from unboxing ingredients to clean up time.
The Freezerie prides themselves on subtly inventive flavors with a strong creamy base. I fell in love with their sea salt recipe in 2013, when their bright blue offering proved to be the perfect pairing while watching the final season of Breaking Bad. "There have been some flavors where we thought that we basically got the reverse of the thought process we were going to go with. Honestly, one of the top [examples] of that is the sea salt." Garnic admitted. "It was one of those experimentations that was debuted in the very first year. 'Oh hey, it's another one, let's give it a shot' we thought. But long, long story short, my tag team partner at the time — my dad — didn't have the heart at the time but he later dare-we-say confessed a little bit to say 'Kang, if you want to try that, go for it, but I don't think it's going to sell at all.' And it turned out to be in the top four that we make and serve [laughs]."
One of the other remarkable things about ice cream shops is their near omnipresence, even when entering more rural areas. From Heavenly Creamery in Conneaut, Ohio to Farmer's Daughter in Westfield, NY, there's no shortage of top-quality places to grab a cold treat, and that's just along Route 20. The local ice cream stand is an important part of any town (growing up in Edinboro, trips to the Dairy Supreme were required summer fare). Many of these have wide selections through reputable partners like Breyers and Perry's Ice Cream, in addition to their own unique recipes. There's frozen yogurt chains, such as Menchie's on upper Peach and the newly opened Pinkberry in the West Erie Plaza. There are creative iconoclasts like Fat Lenny's, who this year moved from The Shops on the Hill to a new location on West Eighth Street to much success. In short, there's a lot of sweet treats out there to be had. If you're one who's inclined to make a drive to get a nice desert, you're in luck.
"Whenever good weather is abound, not just in Erie, people want something refreshing, something sweet, something cold and the like," Garnic reasoned. " I'd like to think that we're one of the stands, one of the places in Erie that can supply that," he smiled humbly. "There have been plenty of days where it's the first crazy summer day, and people come out. And it's not just us, it's multiple stands out there, multiple establishments that get hit that day too. It goes hand in hand like, dare-I-say, [laughs] vanilla and cookie dough."
Nick Warren enjoys a nice butter pecan now and then, as well as county-wide exploring. He can be reached at nick@eriereader.com