How Three Women are Speaking to Our Erie
Marty Nwachukwu, Davona Pacley, and Lydia Laythe and their newest podcast
October 27, 2020 at 4:30 PM
This past February, before the world was turned upside down, I wrote a story on the local Erie podcasting scene. At the time, there were around 850,000 podcasts available on iTunes and somewhere in the vicinity of thirty of those were recorded in or near Erie, Pennsylvania.
 That number has increased to 1.5 million available podcasts in the months since, according to Podcast Insights. The Erie podcasting scene, as one might expect, has grown as well.
In my earlier story, I shared comic Nate Fernald's joke that "approximately every 30 seconds a man cave gets converted into a podcast studio." The joke plays on the gender imbalance in the podcasting world, as nationally, only around 1 out of 3 podcasts have a woman hosting. A recent analysis by The Wrap concluded that only around 21 percent of top-charting shows have a woman as host. In Erie, when I wrote my initial story, the number of local podcasts hosted entirely by men hovered around 90 percent.
I was excited then when, after three months dormant, the Our Erie Facebook page (best known for its viral "This is Our Erie" video narrated by CEE Brown, which racked up nearly 350,000 views on Facebook) announced a new podcast hosted by three local women: Marty Nwachukwu, Davona Pacley, and Lydia Laythe. All three also produce the series along with John C. Lyons of Lyons Den Productions with funding provided by Erie Arts & Culture.
"The Our Erie series will bring citizens, entrepreneurs, activists, politicians and thought leaders together for a frank discussion around societal issues facing the post-industrial city of Erie, Pennsylvania and the United States at large," the official series description reads.
In a conversation over Zoom, I ask the trio if their decision to have all women as hosts was deliberate. 
"Marty said, 'I'd like to see one with all women," confirms Davona.
"The podcasting scene in general is mostly men," Marty explains. "I was kind of adamant that we made it all women. Davona and John were like, 'Maybe we could use the other perspective,' and I was like, 'Nah, we hear enough men all of the time." 
"So, we started to vett in our heads different women and Marty suggested Lydia," says Davona. They all knew each other from being politically active in the community. "The more and more we thought about it, it worked. It was divine. I think right now, we're in this space where we — not that we don't want to hear male voices — but women's voices need to be uplifted and empowered."
With their very different backgrounds and life experiences, the three hosts have a unique and immediately noticeable chemistry. At one point during our conversation, we reset our Zoom meeting. By the time that I am back on, they are already deep in conversation with one another. I sit and listen for a few minutes, enjoying my own live bonus episode, and one thing is immediately clear to me: the three together with their knowledge and passions and diverse life experiences are, in many ways, a perfect reflection of Erie County, making their podcast title Our Erie all the more appropriate.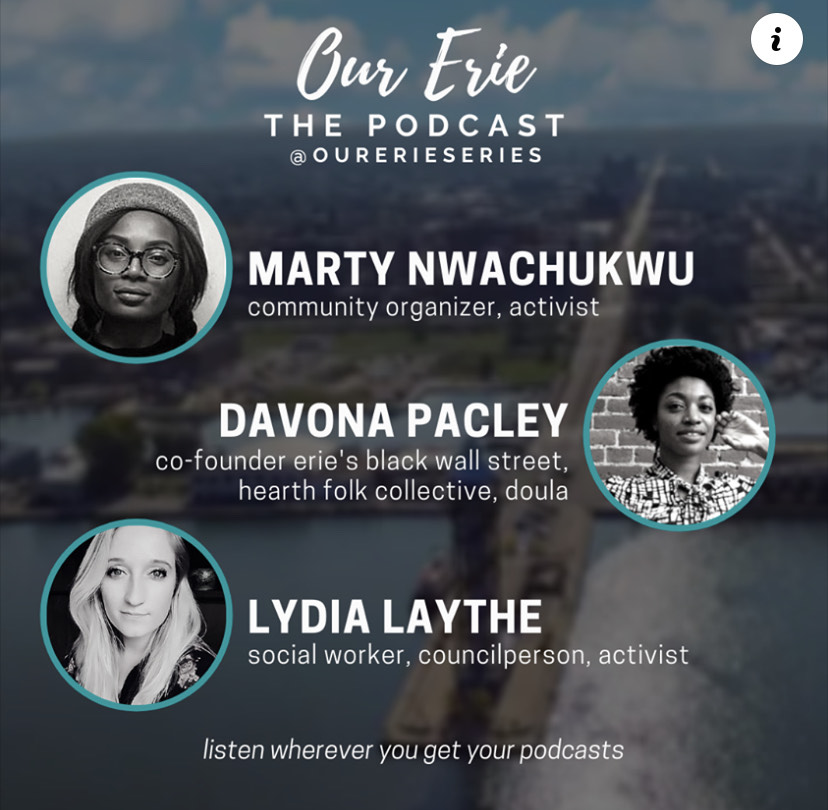 As a one-year-old, Marty immigrated from Nigeria to Pittsburgh. After high school, she studied history and political science at Edinboro University, moved back, and then again ended up back in Erie County three years ago in her role as Community Organizer for Erie County United. 
Davona was born-and-raised in Erie and graduated from Edinboro University with a degree in Sociology. Recently, she co-founded Erie's Black Wall Street and the Hearth Folk Collective, while also being a trained Birth Doula and a Commissioner on the Pennsylvania Commission on LGBTQ+ Affairs.
Lydia, who was born in Eugene, Oregon, relocated with her family when she was young to Edinboro, Pennsylvania, where her father was a beloved history professor. She earned her Master's in Social Work from Edinboro University and now keeps a dizzyingly busy schedule working as the Trauma & Addiction Program Coordinator at the International Institute of Erie/USCRI, as co-organizer of French Creek Indivisible, and as Councilperson on the Washington Township Council. 
"I think our stories and our experiences intersect in a really interesting and important way despite being from different spaces," Lydia says.
"That was the intent," adds Marty. "Having three women from different backgrounds and then hosting and interviewing people who you don't often see have that platform, whether you don't see them in the news or they're doing the work, but we just don't hear their stories. We want to highlight those individuals and share them with the community in a way that we haven't seen in Erie."
Lydia agrees. 
"We have all really intentionally said, 'Who are people we don't always hear from who are doing really important work, doing really positive work, and because they weren't born here, or they didn't grow up here, or they don't have those generational ties to Erie or to the power or don't have the money to access these spaces, can we bring them to the table? Can we give them a space to talk?'"
"The one thing I really like about this platform is that it's going to give us an opportunity to speak not only our minds about the things that we are passionate about, but we will be able to have different people speak with us and talk about their stories," says Davona. "I think oftentimes, people in all different walks of life, regardless of if they're poor or black or white, I think people just want to feel heard."
Our conversation veered away from the podcast and covered everything from raising boys in a culture saturated with toxic masculinity, to systemic racism, to recent protests and demonstrations, to the role of power and wealth in local politics.
"Whatever relationship it is, there should be reciprocity, there should be a give and take," Davona says. "And I think the thing that we're seeing in Erie from our community is we're seeing things being taken, taken, taken and never any reciprocity of giving us something."
The hope is that the Our Erie series can help contribute to a much-needed larger conversation.
"I'm happy that it's us three," Davona continues. "It's not about us. We're just the vessels. That's how I feel. I'm really proud that we're doing this because I think it's needed."
They are still learning and figuring out what works best, but they do agree that even if they keep some episodes on standby, they plan to record and release weekly to keep the conversations relevant with what is going on in Erie and the world. 
"We want them to be as fresh as possible, we can give all the tea," adds Marty with a laugh. 
Eventually, as they begin to build an audience with the podcast, their goal is to get back to their original pre-pandemic intentions: create an Our Erie video series with local guests at local establishments talking about local issues. 
You can get the latest tea in Erie by following Our Erie on Facebook or by subscribing to the Our Erie podcast on Apple iTunes, anchor.fm, or Spotify.