Hurry Hill Maple Farm
Science and folk magic sweetly combine at this Edinboro farm.
October 14, 2015 at 2:15 PM
Way back in 1791, in a letter to another important guy, Thomas Jefferson, Philadelphia physician and U.S. founding father Benjamin Rush made a sweeping statement: "In contemplating the present opening prospects in human affairs I am led to expect that a material part of the general happiness which heaven seems to have prepared for mankind will be derived from the manufacture and general use of maple sugar."
I've put together a few stories over the years about maple sugar-making (of which there's quite a lot locally), and talked with several of the artisans behind that craft. Across the board, they seem to agree with, and echo, Rush's words.
And the sweet, simple truth of it has always rung true at Hurry Hill Maple Farm in Edinboro.
Owner/operator Jan Woods and the other folks there are time-honoring, old-school maple sugar mavens. They tap trees pretty much the same as in centuries past, putting the kibosh on decidedly more modern techniques that employ reverse osmosis and the like.
However it's done, though, "making maple syrup combines science, environmental education, agriculture, history, math, reading, and the chance for camaraderie," Woods, who's also president of the Northwestern Pennsylvania Maple Association, told the Pittsburgh Post-Gazette in 2010.
I was probably at Hurry Hill that year — likely in spring, when the farm's hearty lot is working hardest. I've been there at some point most every year since, usually with my wife and kiddos.
"How many seasons do we have in the year?" Woods asked the crowd at Hurry Hill the last time we visited. Then she answered:
"We have summer … fall … winter … sugaring … and spring. They don't teach you [about] sugaring in school," she said, but it's there, nonetheless.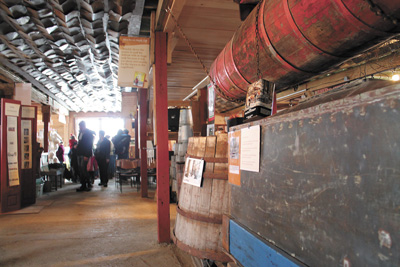 The work that takes place during that season is part science, part folk magic. It's worth checking out, to be sure. There really is something magical in that time-honored practice. The kids love it, and learn from it. It even kept my two-year-old's attention — while she was absolutely loaded on maple sugar, no less — for a couple hours last spring.
This year's syrup-making season has come and gone, but there's still plenty of time to enjoy its sweet rewards. Along with being a true-blue sugaring operation, Hurry Hill's home to the area's only bonafide maple syrup museum. There, after seeing the actual process, visitors can glimpse a living history of the craft through artifacts, presentations, antique and modern materials, and, of course, syrup.
Free and open to the public on Sunday afternoons through November, the museum also displays author Virginia Sorensen's 1956 Newbury Medal for the book Miracles on Maple Hill, a heralded fictional tale of family and maple syrup that takes place in and around Edinboro and Cambridge Springs.
"I can teach you the science" behind maple syrup, Woods says, "but you learn the magic from that book."
At Hurry Hill, you'll see plenty of the science and magic all around us in northwestern Pennsylvania.
Ryan Smith can be reached at rsmith@eriereader.com, and you can follow him on Twitter @ryanmsmithplens.