"I Only Want To Forget"
Lakhdar Boumediene relates his experience at Guantanamo.
January 8, 2012 at 11:13 AM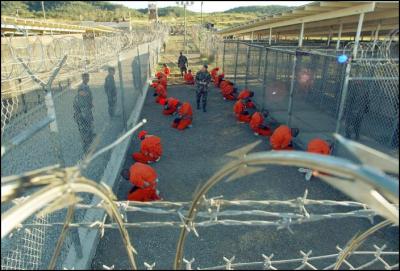 It's hard to read this and realize that Congress has just passed a law that allows the government to capture and hold Americans in the same fashion:
ON Wednesday, America's detention camp at Guantánamo Bay will have been open for 10 years. For seven of them, I was held there without explanation or charge. During that time my daughters grew up without me. They were toddlers when I was imprisoned, and were never allowed to visit or speak to me by phone. Most of their letters were returned as "undeliverable," and the few that I received were so thoroughly and thoughtlessly censored that their messages of love and support were lost.

Some American politicians say that people at Guantánamo are terrorists, but I have never been a terrorist. Had I been brought before a court when I was seized, my children's lives would not have been torn apart, and my family would not have been thrown into poverty. It was only after the United States Supreme Court ordered the government to defend its actions before a federal judge that I was finally able to clear my name and be with them again.
Worse still is the stigma that follows Boumediene and others held in indefinite detention as terror suspects. Because they have no recourse to a court, the details on their case never come to light, including even the charges against them. We are left to fill in their actions and evidence against them with our lurid imaginations colored by the events of September 11, 2001.
Instead, it could be that the agencies and government departments capturing and detaining these men are as competent as any other part of the government, and egregious mistakes have been made. Without opening up Guantanamo and trying the detainees, we may never find out.
Which may be the whole point of Guantanamo.